Pro Audio Tech Unveils 'Invisible Mount' Speakers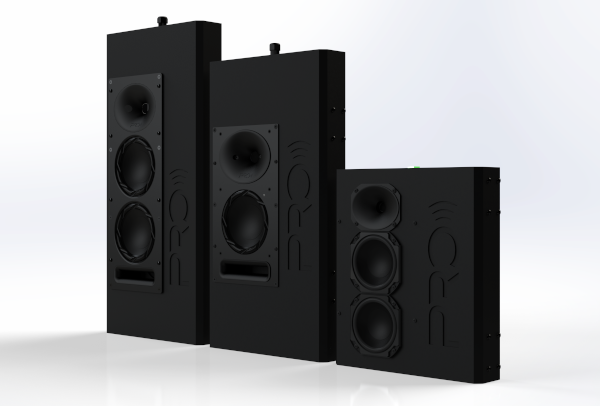 Pro Audio Technology, the Lake Forest, CA-based speaker specialist that blurs the line between pro and consumer audio, is expanding its recently introduced
SR series
with three "invisible-mount" in-wall speakers.
The new SR-25im, SR-6im, and SR-26im models feature a pivoting bracket that enables the speaker to be rotated up to 50° for simplified installation and enhanced mounting flexibility, particularly the ability to aim sound toward the seating area.
The speakers are slated to ship in September. Prices start at $1,000 each.
Designed for multiroom audio and front or surround duties in a home theater setup, the SR-25im teams two 5-inch long-throw woofers with a 0.75-inch high-frequency compression driver loaded in a proprietary waveguide. The speaker is rated to play down to 80 Hz and boasts a low-/high-frequency sensitivity of 96/109 dB/W.
The SR-26im is built to deliver deeper bass — down to 54 Hz — while stilling fitting into a standard 2x4 stud bay. It mates two 6.5-inch long-throw woofers with the company's new 1-inch "Ultra-Purity" high-frequency compression driver, loaded in an "ellipsi-symmetrical" waveguide. Rated low-/high-frequency sensitivity is 99/108 dB/W.
Little brother to the SR-26im, the SR-6im uses the same driver components in a single-woofer configuration rated down to 31 Hz. Rated low-/high-frequency sensitivity is 93/108 dB/W.
All three models are designed to be used with Pro's DSP Loudspeaker Controllers, which employ proprietary digital signal processing for "high-resolution frequency response contouring, dynamics processing, and critical time alignment." The company has published extensive engineering data — including polar data computed using EASE software and 360-degree on- and off-axis response measurements — that allow system builders to accurately model the acoustic performance of a system during the design process.
For more information, visit proaudiotechnology.com.