The Power of One: Five Soundbar Speaker Systems
Can the all-in-one soundbar really replace a dedicated home theater system?
The emergence of the soundbar audio genre can be traced to two trends: 1) consumers' desire to buy slender, space-saving speaker systems to match their slender, space-saving flat-panel HDTVs; and 2) consumers' hatred of running speaker wire around the room. Studies show that people either leave their surrounds at the front of the room, which wreaks havoc with the soundstage, or they simply don't hook them up at all, which is just a shame. To address the former, speaker companies began to incorporate the front three channels of a 5.1-channel system into one slender bar you could place above or below your TV. To address the latter, they took it one step further, putting all five channels into a single bar and using acoustic manipulation to create a sense of surround envelopment. It seems like every major speaker manufacturer is now jumping on the soundbar bandwagon, but does the technology really work? Can one speaker honestly re-create a 5.1-channel soundfield, and what kind of sacrifices must be made to do so? To find out, we brought in the latest soundbar models from Philips, Marantz, Yamaha, Denon, and Polk.
It's fair to say that the soundbar isn't designed for the audiophile who wants the purist audio experience and will pay to get it. Nor is it for the theaterphile who desires an uncompromised soundstage and will run whatever wire or install whatever acoustic treatment needed to preserve the integrity of the 5.1 soundfield. The soundbar is designed for the general consumer who wants to enjoy the 5.1 channels of audio that HDTV and DVD offer with a minimal amount of hassle and intrusion. So, instead of loading my Face Off panel with seasoned (dare I say, cynical) audio reviewers, I decided to venture into the real world to see what the everyday music and movie fan thinks of the genre. These soundbars aren't necessarily cheap, so my panelists still needed to care enough about audio quality to invest real money on a system. My three invitees—Scott, Johnny, and Dano—are all musicians (well, two of them are drummers, if that counts). In his former life, Scott worked in the pro-audio realm, and Dano happens to be my husband, so he's grown accustomed to a certain home theater lifestyle. Johnny, meanwhile, was our true HT novice, which makes his views perhaps the most pertinent (no pressure there). He would quickly realize something that we try to tell people every day: We're all better at discerning high-quality audio than we think we are.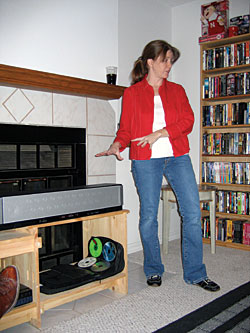 About Our Test Audio Demos:
Two-Channel Music Tracks:
Snippets from "Little Plastic Castles" by Ani DiFranco, "Bombtrack" by Rage Against the Machine, "Goodbye" by Steve Earle, and "1979 Semi-Finalist" by The Bad Plus
Dolby Digital 5.1 Movie Tracks:
Underworld DVD, Chapter 21: "Sonja, Condemned to Death"
Lord of the Rings: The Return of the King DVD, Chapter 37: "The Battle of the Pelennor Fields"
Immortal Beloved Blu-ray Disc, Chapter 15: "Ode to Joy"
Our source component was the Pioneer BDP-95FD Blu-ray player, which I connected to each soundbar via a coaxial or optical digital audio cable. With each soundbar, we experimented with both low placement on a TV stand and high placement against a wall. The panelists first ranked each soundbar based solely on audio performance, while the final ranking is based on the complete package of price, performance, features, and aesthetics.