Polk Hits the Road With Fitness Earphones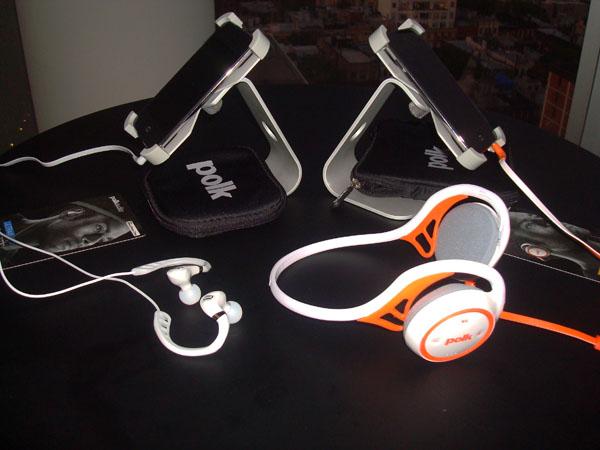 Polk Audio has introduced its first-ever headphones, and they hope you'll take 'em on the road, or to the gym, the court, or anywhere else you play, practice, or get fit.
The company's four new UltraFit Performance headphones, which range in price from $50 to $100, were designed from the ground up to provide high quality sonics in a highly durable and sports-friendly package that resists falling from the ear or falling apart when worn for rigorous activities. Three in-ear models include the UltraFit 500 ($49.95), the UltraFit 1000 ($69.95), and the UltraFit 3000 (pictured, $99.95). A fourth over-the-ear model, the UltraFit 2000 (also pictured, $69.95), features an airframe design with a behind-the-neck reflective wraparound headband.
Features in the line-up include highly flexibile SecureFit ear supports for the in-ear phones that hook comfortably around the back of the ear to hold the phones in place, Strainguard cable entries designed to strengthen the most common failure points where the cable meets the earpiece and plug, a water-resistant moisture-shield casing, ultra-flexibile "tangle-free" cables, in-line microphones and in-line or on-ear volume/iPod controls on three of the models, and zippered cases. The in-ear phones come with a range of rubber earpieces to insure a good fit, and the on-ear UltraFit 2000 includes extra earpads. All the phones come in a variety of color combinations.
The UltraFit phones will be sold under the tagline "Performance Starts Hear" in a national advertising campaign featuring a team of endorsing atheletes headed up by NBA pro basketballer Rudy Gay of the Memphis Grizzlies. Also appearing in the campaign are NBA athelete Thad Young of the Philadelphia 76ers, Heather Mitts of the U.S. Soccer team and professional woman's soccer team the Atlanta Beat, and Paul Rabil, a champion lacrosse player with the Boston Cannons. All were on hand for a New York launch event Tuesday night.
Polk execs said the company is also at work on a line of noise-cancelling phones that will include an in-ear model expected to sell at around $150, and an over-ear model that will compete in the $300 to $350. They're expected to be available in December.
LATEST VIDEO