Point Break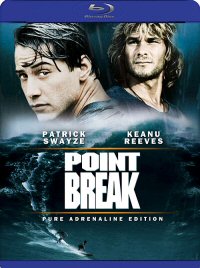 Rookie FBI agent Johnny Utah (Keanu Reeves) goes undercover to bring down a gang of bank-robbing surfers. Moving into the gang's inner circle, Johnny befriends their thrill-seeking, charismatic leader, Bodhi (Patrick Swayze), and finds that he is attracted to Bodhi's lifestyle. He must ultimately choose between his newfound friendship and his duty to the law.
They say your tastes change as you grow older, and Point Break certainly drove that point home for me. I saw the film theatrically my last year of college and loved it. I last watched it on DVD in the late '90s with fond memories. Well, now that I'm nearing 40, the film doesn't resonate with me like it used to. I now find the acting by Keanu Reeves and Gary Busey (who plays FBI agent Angelo Pappas) to be laughable and the "bank-robbing surfers" premise just as silly. For maximum enjoyment, be sure to check your brain at the door.
The AVC encode is a big improvement over the DVD, but the photography leaves a lot to be desired. A smoky haze obscures most of the interior shots during the first act, resulting in a less-than-pristine picture. Luckily, this phenomenon disappears as the movie progresses, mainly due to preponderance of exterior shots. Color saturation is on the muted side, although there are some instances where the colors "pop." Johnny's pink surfboard jumps off the screen as well as the beautiful blue eyes of Lori Petty (who plays love interest Tyler Endicott). Details in close-ups are great, but the longer shots waver a bit and are relatively soft.
The DTS-HD Master Audio 5.1 soundtrack sounds much better than I expected for an early '90s production. A healthy amount of bass adds low-end punch to the dynamic presentation, and active discrete effects are put to good use at times, especially during the surfing sequences. My only real complaint here is with the dialog reproduction, which tends to be obscured by the louder action elements.
The bonus materials include 45 minutes of featurettes, 10 minutes of deleted scenes, a sparse selection of promotion photos, and three theatrical trailers. Happily, all of this material is presented in HD with AVC encodes.
Before watching the Blu-ray presentation, I would have easily penciled in a rating of 8 out of 10 for Point Break, but the story hasn't held up as well as I would have thought over the years. It's still entertaining, but it didn't live up to my memories.
Release Date: July 1, 2008
Film: 6 out of 10
Picture: 6 out of 10
Sound: 8 out of 10

Review System
Source
Panasonic DMP-BD50
Display
JVC DLA-RS1 projector
Stewart FireHawk screen (76.5" wide, 16:9)
Electronics
Onkyo PR-SC885 pre/pro
Anthem PVA-7 Amplifier
Belkin PF60 power conditioner
Speakers
M&K S-150s (L, C, R)
M&K SS-150s (LS, RS, SBL, SBR)
SVS PC-Ultra subwoofer
Cables
Monoprice HDMI cables (source to pre/pro)
Best Deal analog-audio cables
PureLink HDC Fiber Optic HDMI Cable System (15 meters) from pre/pro to projector