Podcast 60: Erik Aadahl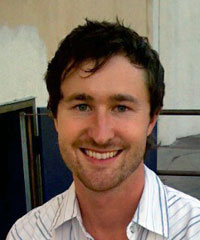 Erik Aadahl, sound designer and supervising sound editor on many major motion pictures, talks about the importance of sound in storytelling and the process of sound design, and he shares anecdotes from some of the movies he's worked on. He also takes us on a tour of the Kim Novak Theater at Sony Pictures Studios, where he's working on a blockbuster due to be released this summer, though he couldn't reveal the title.
Run Time: 57:19
Click here to listen to this podcast.
Erik Aadahl is the sound designer or supervising sound editor on films including Kung Fu Panda, Monsters vs. Aliens, I, Robot, Superman Returns, Valkyrie, and Transformers. He grew up in the San Francisco Bay Area, studying and later teaching film sound at the University of Southern California School of Cinematic Arts in Los Angeles. His greatest passion is the use of sound for storytelling.
Here's the YouTube video of this podcast:
WHERE TECHNOLOGY BECOMES ENTERTAINMENT