Podcast 72: Bob Heil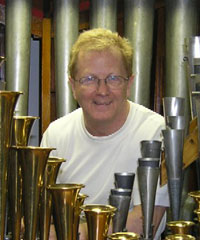 Legendary live-sound pioneer and microphone maker Bob Heil tells fascinating stories about his early days as a theater organist in St. Louis and his work as a live-sound engineer for groups such as the Grateful Dead, the Who, ZZ Top, Joe Walsh, Peter Frampton, Jeff Beck, and many others in the 1960s and '70s. He also talks about his involvement in the early days of satellite TV and his home-theater business, which he shuttered with the advent of cheap home-theater-in-a-box systems.
Run Time: 58:36
Click here to listen to this podcast.
Bob Heil began his career in music as a theater organist in St. Louis at age 14. At the same time, he became an avid ham radio operator, designing and building transmitters, amplifiers, and antenna systems. In 1966, Bob founded Heil Sound and pioneered the live-sound industry with clients such as the Grateful Dead, the Who, Joe Walsh, Peter Frampton, Jeff Beck, and scores of major touring acts of the 1960s and '70s.
Bob was also a pioneer in the field of home theater, helping to develop satellite systems for DirecTV and becoming one of the first satellite and home-theater dealers in the country.
Bob and Heil Sound have won numerous awards over the years, including the first ever "Pioneer Award" from the Audio Engineering Society, and the Parnelli Award. In 2007, Bob was invited into the Rock and Roll Hall of Fame to put up a display of his historically important gear, including the first modular console (the Mavis) his custom quadraphonic mixer (for the Quadraphenia tour) and the very first Heil Talk Box. No manufacturer has ever been invited into the Rock Hall before.
Among his many activities, Bob now hosts a podcast called Ham Nation on the TWiT network. If you're interested in ham radio, you need to subscribe to this podcast!
Here's the YouTube video of this podcast: