Podcast 62: Rob Sabin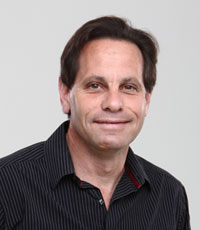 Rob Sabin,
Home Theater
's new editor, talks about living on the real Jersey shore, his 25 years in the audio/video publication and installation business, his plans for the magazine and website, universal remote controls, 3D, streaming content versus Blu-ray, 4K displays, multichannel versus simulated surround, 3D-audio systems, and answers to chat-room questions.
Run Time: 59:30
Click here to listen to this podcast.
Rob Sabin, the new editor of Home Theater magazine, has over 25 years of experience in the consumer-electronics industry, most of which was spent on the editorial team of many publications, including Sound & Vision, Home Theater Buyer's Guide, Digital Home Entertainment, Stereo Review, The Absolute Sound, and The Perfect Vision as well as previous stints at Home Theater. He also owned and operated a custom-installation business and is an ISF-certified video calibrator and CEDIA-certified advanced-level installation technician.
Here's the YouTube video of this podcast:
WHERE TECHNOLOGY BECOMES ENTERTAINMENT