Podcast 110: Avner Ronen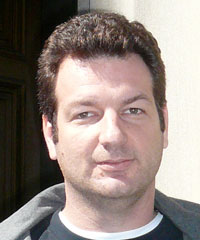 Boxee co-founder and CEO Avner Ronen talks about the new paradigm of online video delivery, image and sound quality versus bandwidth, integrating and unifying various online sources, the importance of the user interface, the trend toward encrypting basic cable channels, the founding and evolution of Boxee, the Boxee box and remote, online delivery of 3D and 4K, answers to chat-room questions, and more.
Run Time: 1:00:21
Click here to listen to this podcast.
Change is coming to the TV industry. Avner Ronen, with his company Boxee, is making sure of it. Since 2008, Ronen has been forcing TV execs to reevaluate how they think about TV, standing up to industry giants Comcast, NBC, ABC, and HDNet owner Mark Cuban. Named one of Rolling Stone's Top Agents of Change, Ronen is the Internet generation's everyman, fighting to make personalized, Internet-delivered TV a reality, bringing video from everywhere to any device at any time. With Boxee's new Live TV dongle and no fear in the eyes of the cable companies, Avner tells it like no one else.
The idea is catching on. Boxee has won numerous awards each year since it's founding, including the 2008 Consumer Electronics Association's Innovation award, G4's Best of the Best products of CES in 2009, and 2010's Last Gadget Standing.
A serial entrepreneur, Ronen has spoken around the globe about the future of TV. His candid approach to rethinking TV has made him a sought-after presence for places like SxSW, CES, The Paley Center for Media, MIPcom, and the World Economic Forum, among hundreds of others.
His fascination in harnessing the Internet to make peoples' lives better started in the army where he helped build the Israeli military's first Intranet, ensuring that deprived Israeli soldiers could quickly and easily exchange information.
Here's the video of this podcast: