Pioneer's New Receivers Really Love Apple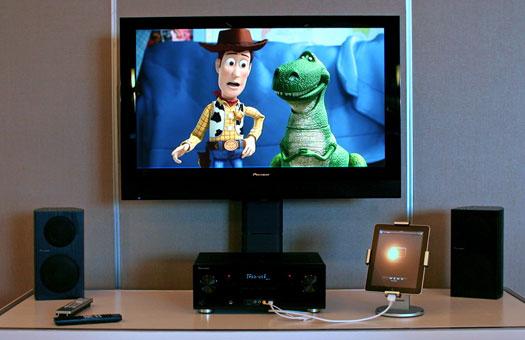 DVD, say your prayers. Blu-ray Disc, better get your affairs in order. Judging from the new A/V receivers Pioneer introduced on Monday at the W Hotel in San Francisco, one could easily conclude that the old "hard" media formats have pretty much played out. "The iPod, the iPhone and the iPad have become the source of entertainment," said Pioneer executive vice president of sales, marketing and product planning Russ Johnston, who kicked off the presentation. Adapting to this trend was Pioneer's main goal with the new models it introduced-although most of the new Apple-friendly features are limited to just one model in the line, the VSX-1021-K.

"These are the most Apple-friendly receivers in the marketplace," Chris Walker, Pioneer's director of AV marketing and product planning, said. According to Pioneer, the new models are the first receivers with true iPad compatibility. The line includes what Pioneer says is the least-expensive receiver compatible with Apple's Air Play standard.

The company is also offering iPhone/iPad apps to go with the new receivers. One provides advanced remote control features, the other allows up to four Bluetooth devices to stream content to a single receiver.

Walker said that the iPad interface in these receivers goes beyond Apple's spec. In addition to Apple-required capabilities (charging the iPad and playing music from it), the receivers can also access stored and streaming music and photos from an iPad. An interface cable is included with each receiver. "Just the parts required for charging the iPad added about $7 in factory costs," Walker pointed out.

The top-of-the-line model, the VSX-1021-K, features Apple's AirPlay, which allows an iPhone, an iPad, or computers running iTunes to stream music through the receiver. Walker demonstrated a computer streaming a tune to two different VSX-1021-Ks, while controlling the volume of each one individually through the computer. He said that Pioneer will introduce a total of eight AirPlay-equipped receivers this year.

It's the apps, though, that really wowed the crowd of tech journalists.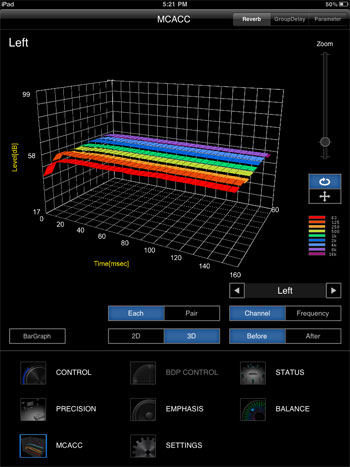 First is iControlAV2, an iPhone/iPad app for the VSX-1021-K that according to Walker provides complete interactive control over the receiver; most such apps provide only limited control. iControlAV2 can work in conjunction with Pioneer's MCACC auto-calibration technology to provide a 3D frequency response chart for every speaker in the system. You can even draw the response curve you want on the iPhone or iPad, and the receiver will implement it-something my fellow S+V contributing technical editor Geoff Morrison demonstrates in one of the accompanying photos.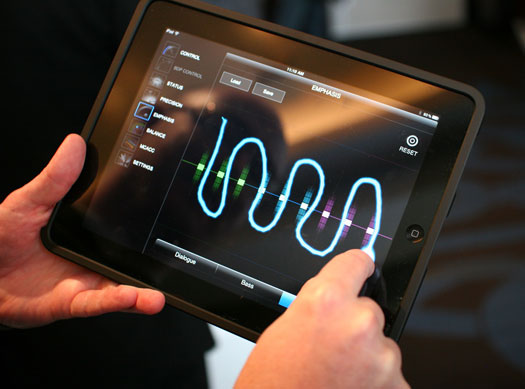 The other app, Air Jam, allows up to four Bluetooth devices to stream music to a Pioneer VSX-1021-K receiver equipped with a $99 optional Bluetooth adapter. The idea is that you and your friends can build playlists from tunes streamed off your iPhones and iPads. Each of your Bluetooth buddies can see the tunes everyone else has added, and if they hear something they like, they can hit an "I like it!" button to take them to that tune on iTunes or YouTube. All users can put their tunes at the top or bottom of the list, skip to the next tune, and adjust volume, causing the assembled tech journos to speculate about epic Bluetooth-fueled tune wars.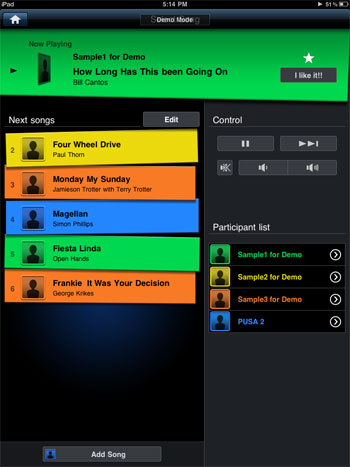 Incidentally, Walker said both of these apps will soon be available for Android phones and tablets.

Pioneer also demonstrated another app for the VSX-1021-K that's available now for Windows PCs and soon for iPhone and iPad. It's called Wiring Navi, and it's part of Pioneer's AV Navigator feature. Wiring Navi is an interactive guide to connecting Pioneer receivers. Basically, you tell it what other gear you have and it shows you how to make the connections. Even cooler, though, is the interactive manual feature. Just push a button on the receiver's front panel or remote, and the manual on the computer or mobile device automatically turns to the page dealing with that feature.

There's another VSX-1021-K app Walker didn't demonstrate: vTuner, an Internet radio service. Many receivers now offer Internet radio; the difference here is that you can use an iPhone or iPad to browse through the more than 16,000 stations available through vTuner rather than having to use your TV to scan the selections.

Here's a quick run-through of the new models, all of which are available now or within a month.

VSX-521-K ($249): 110 watts x 5 channels, includes DTS-HD Master Audio and Dolby TrueHD and Pro Logic IIz, Bluetooth compatibility with optional adapter
VSX-821-K ($349): same as VSX-821-K, adds iPhone/iPad connectivity
VSX-921-K ($449): 110 watts x 7 channels, adds 1080p video scaling
VSX-1021-K ($549): same as VSX-921-K, adds AirPlay, Air Jam, iControlAV2, DLNA, vTuner, AV Navigator

Looking for something a little more high-end? Walker said Pioneer plans to introduce new Elite models in a couple of months.