Pioneer VSX-832 A/V Receiver Review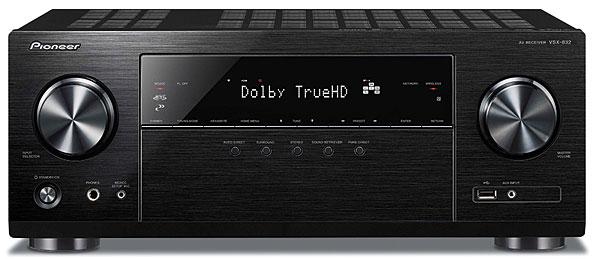 PRICE
$479
AT A GLANCE
Plus
Satisfying power for both two-channel and multi-channel modes
3.1.2-channel Dolby Atmos/DTS:X setup option with phantom surrounds
Surprisingly responsive home-network streaming
Basic auto-setup/EQ on board
Minus
Five-channel power requires choice between height or rear channels
No analog multiroom capability
No audio outputs other than HDMI
THE VERDICT
Good five-channel power, 4K/HDR readiness, excellent streaming responsiveness, and phantom-rear-channel Atmos give this affordable AVR its distinct attractions.
Everybody knows what to expect from a flagship or cruiser-class A/V receiver: top-bracket power of 120 watts per channel or more, with nine, 11, or even 13 channels ready for latest-generation surround technologies like Dolby Atmos and DTS:X, as well as hightech auto-setup routines and DSP on board. And then there are the deluxe extras, such as extensive multiroom capabilities, 4K/HDR passthrough and 4K scaling, and plenty of internet- and computer-audio streaming options. But what can you expect from the other end of a brand's AVR fleet? Not so much, right?
Well, actually…Pioneer's newest value entry, the VSX-832, features all of the above (less a fistful of watts, and a couple of channels or four) plus a good deal more. One of the prime ways it manages the trick is this: It's a "3.1.2-channel" Dolby Atmos receiver, able to amplify only five channels simultaneously, which obviously saves a bit of coin over the full-bore Atmos/DTS:X designs that are higher up the ranges of Pioneer and other manufacturers.
How's that work? Initially, Dolby required a minimum of seven channels to implement the object-based surround presentation of Atmos, a classic five-channel seat-level layout plus a pair of height channels. (As I've said before: Object-based or not, in the real world, the "B-chain" still comes down to x or y number of loudspeakers and amp channels.) Now, however, Dolby has un-super-sized Atmos to allow for a couple of new configurations (originally conceived for soundbar and compact systems) that exploit DSP audio virtualization to conjure height and depth dimensions from fewer than seven physical loudspeakers. One of these configurations is—you guessed it—3.1.2, wherein physical front height speakers are retained, as are the conventional LCR front trio and the subwoofer (the ".1"), but surround speakers are abandoned in favor of virtualization. I haven't spent a lot of time recently in the soundbar- and compact-system aisles of my local big-box stores, so this news didn't reach me until the VSX-832 heaved up over the horizon. It's among the first AVRs to offer this new option, so I was curious to give it a spin.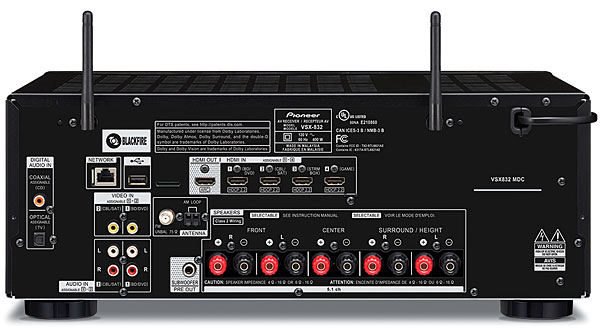 Otherwise, the VSX-832 looked surprisingly capable, given its rather attractive price point—$479 list, discounted out of the gate to $379 and occasionally promoted for less at the popular online retailers. Power, stated at 80 watts x 2 (fullbandwidth), should prove plenty for a large majority of real-world, family-sized setups. (Pioneer also lists 165 watts on the spec sheet, which turns out to be for one channel driven at 1 kilohertz and 10 percent THD—yes, 10 percent. So, welcome back to the '70s, folks.) As alluded to above, the receiver offers 4K/HDR passthrough (specified as open to both HDR10 and Dolby Vision) and even 1080p-to-4K scaling. Also on board is a handful of streaming apps, as well as a perfectly usable client for streaming your computer-audio library via local Wi-Fi or wired networks. All the usual wireless suspects are here, too: Apple AirPlay, Google Chromecast built-in, DTS Play-Fi, Tidal-casting readiness, and of course Bluetooth. You also get HTC Connect and the as-yet mostly ephemeral FireConnect wireless-multiroom-on-IP protocol, for future potential. One thing missing, not surprising at this price, are facilities for classic Zone 2 analog playback, even from a set of line-level outputs. And you'll notice some corners cut in other areas of connectivity, most notably a restriction to just four HDMI inputs (though all provide 4K passthrough), and just a couple each of analog RCA and digital inputs (optical and coax for the latter). A USB input is provided on the front panel, though.
Setup
Installing the VSX-832 took just a few minutes, requiring only the plugging-in of my banana-equipped speaker cables, a quartet of HDMI cables, and my subwoofer and wired-Ethernet network connections. However, since the receiver furnishes only five channels of power and only the same number of physical speaker outputs, you have to make a decision: front height or rear surround? You can't have both. I initially went with the former, using a pair of top-quality ceiling-bounce elevation modules perched atop my stand-mounted front left/right speakers.
Pioneer's proprietary MCACC auto-setup/EQ routine is a basic, single-mic-location system that in previous applications has worked competently, returning accurate levels and modest, reasonably selected EQs—and the VSX-832 appeared to cleave to that path. (MCACC, for Multi-Channel Acoustic Calibration system, doesn't suss out your speaker layout automatically, at least in its implementation here; you must manually select from a list of possible configurations before running the program.) Speaker levels and distances were pretty much spot on. The VSX-832 set my left/right speakers to Large, which is fair enough since they extend down solidly to 45 hertz or so. But it did the same for my center speaker, which gives up nearly a full octave to the others. The receiver selected Small for only the front height modules. (I reset the center to Small manually.)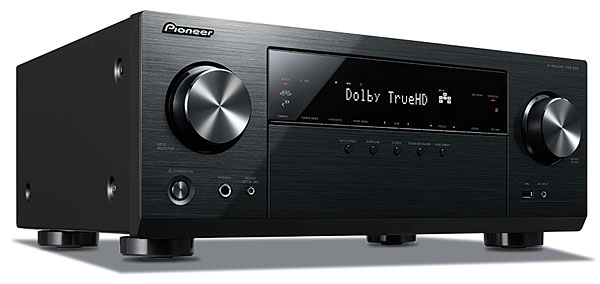 The implementation of MCACC here doesn't allow for display of the automatically derived EQ corrections. (You can graph settings you dial in yourself and store to one of three memory locations using Manual MCACC, essentially a nine-band graphic equalizer.) But my ear heard rather less change than what I've encountered from other Pioneer AVRs or from other EQ systems, such as Audyssey MultEQ. This amounted to a barely perceptible sharpening of midrange textures and an equally slight softening of the top couple octaves or so. Subsequent checks with my RTA iPhone app (shout-out to Studio Six Digital!) confirmed these impressions, showing a very modest, couple-of-decibels rearrangement in the lower mids and a roughly 2-dB/octave rolloff above about 6 kHz. The former is consistent with other MCACC runs and other systems; the latter is not. Perhaps Pioneer's target curve for the VSX-832 is slightly different. In any case, before I get too bogged down in auto-EQ minutiae, I'll reiterate that these systems are highly variable to speakers and rooms, so drawing general conclusions is unwise. As always in these situations, I did all of my evaluative listening with MCACC defeated.
Listening, Viewing
I had no quarrel whatsoever with the Pioneer's fundamental sound. This may be a comparatively entry-level receiver, but I doubt you would be able to divine that from blind listening. Full-range, two-channel power proved to be more than adequate in my room for my moderately low-sensitivity Energy Veritas monitors. This was demonstrated by near-live-level playback, in two-channel full-range mode, of pristinely recorded material such as Mark Knopfler's "Lights of Taormina" (from Tracker). The opening's deep, loose bass drum and percussion and its generously recorded bass carried real weight and authority, even at quite substantial volume, while guitar attacks and cymbals retained excellent transient detail and airiness.