Pioneer VSX-59TXi A/V Receiver
When Michael Fremer reviewed the
Pioneer VSX-49TX
, he concluded that it was "one of the best, if not
the
best, A/V receiver on the market today." Of course, technology marches ever onward, and Pioneer hasn't rested on its laurels. Their subsequent flagship receiver, the VSX-59TXi, builds on the qualities of its predecessor, offering even more features for the same $4500 price tag.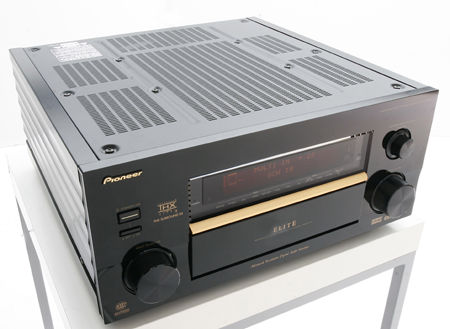 Granted, that price is quite high—enough, in fact, to get you a respectable preamp-processor and multichannel power amp. But, as evidenced by the entry of such high-end companies as Lexicon and Arcam into the receiver market, there's a lot of value in integrating these functions, in terms of both installation and ease of use. For that reason, I have no problem recommending a high-end receiver, especially one as capable as the VSX-59TXi.
Physics
Physically, the VSX-59TXi bears a strong family resemblance to its predecessor; a gold-tone band beneath the display is the only obvious difference between them. Speaking of the display, its primary readout includes two lines of 15 alphanumeric, dot-matrix characters that indicate the selected input, volume setting, and audio mode. Less prominent indicators on the display include such additional information as the type of audio signal being received, speaker configuration, and whether or not THX processing is engaged. Most of these secondary indicators are rather small but surprisingly easy to discern from a reasonable distance.
Three large knobs control the volume, input selection, and listening mode. Below the display is a flip-down panel that conceals a variety of other controls, a headphone output, and a front-panel input with S-video, composite video, L/R analog audio, and optical digital audio. Also behind the panel is a setup-microphone input, which I'll discuss shortly. With the panel closed, the receiver presents a strikingly simple visage.
The rear panel is a model of good organization, with digital and line-level analog connections on the left and speaker and AC power connections on the right. There's one less optical digital audio input than offered on the 49TX. I assume this was necessary to make room for the USB port. Both units also have a coax RF input for Dolby Digital from laserdiscs (a rare feature these days) and two optical digital audio outputs.
Rounding out the digital audio connections are two 4-pin IEEE1394 inputs that accept i.Link signals from the Pioneer DV-47Ai and DV-59Ai universal players.
Three component-video inputs can be assigned to any of the functional inputs (TV/DVD, DVD/LD, Sat, etc.), as can the digital audio inputs. There is no HDMI (or DVI) switching; according to Pioneer, HDMI was not ready for prime time when this receiver was introduced. (HDMI switching is just beginning to show up on a few new high-end receivers).
Of the six main A/V inputs, three are video-recording loops with corresponding S-video, composite-video, and L/R analog audio outputs. There are also four L/R analog audio-only inputs, two of which are recording loops with corresponding analog audio outputs.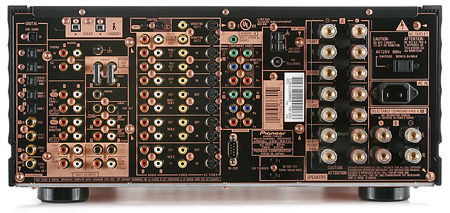 In addition, there's a 7.1-channel analog audio input for DVD-Audio and SACD players. I've never understood why manufacturers include more than 5.1 channels in these inputs. I suppose it prevents obsolescence in the event that a 6.1- or 7.1-channel audio-disc format is introduced, but I think this is highly unlikely, especially given the poor market performance of SACD and DVD-Audio in the face of MP3. Other rear-panel audio connections include preamp outputs for all channels and front L/R power amp inputs.
The remote is similar to the universal/learning LCD touchscreen model included with the VSX-49TX, with one important difference: it's much thinner. Instead of using AA batteries, the new remote uses a rechargeable battery and comes with a charging cradle, allowing the remote itself to be much less ungainly than the previous model. This is a good thing, but unlike Michael Fremer, who lavished praise on the 49TX's remote, I don't much care for either of the Pioneer models. For one thing, I don't like LCD touchscreen remotes in general; the "soft buttons" on the screen can't be operated by feel in the dark, and the backlight often screws up your dark-adapted vision. In addition, such remotes always involve multiple pages of controls, and activating the desired control can be a hit-or-miss proposition.
Regarding the 59TXi remote specifically, I have a number of complaints. First, changing pages is quite slow, which led me to wonder more than once if I'd hit the right button. To activate the backlight, you must press a soft button, which isn't even on every page! (The only hard buttons are channel Up/Down, Volume Up/Down, Menu/System Setup, Mute, and a 4-way cursor navigation cluster with central Enter button.) Perhaps most important, I found the organization of the controls and pages quite non-intuitive.
On the other hand, the onscreen menu system is simple and straightforward, with large, low-res block lettering and sparse, text-based graphics that resemble what you would have seen on a text-only computer display 20 years ago. The main menu includes only five items (plus Exit): Auto Surround Setup, Input Assign, Surround Setup, Expert Setup, and THX Audio Setup.
Physiology
Taking the top off of the 59TXi, its innards bespeak quality. The copper chassis (which Pioneer designed from the ground up for the 49TX and is used here as well) is chock full of components, with beautifully dressed cables and two big heatsinks. The huge transformers have separate windings for the analog, digital, and power-amp sections to improve isolation. According to the company, the analog and digital sections include improved shielding to prevent interference, and the signal paths are as short and direct as possible.
Like its predecessor, the 59TXi boasts THX Ultra2 certification, which means it meets many minimum requirements that aren't so minimal: seven channels of amplification (130Wpc into 8Ω in both cases), Advanced Speaker Array (which expands any 5.1 source to 6.1 or 7.1), THX processing modes (Cinema, Surround EX, Ultra2 Cinema, MusicMode), and others. In addition to the THX processing modes, the 59TXi provides all the other current surround modes, including Dolby Digital (regular 5.1 and EX matrixed 6.1), Pro Logic, Pro Logic II, and Pro Logic IIx; DTS (normal 5.1 and ES Matrix and Discrete 6.1), DTS Neo:6, and DTS 96/24; and a variety of Pioneer DSP modes. Finally, this receiver is the first to offer Windows Media Audio 9 decoding.