Pioneer VSX-55TXi Receiver
This receiver's front panel is black but sets itself apart with a high-gloss finish and Pioneer's traditional (and rather attractive) amber display. It doesn't depend excessively on the jog dial. To the left, above the jog dial, are buttons labeled "music" and "movies," which make it easy to switch between Dolby Pro Logic II's music and movie modes (there's no IIx). To the right are buttons that choose the external line inputs for a universal player, select modes for the room EQ (including off), and bypass the tone controls for direct stereo playback. Touching any button on the remote activates red-orange backlighting.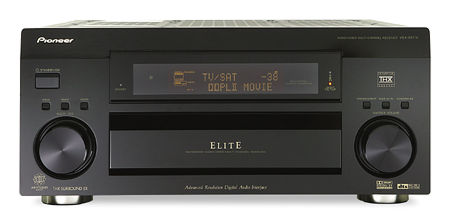 Other than that, the receiver has three significant advantages. It's THX Select–certified; uses an iLink (IEEE 1394) input to provide a direct, uncompromised digital interface for DVD-Audio and SACD signals from a universal player; and not only offers auto setup and room EQ but is notably fastidious in how it performs those functions. THX Select certification ensures that performance reaches certain benchmarks. It means that the receiver can run speakers with impedances down to 3.2 ohms and produce volume levels of up to 105 decibels in a room of 2,000 cubic feet when used with THX Select–certified speakers. To sharpen its edge, Pioneer isolates the fan-cooled power supply, analog circuits, and digital circuits in three separate chambers.
The iLink interface allows the receiver to talk to a universal player like, say, Pioneer's DV-59AVi or DV-47Ai. I didn't have one of those on hand, but avoiding six analog cables and their attendant digital-to-analog and analog-to-digital conversions should result in cleaner sound from DVD-Audio and SACD material.

For auto setup, Pioneer provides a round, 1-inch-wide plastic mic that plugs into the front panel. It's smaller and lighter than Denon's mic and has no threaded insert for tripod mounting, but it does have a clip that you can attach to some object. Attaching it to my shirt didn't seem like a good idea because tucking it under my chin would've prevented it from having a direct line of sight to the rear speakers. I elected to hold it at arm's length while leaning back.
Pioneer's auto-setup routine uses Motorola 48-bit DSPs and took longer than any of the others in this roundup. First, it spat out bursts of pink noise that rose in volume and covered each of the seven speakers. Then it repeated the tones for the front channels, then the surrounds, then the rears. This test told the system that my Paradigm Reference Studio/20 speakers were large (full-range); that's correct, but I prefer to run them small, so I later reset the receiver manually. The speaker-distance check emitted 32 tock noises for each speaker. Checking the distances later, I found that they were accurate within 6 inches.
The four rising pink-noise bursts for channel level were brief. However, the final sequence of test tones for room EQ was the longest of the group, going round and round the room several times and triggering flat-eared dirty looks from the cat. The EQ settings were mostly minuses (which made complementary sense when I remembered that the general level settings were mostly pluses) and seemed to focus on cuts in the bass. The numbers followed broad, recognizable patterns, in contrast to the settings I've seen on other receivers, which have been relatively scattershot and harder to interpret.
My room's midrange response once again passed muster with the auto EQ program—it made few changes—and the receiver's own soft-edged midrange came through with or without EQ. The sonic signature remained consistent with my past experiences with Pioneer receivers: slightly rolled-off highs, a butter-smooth midrange, a huge soundfield, and a forgiving nature that meshes well with revealing speakers. Slightly acerbic recordings—like Bartók's For Children arranged for strings and performed by the Sofia Soloists—acquired warmth.
Again, the bass benefited most from room EQ. After calibration, it was more even and adroitly sculpted to compensate for my room's deficiencies. Having measured my room's bass characteristics in the past, I know it has two standing waves that exaggerate midbass response at certain frequencies. The Pioneer did a great job of neutralizing them. Combined with the warmish midrange and decent dynamics, the reduction in bass anomalies allowed me to turn up the volume and experience action-movie effects on a visceral level.

SPONSORED VIDEO