Pioneer Entry-Level AVRs Incorporate HDMI 2.0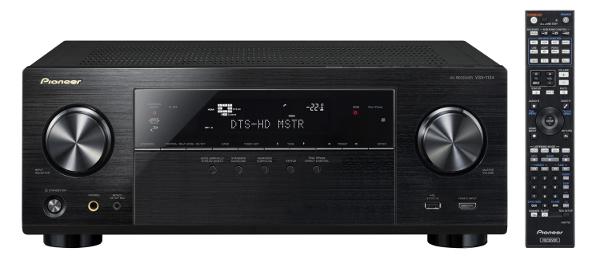 Pioneer has introduced three entry-level, 7.2-channel AV receivers equipped with HDMI 2.0, Roku Ready certification, and its proprietary iControlAV5 app. The new models will be available at the end of the month with suggested prices of $399 for the VSX-824, $499 for the VSX-1024, and $599 for the VSX-1124.
The AVRs are said to be the first to include HDMI 2.0, which passes high frame rate, high resolution video with a signal bandwidth up to 18Gbps. The increased bandwidth supports new features such as 4K60p 4:4:4 color support when the receiver is used with a compatible source and after it receives a firmware update.
Roku Ready certification means that when a Roku Streaming Stick is plugged into the receiver's MHL-compatible connector, it can be fully controlled via the receiver's remote control or a smartphone or tablet loaded with the iControlAV5 app.
The VSX-1124 is the most feature-laden model, offering a 192kHz/24-bit ES9006S digital-to-analog converter (DAC), Pioneer's Advanced MCACC automated setup system, which includes a subwoofer EQ, 4K/Ultra HD upscaling, the ability to pass 4K video signals at up to 60 frames per second to an HDMI 2.0-equipped 4K display, and the ability to play 96kHz/24-bit 5.0- and 5.1-channel FLAC and WAV files. The receiver also supports a number of high-resolution file formats, including AIFF, WAV, FLAC, DSD (2.8 MHz), Apple Lossless, MP3, WMA, and AAC.
Available on all models, the free iControlAV5 app can be used to control volume, input selection, and audio modes and settings, including equalization. With the VSX-1124, the app adds AV scaling, enabling manual override of the TV's scaler. The app is available at Apple's App Store for the iPhone/iPad/iPod touch and at GooglePlay.com for Android devices.
All models also feature Pioneer's AVNavigator, a two-way interactive owner's manual that simplifies receiver set up.
LATEST VIDEO