Pioneer Elite VSX-52TX A/V Receiver
The gateway to four figures.
Being a big electronics company and not having a $1,000 A/V receiver is a little like being a big car company and not having a car around $20,000 to $25,000. It's that key middle ground that you hope will ultimately help transition people from your entry level to your high-end level. It's also one of the first levels where people expect something well beyond the basics, and the competition to provide it, and grab those extra dollars, is stiff.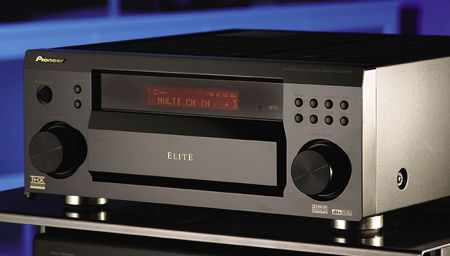 The $1,000 barrier has always been key for A/V components, as it represents the first step into four-figure territory. Most people want to either tip-toe over that line at first or just stand on it, which explains why almost every major electronics maker has an A/V receiver right at $1,000, beckoning people over into four figures as painlessly as possible.
Getting Started
Pioneer had gotten away from the $1,000 mark in the Elite line for a while, but they're back with the new VSX-52TX. It essentially replaces the VSX-43TX, but it costs $200 less. All of the receiver tricks you've come to expect from the Elite line are here. There's the latest complement of DTS and Dolby processing (this is one of the first Pioneer models to offer Pro Logic IIx, which adds a Game mode and a few other new twists to the highly regarded Pro Logic II format). Dual Motorola 48-bit chips handle the processing load. The VSX-52TX is THX Select–certified. Connections are comprehensive, with an array of digital and analog audio inputs, including a multichannel analog input with bypass for use with high-resolution/multichannel players, and component, S-video, and composite video connections. Seven amplifier channels are aboard, and the rear channels can be switched to speaker B duty. There's an RS-232 connection but no capability for Pioneer's iLink system.
Setup couldn't be much easier, thanks in no small part to Pioneer's MCACC, an automatic calibration system that has now taken on several different forms. The VSX-52TX gets the standard version of MCACC, which sets speaker size, level, and delay. All the user needs to do is set up the included microphone and hit a few buttons, and the receiver does the rest, quickly and accurately—an excellent idea for a receiver at this (or any) price.
Do-it-yourselfers will be glad to know that they can also do everything manually using the included remote and onscreen menu system. This is helpful for MCACC users, too—as it makes it easy to go in and make your own tweaks.
I used the VSX-52TX primarily with a Marantz DV8300 universal disc player and an Energy Veritas 2.4 speaker system, which may be a bit out of the Pioneer's league price-wise, but I wanted to give it every opportunity to perform. I also used a less-expensive Phase Technology speaker system that would be a more-realistic price pairing.
The Usual Suspects
Along with plenty of features, I've come to expect solid, dynamic, and relatively warm audio performance from Elite receivers, and the VSX-52TX fits the mold nicely. At $1,000, it's obviously not going to blow you out of the room with an endless soundstage and dynamics that won't quit, but it will fill any regular-sized room with a warm, easy-going sound that can shake the walls when it has to. Think of a quality mid-level receiver as drinking the light version of one of your favorite beers—it's still plenty tasty, and it certainly gets the job done, but it lacks some of the full version's body and punch. Unlike the beer world, however, that full version in the receiver world costs several thousand dollars more. Compared with its peers at the $1,000 level, the VSX-52TX stands out from the crowd with musical performance, just like the VSX-43TX before it.
If you want to make a $1,000 receiver sound more like a $4,500 receiver, you'd better turn to a quality universal disc player and a well-produced high-resolution mix. I had both, with the Marantz universal player and a collection of DVD-Audios and SACDs, including Bucky Pizzarelli's Swing Live (DVD-Audio and SACD, Chesky), Muddy Waters' Folk Singer (SACD, MCA), and Respighi's Pines of Rome (DVD-Audio, AIX). The VSX-52TX did exactly what it was supposed to do—pass the signals through the preamp stage unscathed and then give them enough clean power to do their thing. This was audible proof once again that you don't need a $20,000 system to appreciate the benefits of high-resolution music. The VSX-52TX's amp channels are nice and clean (i.e., free from distortion, grit, etc.), even with all channels driven (and driven hard), which is never a given even with mid-priced receivers.

The VSX-52TX got plenty of opportunities to impress with all channels driven during movie soundtracks, and it did. Again, it wasn't a presence that felt limitless or a dynamic profile that was boundless, but this receiver is highly effective at getting the most out of what it has to work with, and that's why it separates itself somewhat from much of the $1,000 crowd with movies. I ran the staples through it—Saving Private Ryan, Band of Brothers, and the Lord of the Rings trilogy—and liked what I heard. It's warm without being too mellow, cool under pressure, and will clearly get firing when it's asked to. I was equally impressed by the way it handled movies with less-pristine original tracks, like Blues Brothers and The Wild Bunch. Neither of these tracks is bad by any stretch, but the era in which they were recorded naturally has its effects, and the VSX-52TX did a commendable job of maintaining a smooth, open presence here without any artificial sweetening.
As a good receiver does, the VSX-52TX supplies a number of soundtrack format options. Its inclusion of DPLIIx even caused me to break out the video-game system for the first time ever in a review. I applied DPLIIx to the tracks on the sonically intense, first-person game Medal of Honor: Rising Sun. I was highly impressed not only by how much Dolby came through on their promise to make the surround channels fuller with this new format, but also by how cohesive the soundfield remained, even as I forced erratic and quick shifts in perspective on it. As "unmilitary" as it may have been to do so, I left large artillery pieces and tanks intact behind me and listened to the strong, full-bodied reports that they still delivered from the rear, then quickly shifted the character 180 degrees to see how well—and how quickly—the system could shift that sound, first to the side and then to the front. This is considerably more demanding than the average movie soundtrack, yet the format, and the VSX-52TX behind it, handled this and similar tests remarkably well. Just what I need—more excuses to waste time playing video games.
Most of us who have been lucky enough to dabble in the four-figure territory of A/V components after working our way up through the trenches can still remember our first $1,000 component. . .and the expectations that went with it. If we were relatively rational, we wouldn't have expected that component to light our A/V world on fire with unmatched sound quality and parts from the top shelf of every internal-component category. However, we did expect a high-quality sound that handled music as well as it handled movies, build and design quality that helped justify the extra dollars, approachability and ease of use, and a features list that included almost all of the latest tricks. In other words, we expected something like the VSX-52TX.
Highlights
• Audio performance that stands out from the $1,000 competition
• Approachable and user-friendly

SPONSORED VIDEO