Pioneer Elite SC-95 A/V Receiver Review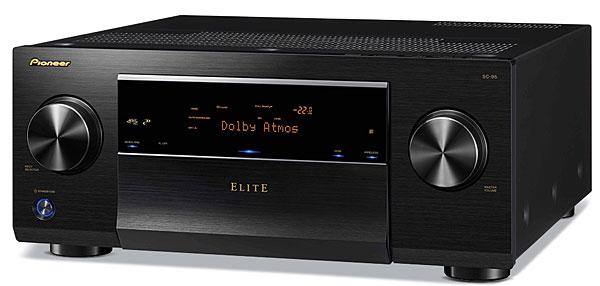 PRICE
$1,600
AT A GLANCE
Plus
Latest-gen audio and video processing
Fine-performing nine-channel Class D power
Cooler-than-ever free phone/tablet apps
Extensive proprietary auto-setup/EQ
Minus
Uninspired supplied remote
Occasional streaming audio glitches
THE VERDICT
All the good stuff—including Dolby Atmos/DTS:X, 4K/HDR with upscaling, and HD-remote-room ability—in a nicely usable, fine-sounding, fairly priced package.
It has been more than two years since Onkyo bought—or merged with, depending on your financial-accounting philosophy—Pioneer's home-audio unit, but so far there has been no sign of their brands melding into a single entity. (Piokyo? Onkioneer?) And in all seriousness, we've no such expectation. For its part, Pioneer still retains two more or less discrete A/V receiver lines, the more quotidian VSX range and the higher-end SC models. More or less: All of the SCs reside in the brand's specialist-oriented Elite series, while most of the VSXs remain in the "regular" Pioneer lineup. Yet a few sub-$1,000 VSXs, including two new ones, nestle in among the SCs on the Elite side of the ledger.
Confused? Yeah, me too. Happily, my task here today is not to make order out of Pioneer's model nomenclature, but to examine one of the brand's latest standard-bearers, the Elite range's third-from-the-top SC-95. This address puts the new Pioneer squarely in what I consider the sweet spot of most receiver lines: far enough down to avoid the "every-feature-that'll-stick" price penalty, but far enough up to ensure you get the important stuff at a fair price.
This means the latest in HDMI 2.0a fashion, i.e., HDCP 2.2, with Ultra HD HDR-readiness and 4K (2160p/60) passthrough plus video scaling to 4K. It also means nine channels of amplifier power assignable to 11 speaker terminals, distributable among height speakers for Dolby Atmos (and DTS:X, with a promised firmware update) plus width speakers, rear surround speakers, Speakers B extension duty, HDZone and Zone-2/3 outputs, and biamplification options in a truly bewildering array. The SC-95 manual, supplied on a CD, includes 11 full pages just of speaker-wiring diagrams, many of which themselves have several options. Pioneer claims up to 760 simultaneous watts (8 ohms, 1 kilohertz, 1 percent THD), which works out to, let's see, two from six is four, carry the one, uh, 84.444 watts per channel with all channels driven—a pretty bold claim in my experience, but one that Pioneer's efficient Class D power amps might be able to deliver (we'll see what MJP finds in the lab). The SC-95's stereo spec is 135 watts per channel. [Ed. Note: We are only able to test seven channels simultaneously, but at 1 percent THD, the SC-95 delivered a quite hefty 108.5 into 8-ohm loads with seven channels driven.—RS]
The long, long features list begins with Pioneer's proprietary MCACC Pro auto-setup/EQ system and continues to high-end ESS Sabre 192/32 digital-to-analog conversion for all channels, both Bluetooth and Apple AirPlay wireless readiness (the receiver packs dual-band Wireless-b/g/n on board), and a full complement of network-audio streaming, including 2.8/5.6-megahertz DSD file playback. There's a lot more, of course, including "hooks" for the most popular home-control systems, such as AMX, Control4, Crestron, and Savant. Phew.
The Setup
The SC-95 is conventionally laid out, with the drop-down door on the front that has become all but universal regardless of brand. The Pioneer's is plastic but operates smoothly, and the unit's overall finish and feel are crisp and reasonably elegant. With the receiver up on my rack, I began by bundling nine speaker-wire pairs into position: the usual five channels of LCR and surrounds plus two pair of Atmos ceiling-bounce elevation modules plopped atop my everyday fronts and surrounds. (This required moving my surrounds from their usual high shelves to stands a bit behind and astride the listening position.) Here I encountered a problem. Puzzlingly, among the receiver's literally dozens of speaker-setup options, a 5.1.4-channel Dolby Atmos layout ("5.2.4" in Pio-speak, since the SC-95 features two sub outs) was missing in action. I chose 7.2.4, which requires an external amp to power either the main fronts or the rear surrounds, involving yet two more speaker wires to a pair of small two-ways pressed into service as back surrounds, which my everyday setup does not employ. (I subsequently discovered that by setting surround rear to "None" on the SC-95's manual setup page, I could have gotten, effectively, a sanctioned 5.1.4, but nowhere in the manual is this made explicit.)
With a grand total of 12 speaker cabinets and 34 transducers connected and at the ready, I proceeded with Pioneer's proprietary auto-calibrations and EQ routine, MCACC Pro. This entails the usual parade of clicks and noise bursts, with the SC-95's Pro edition taking about 15 minutes in all. MCACC is quite a deep and interesting system (though it collects data from only one physical mic location), and even a cursory discussion of its powers would fill these pages. That said, the system nailed my speakers' sizes, distances, and level adjustments with impressive precision. For my phase test, I deliberately miswired one front main and one rear Atmos speaker to see if the system would catch them, and it did so with flying colors. (I also determined, on a second run, that MCACC discovered and calibrated my 5.1.4-channel setup just fine, setting the nonexistent surround rear pair to "None" of its own accord.) MCACC Pro dialed in a room-EQ curve that, while not entirely consistent with those of other systems I've tried (and my own observations), was generally correct in its contours and mild in its equalizations. As always, however, I did all of my evaluative listening with the EQ defeated.
The Hands-On
As usual, I began with straight-forward listening to music, first in plain, two-channel, subwoofer-less (Pure Direct) stereo. My main fronts are long-discontinued Energy Veritas speakers of considerably lower than average sensitivity and impedance alike, and the Pioneer proved plenty powerful to drive them to satisfying levels, not only without complaint but with impressive dynamic conviction on track after track. On a cut like "I'm Tired of Crying Over You" from Jimmy Rogers' Blue Bird (one of the very few examples of classic blues recorded to audiophile standards), the Pioneer presented the vocal impact, presence, power, and the snare-drum snap familiar to me, along with perhaps an unexpected degree of elegant soundstaging and aural spaciousness.