Pioneer Elite SC-89 AV Receiver Review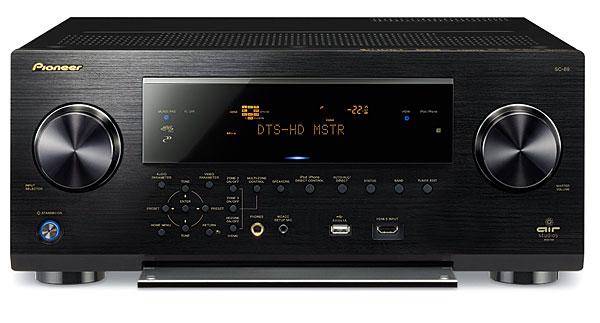 PRICE
$3,000
AT A GLANCE
Plus
Dolby Atmos-capable
New Dolby Surround upmixer
D3 amplification
Minus
Confusing back-panel nomenclature
No HDCP 2.2 digital rights management
THE VERDICT
This Class D receiver is just the kind of nine-channel powerhouse needed for Dolby Atmos 5.2.4—and the built-in USB DAC is a cool bonus.
You probably know by now that Dolby Atmos is the next generation of surround sound in both theaters and home theaters. This object-oriented technology lets movie mixers place any sound, almost anywhere they want, in an immersive dome-like soundfield, with height effects that transcend the flat horizontal plane of 5.1- or 7.1-channel surround. With the first generation of Atmos gear now arriving, the technology has been covered in print evaluations of Denon and Definitive Technology products (by ace reviewer Daniel Kumin), on the Web (by editor-in-chief Rob Sabin, video editor Tom Norton, and columnists Ken Pohlmann and John Sciacca), and in my own Test Report in this issue on the Pioneer Elite SP-EBS73-LR Atmos-enabled speaker system.
So in this review of the Pioneer Elite SC-89 AV receiver, I'm taking my second shot at Atmos. Of course, I evaluated the SC-89 with the Pioneer Atmos speakers and a limited stock of Atmos demo material. But I also gave a close listen to the new—let me emphasize, the new—Dolby Surround mode, which adapts non-Atmos material to a height-enhanced Atmos speaker configuration. And I used my day-to-day Paradigm monitors to interrogate the receiver with 5.1- and two-channel material.
Have It Your Way
The SC-89 ($3,000) is one of five new receivers in the Elite line. Like the SC-87 ($2,000) and SC-85 ($1,600), it has nine amp channels and is either Atmos-upgradable or Atmos-capable, depending on which firmware version you get; my review sample was Atmos-capable out of the box. The line also includes the 7.2-channel SC-82 ($1,300) and SC-81 ($1,000), which can't be upgraded for Atmos.
All five use D3 amplification, the version of Class D amplifier topology that Pioneer developed in partnership with AIR Studios in London. While Class D isn't a Pioneer exclusive, this is the first large-scale deployment of Class D topology in a major manufacturer's AV receiver line that has produced, to my ears, consistently high-fidelity performance. It's not unproven; you can safely invest your home theater dollars in it. And it's especially appropriate for the power needs of a 5.2.4 system—that is, one using five ear-level speakers, two powered subwoofers, and four height speakers for Atmos (either ceiling or Atmos-enabled models).
The SC-89 is a nearly 39-pound heavyweight with source-select and volume knobs at the sides of the front panel and the usual navigation, mode, and other controls behind a flip-down door. Connectivity includes eight HDMI 2.0 inputs, three HDMI outputs, and an HDBaseT output, which allows long video runs over cheap Cat-5 Ethernet cable with an optional converter box at the other end. Notably absent, as on many (but not all) new HDMI 2.0 AVRs, is HDCP 2.2 digital rights management. This could prevent the SC-89 from directly passing some protected content from upcoming 4K/UHD sources and services when it is used for switching; you'll have to decide for yourself how critical a feature this is in light of the unit's other strengths. A noteworthy plus is the computer-friendly USB Type B jack for the Pioneer's ESS SABRE 192-kilohertz/32-bit DAC, still a rare feature but a valuable one.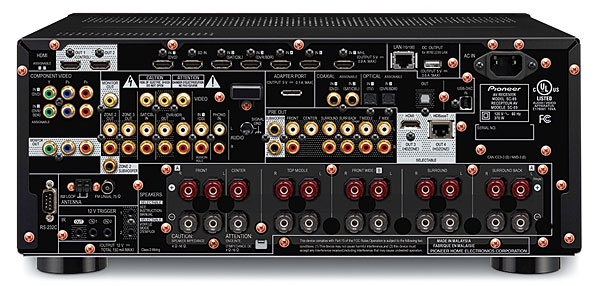 From here, I'll skip over the legacy connectivity and go straight to the nine sets of amp channels and the 11 sets of speaker terminals that serve them. That includes everything you need for a 5.2.4 Atmos system (with four height channels) or a 5.2.2 Atmos system (with two height channels). From left to right, the binding post pairs on the rear panel include front right and left, center, and additional pairs labeled top middle, front wide, surround, and surround back. If you're setting up the nine-channel Atmos configuration of 5.2.4, you'll use the "surround back" terminals for Atmos' front height channels and the "front wide" terminals for Atmos height rear. Confused? The flow chart on page 28 of the manual shows what goes where. At press time, Pioneer was working on an installation guide, which might clarify matters.
In the speaker setting menu, you'll have to set the two pair of Atmos height speakers—identified as TFw and TBw, or top front and top back—as "Dolby Sp," to apply Dolby's Atmos-enabled speaker settings to those speakers. In a system with only two Atmos speakers, or 5.2.2, the designation is TMd, or top middle.
The Atmos-enabled speaker settings include a low-frequency cutoff at 180 hertz. A system with Atmos-enabled speakers should redirect bass below 180 Hz to the front channels, then to the subwoofer as needed. A system using dedicated ceiling speakers, as opposed to elevation drivers, wouldn't require the 180-Hz cutoff. When speaker designer Andrew Jones helped me install this system (by the way, thanks, Andrew!), he noted that MCACC, Pioneer's auto setup program, chose a too-high overall sub crossover of 150 Hz, presumably due to the Dolby-imposed bass limits of the Atmos elevation drivers. He dropped the crossover to 80 Hz. That's already my standard procedure, but readers setting up Atmos, please take note. Andrew also pushed the four height-channel levels a couple of decibels higher than the setting chosen by MCACC.
Let's note in passing that along with being Atmos-compatible, MCACC Pro features other refinements, including room correction for dual independent subs, finer analysis of phase and group delay, phase correction between channels, and 1-millimeter increments in setting speaker distance.
A Different Dolby Surround
The other source of wonder and confusion in the onset of the Atmos era is the reintroduction of the term "Dolby Surround." This was the name given to Dolby's first crack at analog surround technology back in 1982. Now the name is repurposed for something new: the upmix mode that tailors stereo, 5.1-, and 7.1-channel content to one of the Atmos-at-home speaker configurations.
Dolby Labs describes this new Dolby Surround as an upmixer that analyzes phase and gain relationships of elements in the signal and then steers them to the appropriate places in a channel-based system. One goal is to preserve the intent of the original mix, so an upmixed stereo CD should sound like the original, but with more spaciousness.
Why the old/new name? Dolby is aiming to make consumer surround technology simpler, more direct, and more understandable, with a single product name that covers every speaker configuration—in lieu of the old tangle of names, abbreviations, and roman numerals.
Dolby Surround is billed as a total replacement for the Dolby Pro Logic II/IIx/IIz Music, Movie, and other modes that have been standard equipment in receivers for so many years. Pioneer treats it as a replacement, though Onkyo and Yamaha use it to augment, not replace, Pro Logic. While this receiver omits Pro Logic, it does include another upmix mode, DTS Neo:X, which tailors stereo and surround content to 9.1.
A quick summary of the receiver's feature set includes Apple AirPlay wireless connectivity, HTC Connect for smartphones, Spotify Connect and Pandora audio streaming, Windows 8 and DLNA certification for media access from a computer, Roku readiness, and compatibility with AMX, Control4, and Crestron automation standards. Bluetooth and Wi-Fi require adapters. The onscreen interface and the remote control are mostly unchanged in their look and feel; the iControlAV5 Android/iOS app is now in its fifth generation, still allowing front/back and side/side channel adjustments with a tilt of the mobile device. The receiver is rated at 140 watts with two channels driven, though that's with a 1-kHz test tone. (See our measurements.)
Associated equipment included two speaker systems. For Atmos demos, I used Pioneer Elite models designed by Andrew Jones: the Atmos-enabled SP-EBS73-LR monitor along with the SP-EC73 center and SW-E10 subwoofer. That system's four monitors reproduce height-layer information by using top-firing drivers to bounce sound off the ceiling. For 5.1 and stereo demos, I returned to my usual speakers, the Paradigm Reference Studio 20 v.4 and Seismic 110 sub. Signal sources included an Oppo BDP-83SE universal disc player, Meridian Director USB DAC, and Lenovo Win 7 laptop. All movie demos were Blu-ray Discs with either Dolby Atmos or DTS-HD Master Audio soundtracks.
Transformers: Age of Atmos
Dolby Atmos has been used to mix 80 movie releases in two years (some of it obviously Bollywood fare), and the first one available to us on Blu-ray was Transformers: Age of Extinction. Along with the Dolby Atmos Demonstration Disc issued in August in time for CEDIA demos, it was one of two discs available for this review. Please note that the following comments are based on the receiver operating with Pioneer's Atmos-enabled speakers, with their top-firing elevation drivers. The receiver might well have sounded different with a ceiling-speaker installation.