Pioneer Elite SC-05 A/V Receiver
If you're like me, you've seen your net worth take a significant hit in 2008. Not only has my house's value dropped nearly 30 percent, but my retirement fund dropped that much the first week of October! Consequently, I don't feel as wealthy as I did in 2007—although no one would ever confuse me with Daddy Warbucks in any event.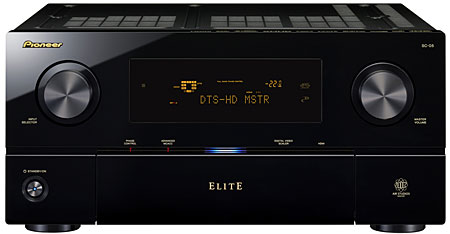 Despite my falling fortunes, I'm always on the lookout for a good bargain, especially in home-theater components. One of the many benefits of being an equipment reviewer—besides the huge paycheck (hint hint, Scott!)—is the privilege of auditioning a wide assortment of electronics in the comfort of my own home, though it was much more fun when my house was worth more. In that process, I've come to realize that you don't need to spend megabucks for solid performance. In many cases, you can get nearly all the performance of a flagship model, minus some features, for a fraction of the price. Such is the case with the Pioneer Elite SC-05 A/V receiver.
Features
I recently reviewed the Pioneer Elite SC-09TX flagship and found it to be one of the classiest-looking AVRs I've ever used. The SC-05 isn't far behind, even though it lists for only one quarter of the SC-09's $7000 price tag. Lacking the full-color LCD screen from the SC-09, a more traditional text-based display graces the SC-05's front panel. The build quality is solid, although not as impressive as the flagship model, which boasts a dual-chassis structure versus a single-chassis design in the SC-05. Unfortunately, Pioneer chose to use a non-detachable power cord, a rarity in this price class.
In collaboration with Bang & Olufsen, Pioneer has developed a unique Class D amplifier the company calls a "Direct Energy High Fidelity Class D (HD) amplifier," which is a variation on B&O's ICEpower technology used in the Wyred 4 Sound Ice Cube power amp. The amplifier offers a total of 630 watts of simultaneous, fast-response, low-distortion (0.09%) power into 8 ohms. With its Class D design, Pioneer claims 90% efficiency, which conserves a lot of energy.
The SC-05 has virtually every feature and connection available, highlighted by four HDMI 1.3a inputs and one output. With the HDMI inputs, the AVR can receive and decode both DTS-HD Master Audio and Dolby TrueHD soundtracks via bitstream from a Blu-ray player, and it supports Deep Color as well.
While the flagship model boasts THX Ultra2 Plus certification, the SC-05 offers THX Select2 Plus certification, which means it's engineered for smaller rooms where the display and center speaker are 10-12 feet away from the listening position. One of the many benefits of being THX-certified is the inclusion of THX Loudness Plus, which ensures an accurate listening experience at any volume.
Other features include XM and Sirius satellite-radio support and an iPod digital port hidden behind the front panel. This port does double duty as a USB storage-device input for music and digital photos. As with the SC-09TX, support for HD Radio is not included.
Utilizing its Ethernet port, the SC-05 features Home Media Gallery, which lets the AVR access digital movies, music, and photos from a DLNA (Digital Living Network Alliance) server such as a suitably configured Windows PC. A wide range of file formats are supported, including MPEG-4 and WMV for video and MP3 and WMA (lossless included) for audio. Internet radio is also available—a feature surprisingly absent in the flagship SC-09TX.
Pioneer's advanced Multi-Channel Acoustic Calibration (MCACC) measures the acoustic characteristics of your listening room, ambient noise, and speaker size and distance and calculates the optimum delay, level, and equalization for each channel. The AVR generates a series of test tones, and the supplied microphone—placed at the listening position—feeds the tones back to the receiver so it can optimize the speaker settings and equalization for your particular room.
A Faroudja DCDi video processor provides the deinterlacing and scaling of analog inputs. Pioneer decided not to process any HDMI signals—instead, these signals are passed through the unit untouched. The composite, S-video, and component inputs can be transcoded to HDMI and output at resolutions up to 1080p/60, which means you only have to run one cable from the AVR to the display.
Pioneer has developed an exclusive jitter-reduction circuit, which digitally reshapes the waveform of the audio clock to greatly reduce jitter for all content. In addition, a PQLS (Precision Quartz Lock System) circuit works in conjunction with the BDP-05FD and BDP-51 Blu-ray players for higher-quality CD playback. In theory, the quartz oscillator eliminates the jitter that can occur with the transmission of digital-audio bits.