Philips TSi6400 iPronto
The best thing to happen to home theater since the DVD.
Quick, what do your home theater system's remote control and your underwear have in common? (If your answer is that they both require batteries, I don't want to hear about it.) The correct answer is that they both need to be a comfortable fit (physically in the case of the underwear and ergonomically/functionally in the case of the remote) or else they'll annoy the hell out of you all evening long. Unfortunately, while the standard remote controls that come with most home theater components may be able to control multiple devices, when it comes to using them on a daily basis to operate an entire home theater system, they're usually about as cozy as a tight pair of burlap boxers.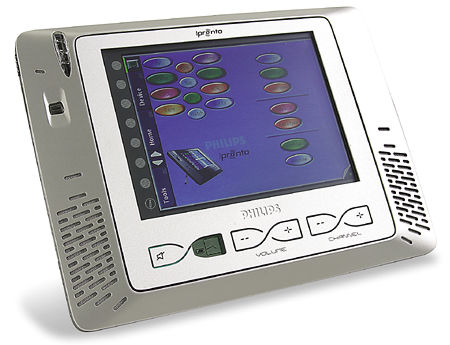 For the last five years, remote-control connoisseurs have pondered the possibilities inherent in Philips' Pronto Series of programmable, highly customizable touchscreen remote controls. Using a Pronto, a little bit of imagination, and a PC that's loaded with a relatively simple Pronto editing program, a remote-control cognoscente can craft the controller of his or her dreams, creating layouts for specific users and macro buttons that make system operation relatively brainless and virtually painless.
Now, along comes the iPronto, Philips' most ambitious, most dexterous, and most compelling programmable touchscreen remote control. Actually, it's much more than a remote control. With a built-in IEEE 802.11b–compliant WiFi card, a Web browser, and an integrated electronic program guide (I won't mention the speakers, microphone, headphone jack, and multimedia card slot, since these parts are built-in but not supported by the software yet), the iPronto is a genetically modified super-hybrid—a Frankenremote of monstrous capability—that's bound to scare the battery acid out of all other so-called universal remotes on the planet. It very well could be the best thing to happen to your home theater since the DVD player.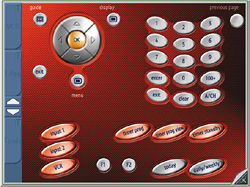 Unlike other Prontos, the iPronto doesn't look like a souped-up PDA. Instead, it looks more like a little LCD TV with a 6.5-inch-diagonal screen, flanked by speaker grilles, with volume/channel buttons along the bottom. At 9.4 inches wide by 7 inches high by 0.9 inches deep, it's certainly larger (and, at 1.9 pounds, heavier) than the average Pronto or practically any other remote. In fact, there isn't much that's average about the iPronto. As remotes go, the iPronto's color TFT VGA (640 by 480) screen is huge and presents almost three times the screen area of the next best Pronto (which, at 320 by 240, has only one-quarter of the screen resolution). Along the left side of the screen are eight access buttons that you can program to bring up any screen layout, the Web browser, or the EPG. A built-in PCMCIA slot with a removable 802.11b wireless network adapter is concealed on the right side. (To get most of the benefits that the iPronto will deliver, you'll need an Internet connection and a home network with wireless access.) Along the top is the power jack, a USB port, a headphone jack, and an MMC/SD card slot. On the front is a built-in microphone, a slot for the stylish stylus, a volume control, a mute button, and an always-on LCD window with indicators for battery level and IR/802.11b communication, plus an analog clock. The iPronto's size and weight make it a two-handed remote, but it's so easy to balance in one hand and navigate with the other that I didn't find this to be a flaw.
As a customizable, programmable remote control, the iPronto is about as sweet as it gets. Philips' iProntoEdit software (I used version 2.1.3.0 on a Windows 98 machine) isn't the most elegant software there is, but it's very straightforward to add devices and pages, as well as create layouts, customize buttons, build macros, and even create jumps to other pages. When you design each page, you can use lots of small buttons or a few larger, easier-to-press ones. For super control freaks, there's a mode that lets you display the top left portion of four different pages on the screen at once; so, if you plan your layouts carefully, you can control four components from one screen. The software contains remote-control codes for over 500 equipment brands, but it uses code sets rather than actual model numbers. You have to select a code set, download it to the iPronto, and then test it. If you're lucky, the first code set listed will operate your particular component. Downloading to (and uploading from) the iPronto is easy and wireless, but the entire process (involving downloading the file and waiting for the iPronto to reset) takes several minutes. That's not bad unless the right code set is the sixth or seventh option on the list. By the way, you can also upgrade the iPronto's firmware wirelessly.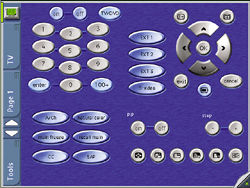 For components that aren't in the existing code list, you can either teach the iPronto (it's a very easy-to-teach learning remote) or download codes that someone else has captured. For example, the IR codes for Philips' Pixel Plus TVs are available at www.pronto.philips.com. The Pronto's large user community also has a wide variety of downloadable codes and configurations (try www.remotecentral.com). However, most of these are ccf files (the configuration file that many Prontos use), while the iPronto uses icf files. The good news is that the iProntoEdit software can convert a ccf file into an icf file. The bad news, as the program warns prior to conversion, is that the process doesn't always result in a usable file.
Initially, I thought the idea of browsing the Internet on a 640-by-480 screen in front of my TV was just silly, but I must admit that it was a lot of fun. The Web browser is limited; no plug-ins are available, so you won't be able to watch QuickTime files or listen to MP3s. (Philips says that plug-ins may be available in the future.) You enter text via a virtual keyboard that pops up when appropriate. Depending on the site, you may do a lot of left/right and up/down scrolling to see the entire page, and pages can take awhile to load. That being said, it was still cool.
The iPronto's coolest feature is the EPG. Once you activate it (three years of free service are included), the iPronto will download the next week's worth of information on up to 500 channels in your area, based on whether you're a cable, a satellite, or an over-the-air kind of person. You can sort programs by categories, and the EPG provides a show synopsis, plus rating information if available. By itself, the EPG isn't much different than what most satellite or cable services provide. What makes this EPG so special is the little eyeball icon next to the program title. Pressing this icon tells the iPronto that you want to watch that particular show, which causes it to send out the appropriate commands to tune in the channel. It's a simple thing, really, but it's the iPronto feature that I liked most of all.
There were a couple of things I didn't like about the iPronto. It's slow to change screens, but I can live with that. More annoying is the absence of a charging cradle. You have to plug the power cord into the top of the remote when you want to recharge the battery. (What were the design people thinking?) There's also no RF capability, but an IR blaster that connects to your home network and is controlled wirelessly by the iPronto is in the works. Finally, there's no way to jump to the EPG at the end of a macro, but that may change in a future software upgrade.
Other than that, the iPronto has everything going for it. It's smart. It's sexy. It's connected. And it's probably the most exciting battery-operated gadget you'll ever hold in your hand. Of course, you can buy a lot of cheap universal remote controls at RadioShack for the price of the iPronto, but none of them will give you the supremely satisfying feelings of power and control, nor will any of them fit as comfortably in your hands or your home theater as the iPronto will.
HIGHLIGHTS
• Exceptionally large touchscreen
• Electronic program guide integrated with remote-control functions
• Future potential is nearly endless