/The Phantom Menace/ Hits DVD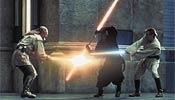 There's Liam Neeson as Qui-Gon Jinn, watching helplessly as his trusty lightsaber flies out of his hand and over his shoulder. On Corus cant, we see two pieces of toast pop out of the dual seating pods of an air taxi. Then there's the indelible image of poor Anthony Daniels in his metal droid C3PO costume as he steps into the 132° heat of a barren patch in Tunisia decked out to look like the mythical desert planet of Tatooine.
If you're a Jedi-head and all this sounds like a bad acid trip, relax. These are just a few moments of the wacky out takes, set gags, and behind-the-scenes footage shown at Skywalker Ranch during a recent sneak peek at the forthcoming DVD of Star Wars: Episode I - The Phantom Menace. The two-disc set ($30), which features the first film of the Star Wars saga to appear on DVD, hits store and cyber shelves October 16.
For newbies, the main feature of the Phantom Menace disc is the DVD version of the 1999 movie - digitally mastered by THX for state-of-the-art sound and picture quality. For veteran Star Wars fans, the movie might be eclipsed by the more than 6 hours of additional material, including exclusive documentaries, never-before-seen footage, and the occasional Easter egg.
The menu-driven DVD opens by randomly taking the viewer to one of three Phantom Menace planets - watery Naboo, the Blade Runner-esque Coruscant, or the sandy Tatooine. Viewers can either play the movie or select from the Chapters or Options sections. And for those watching it on DVD-ROM-equipped compu ters, there's a link to starwars.com on the Web.
What lies beneath this pedestrian menu is a much richer world. It includes the first-ever running commentary by writer and director George Lucas as well as a documentary featuring seven deleted sequences, which were completed just for the DVD. There are TV spots, movie trailers, cast and crew photos, and a 12-part documentary available only via the Web. The disc also includes five featurettes that provide an insider's look at the story, design, costumes, visual effects, and fight scenes.
---