Peter Vasay: How THX Is Staying True to its Mission Page 2
In preparation for the release of the new flagship Xbox and PlayStation game consoles released late last year, we wanted to make sure consumers would be able to take full advantage of these powerful systems when connected to their TVs. THX now has a new
THX Certified Game Mode
to ensure the TV has a refresh rate of at least a 120 Hz for smooth game play, fast rise time for quick image changes, a calibrated picture profile for accurate color, confirmed low latency to ensure game controller input matches what is seen on screen without lag, and reduced judder and smear for clearer moving images. These TVs also can automatically switch to THX Certified Game Mode when connected to the latest game consoles. This simplifies the user experience so players don't need to worry about all the settings nested deep in the TV menu.
And then there's THX Certified Dominus, our newly announced and largest performance class.
S&V Before you fill us in on Dominus, let's delve a little deeper into the latest video initiatives. Last month, for example, THX certified its second ultra-short-throw projector.
Vasay: For those who think a 65- or 75-inch flat panel TV is just not big enough, video projection companies are now able to provide a bright, color-accurate image on a huge 100-inch screen from an ultra-short throw laser projector that sits on the floor or ceiling at the front of the room. These new projectors are so bright that they are a viable solution for daytime viewing and watching movies. Viewers no longer need to have a dedicated home theater space or dark room to get that big-screen experience at home. Our partners continue to take pride in achieving THX Certification for this product category as well.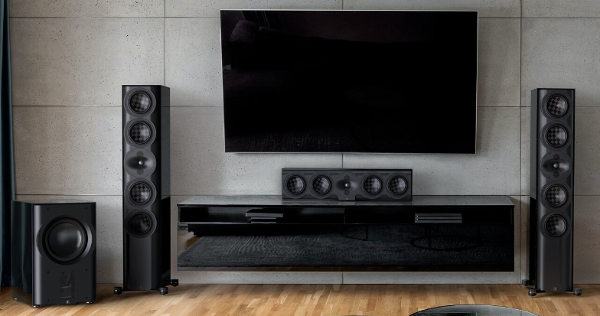 S&V Let's talk about the genesis of the new THX Certified Dominus performance class. Why was it created and how does it relate to existing certifications such as THX Select and THX Ultra?
Vasay: For years, we have been getting requests from installers working on rooms larger than the typical 21 x 16 foot THX Ultra-size room. These tend to be exceptionally large, 26 x 19 foot spaces (about 6,500 cubic feet) with two or three rows of seating, 13-foot ceilings to allow for seat risers and a clear field of view over those sitting in the front rows, and a 20-foot listening distance. These screening room-sized spaces needed more powerful speakers and amplifiers to reach THX reference levels 20 feet away from the screen so we would typically have to specify high-output cinema-grade equipment. Installers were looking for more options and were challenged to see if a combination of consumer-grade speakers and amplifiers could provide high enough output without distortion in a room that large.
THX responded by developing rigorous requirements for power output, sensitivity, and distortion that products would have to attain to meet our biggest and most powerful room and equipment specification. We launched the THX Certified Dominus program earlier this year with our first partner, PerListen Audio. [Click here for the official news release announcing THX Certified Dominus speakers and see THX Certified Dominus Speaker Testing at a Glance.]
S&V I've heard people say THX isn't what it used to be, the implication being that the expansion of programs has somehow diluted your efforts. How do you respond to that?
Vasay: We are movie and music fans ourselves and our engineers continue to be ultra-critical when it comes to making sure both image and audio playback is as accurate as possible on all the products we certify. Plus, extensive research, development and testing goes into each THX Certification program to identify the key aspects of a device to ensure quality and performance.
In the end, our goal is to work with partners who care about creating products that meet the high expectations of filmmakers, musicians, and content creators so their art is presented faithfully and as accurately as possible. All of the products that achieve THX Certification are products we would personally recommend, purchase, and use because we know they perform well, and the feedback we continue to receive from device partners and end users alike confirms this.
S&V Which THX program is the most popular today and why?
Vasay: One of our most popular programs is the PC Multimedia Speaker System Certification program. We continue to see a demand because manufacturers receive great feedback on the performance of 2.1 and 5.1 PC speaker systems that have achieved THX Certification. We hear a lot of stories about customers using them at their workstations for watching movies, creating content, and even as a primary music listening system. These systems are tested and measured for performance at a 28-inch listening distance, which is typically how close users are to the speakers when working on a laptop. The subwoofer in these systems is required to play down to 35 Hz and hit 103 dB SPL peaks — it could literally wake up your neighbors.
S&V How many THX-certified products are there today, and which category has the most products? Also, how do you see that changing in the future?
Vasay: Nearly 500 THX Certified products have come to market, about 20% of which are speakers. We anticipate the speaker category will continue to grow to cover a wide range of room sizes — from desktops to the biggest of home theaters. You can visit the news section at thx.com for the latest news on THX product launches, and check out our THX Certified product finder tool. Both are updated regularly.
S&V What new programs or initiatives can we expect to see from THX moving forward?
Vasay: While THX has been focused on recreating the movie theater in your home, we understand that people are mobile and listen to massive amounts of content on the go from their laptops, desktop speakers, smartphones, and headphones. We now have a range of THX Certified over-ear, in-ear, and true-wireless headphones that provide clear vocals, detailed high-frequency clarity, and deep powerful bass to deliver the same reference THX listening experience we enjoy when watching movies, listening to music, or playing games.
In addition to the THX Certification program, we have launched several technologies, including THX Spatial Audio to enable gaming headsets and immersive laptop audio and our patented THX AAA technology for high output, ultra-low distortion headphone amplifiers. If you want to experience THX Spatial Audio, you can listen to the latest THX Trailer, Genesis, over your favorite headphones or earbuds here.
Related:
THX Remakes Iconic 'Deep Note' Trailer
Finding Deep Note: The Story Behind THX's Famous Sonic Swell