The Perfect Storm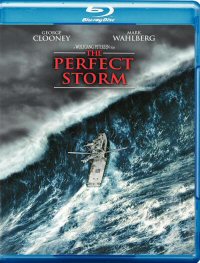 Based on the book by Sebastian Junger,
The Perfect Storm
centers around one of the deadliest storms in recorded history. In 1991, three weather fronts collided in the North Atlantic—one of them being Hurricane Grace—which caused swells 100 feet tall and winds that reached 160MPH.
The movie's star power includes George Clooney, Mark Wahlberg, Diane Lane, and John C. Reilly—but the true star is the storm with its vicious waves and thrashing wind. The story is decent enough, but if the intent was to make me feel sorry for the crew of the Andrea Gail, it didn't work. Anyone stupid enough to venture into a storm of this size for financial gain deserves what they get—funny how Darwin's Law works.
The Perfect Storm finally ventures onto Blu-ray with a new 1080p VC-1 encode. The image is generally pleasing, but it's on the soft side, with detail wavering from time to time. Colors have decent saturation, but they don't jump off the screen compared with other Blu-ray discs. The print is in reasonable condition without any defects, but it does have a filtered appearance, although the black levels are deep and shadows offer good delineation, especially in the third act when the storm is in full swing.
The main soundtrack is a Dolby TrueHD 5.1 mix that presents a very aggressive soundstage, particularly with the surround channels in the third act. Dynamics are very strong with ample bass, and the dialog is very clear, even in the most intense action sequences. In the quieter segments, the blend of the front and rear channels produces an all-encompassing experience that one expects from Blu-ray.
The supplements include three documentaries, three commentaries, a photo montage, and the theatrical trailer. The best of the bunch is a four-minute piece with eyewitness accounts of the real storm. Unfortunately, all of the bonus features are in standard definition.
The storm sequence alone may be worth the purchase price, but the film is rather forgettable. This is the third time I have watched it in the last eight years, and I can't say it got any better with repeat viewings.
Release Date: July 22, 2008
Film: 6 out of 10
Picture: 7 out of 10
Sound: 9 out of 10

Review System
Source
Panasonic DMP-BD30
Display
JVC DLA-RS1 projector
Stewart FireHawk screen (76.5" wide, 16:9)
Electronics
Pioneer Elite SC-09TX THX Ultra 2 AVR
Belkin PF60 power conditioner
Speakers
M&K S-150s (L, C, R)
M&K SS-150s (LS, RS, SBL, SBR)
SVS PC-Ultra subwoofer
Cables
Monoprice HDMI cables (source to pre/pro)
Best Deal analog-audio cables
PureLink HDC Fiber Optic HDMI Cable System (15 meters) from pre/pro to projector