The Peacemaker (Blu-ray)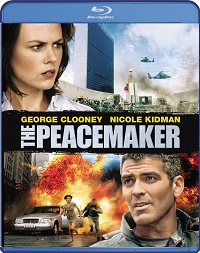 When ten atomic warheads disappear in the former Soviet Union, a newly promoted U. S. nuclear specialist (Nicole Kidman) teams with Colonel Thomas Devoe (George Clooney) to track down the missing weapons before they fall into the wrong hands.
For some odd reason, I missed this in theaters and on DVD last century. The story grabs you in the very first scene and doesn't let go until the end. My one criticism of it is the third act is a little far-fetched with Clooney and Kidman running around New York bossing everyone around and taking matters into their own hands, but hey, it's Hollywood.
Video Highlights

AVC/1080p encode on a BD-50 disc
Vivid primary colors, especially red
Consistent contrast
Solid black levels
Veil of grain permeating the otherwise spotless print
Audio Highlights

DTS-HD MA 5.1 soundtrack
Intelligible dialog
Engaging score from Hans Zimmer
Strong bass response
This is a solid presentation for a catalog title. The video encode is solid given its age and the audio experience is on par with other thrillers from the late 1990s.
Bonus Materials

Stunt footage (SD)
Deleted scenes (SD)
Theatrical trailer (HD)
This was DreamWorks SKG's first feature film back in 1999 and didn't light the world on fire with its box office receipts. Surprisingly, if it was released a few years later after Clooney became a mainstream Hollywood star it would have been a blockbuster. Recommended.
Release Date: September 21, 2010
Studio: Paramount
Movie: 8/10
Picture: 8/10
Sound: 8/10

Review System
Source
Oppo BDP-83 Blu-ray player

Display
JVC DLA-RS1 projector
Stewart FireHawk screen (76.5" wide, 16:9)
Electronics
Onkyo Pro PR-SC885 pre/pro
Anthem PVA-7 power amplifier
Panamax M5400PM power conditioner
Speakers
M&K S-150s (L, C, R)
M&K SS-150s (LS, RS, SBL, SBR)
SVS PC-Ultra subwoofer
Cables
Monoprice HDMI cables (source to pre/pro)
Best Deal analog-audio cables
PureLink HDC Fiber Optic HDMI Cable System (15 meters) from pre/pro to projector

Acoustical treatments from GIK Acoustics
LATEST VIDEO