Parasound Readies Integrated Amp/DAC for Summer Delivery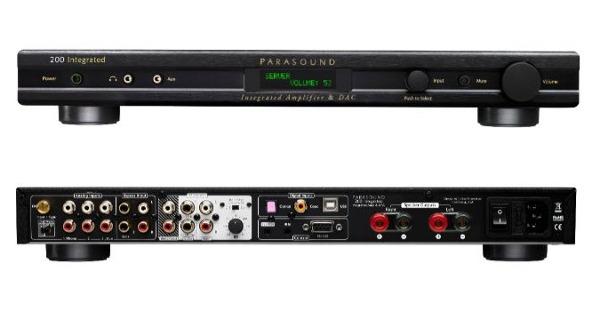 Parasound has announced plans to deliver its most-affordable integrated amplifier/digital-to-analog converter (DAC) early this summer.
The NewClassic 200 Integrated ($1,195) adds a 2 x 110-watt amplifier to the company's recently released NewClassic 200 Pre stereo preamp/DAC ($895) without increasing the size of the slim, 2-inch-tall component.
Like the 200 Pre, the 200 Integrated features a Burr-Brown 192-kHz/24-bit DAC, analog bass management with high- and low-pass crossovers to optimize the performance of systems using compact satellite speakers, and a flexible suite of connections, including a moving-magnet/moving-coil phono stage, two RCA line-level inputs, and digital inputs for USB, coaxial, and optical sources.
The preamp also provides a home theater bypass for L/R and two subs plus a front-panel aux line-level input with an automatic 12-dB gain increase for portable devices.
Parasound said the 200 Pre and 200 Integrated have inherited features from the flagship Halo line, known for its home theater bypass, crossover functionality, and "great sounding DACs." Most notable are the high-pass crossovers, adjustable from 40-140 Hz for the L/R outputs with the sub outputs running either full range or below 80 Hz.
The power amplifier is the latest design from Class D specialist Pascal Audio of Denmark and rated to deliver 2 x 110 watts RMS into 8 ohms.
Convenience features include input naming, a dimmable LCD display, and a back-lit remote with bass and treble controls plus buttons for L/R balance, subwoofer level, and subwoofer on/off. A Bypass input enables a direct connection to the amplifier for integration with surround-sound systems or for connecting a streaming device with its own volume control such as the Sonos Connect.
Custom installation features include two volume presets — turn-on and "favorite" — a bi-directional RS232 serial port with Control4 drivers, rear-panel IR repeater input, 12-volt trigger output, and source-level matching (input-level offset) to ensure sources with varying output voltages play at the same level.
"Integrated amplifiers with a DAC have replaced the venerable stereo receiver as the entry-level system anchor for serious music lovers," said Parasound CEO Richard Schram. "The NewClassic 200 Integrated gives budget-minded audiophiles an affordable, sensible pathway to a higher-end system. For just $300 above the cost of the preamp-only version customers will have a system with great power amplification and outstanding preamp features. The inclusion of preamp outputs allows for the flexibility of adding a separate power amp in the future."
For more information, visit parasound.com.