Factory Tour: Behind the Scenes at Paradigm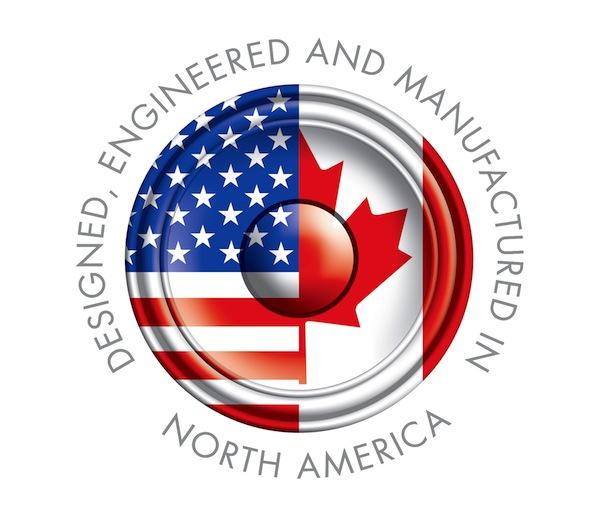 In a recent
Ask S&V
column, I answered a reader question about North American-made audio: Does anybody make audio gear over here anymore? One name I listed in my response was Canada's Paradigm, a company that manufacturers a wide range of speaker models, subwoofers, and audio electronics in a 225,000 square-foot facility located in Mississaugua, Ontario. Sound & Vision has rarely met a Paradigm speaker or electronics component from Paradigm's sister-brand Anthem that it didn't like, so the company is obviously doing something right. To get an overview of just what is happening under the roof of that 225,000-square foot facility, Paradigm's marketing dept. invited me up for a day to check things out. Ready for a tour? Let's go!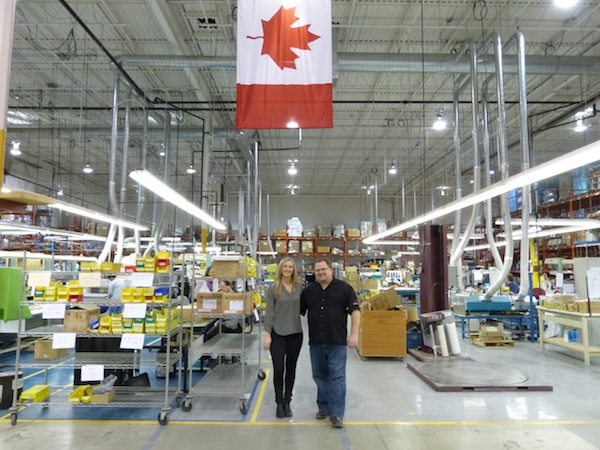 Our tour guides: Paradigm's Public Relations and Social Media Manager Erin Phillips and Senior Marketing Director Mark Aling.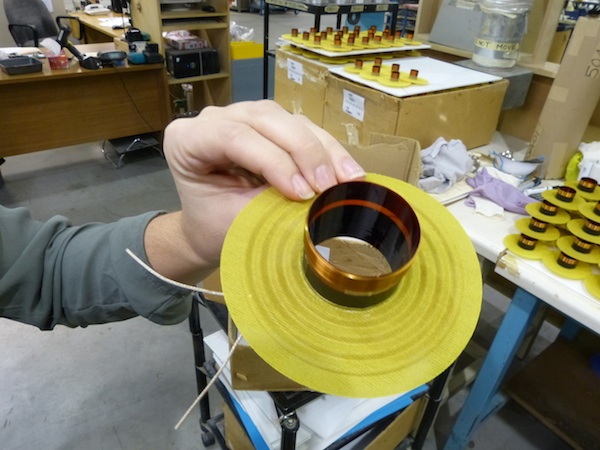 Paradigm is all about vertical integration: For the company's Signature and Reference Series speakers, architectural speakers, and Monitor Series subwoofers, every component—voice coil, cone/surround, crossover, amplifier, cabinet—is manufactured in-house. According to Mark, the advantage to this strategy is that components can be produced at a tighter tolerance for greater unit-to-unit consistency. One example: The voice coils that Paradigm produces for the drivers in each of its speakers are wound to a +/- 0-turn tolerance to match a reference design. Above: A fresh-wound voice coil with its spider attached.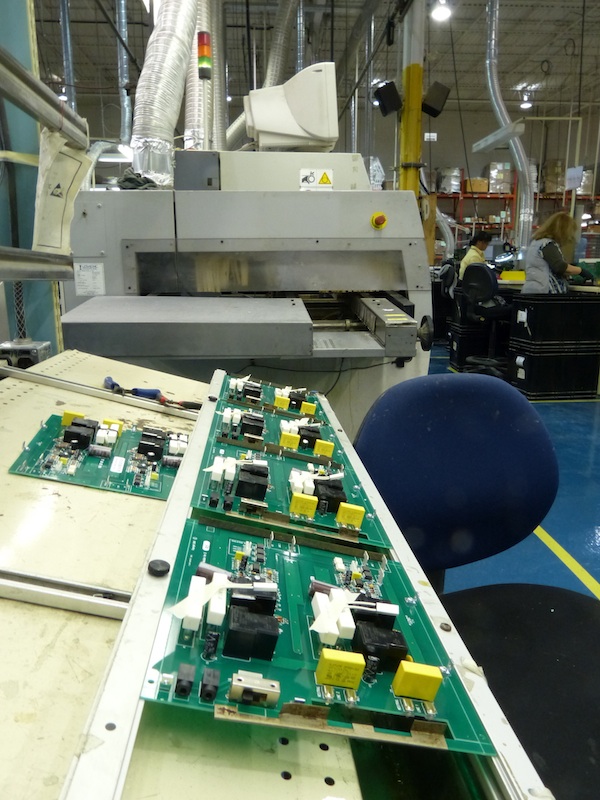 Subwoofer amplifier circuit boards being prepped for passage through an automated solder bath.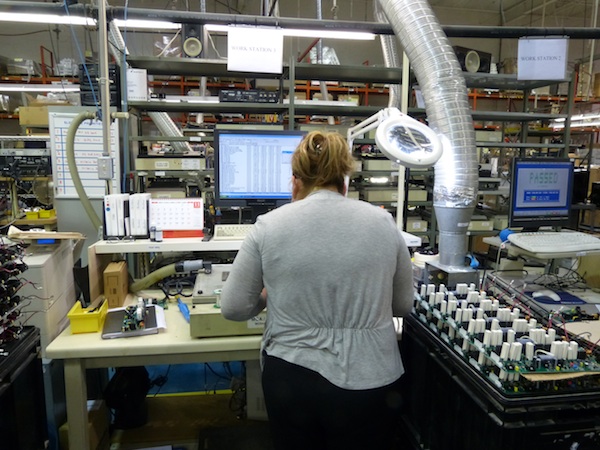 Once bathed, custom-written software analyzes the functioning of each compononent on the circuit board to ensure it meets spec. As you can see from the monitor at right, this one gets a pass.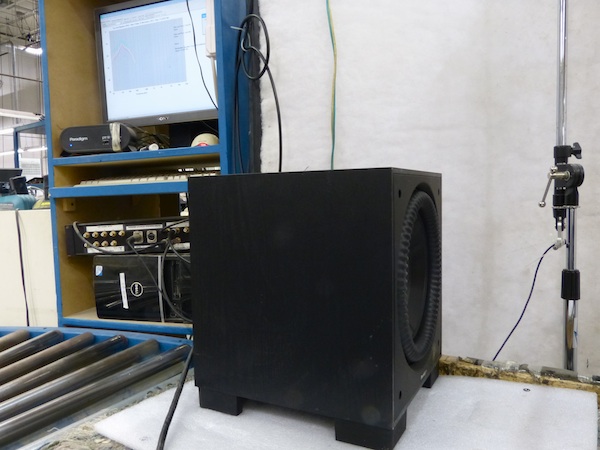 The frequency response of all fully-assembled speakers and subwoofers coming off the line is tested against a reference curve. (After an hour or so in the factory, the regular sounds of sweep tones on the floor started to seem like ambient noise.)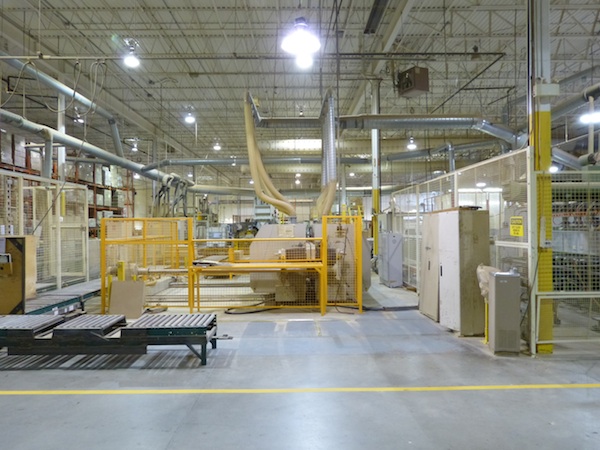 Paradigm's impressive wood shop occupies a sizeable percentage of the facility's floor space. Woodwork for speakers used to be done manually, but companies can now automate the process by outfitting shops with high-tech items like the Shoda CNC router that Paradigm uses to carve out cabinet features.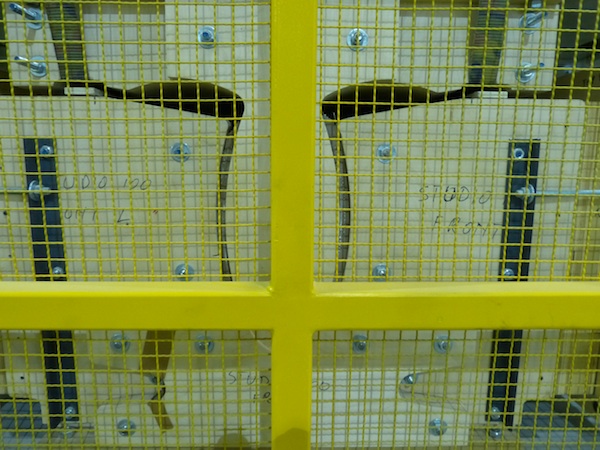 A mold being used to compress multiple layers of high-density board into the curved form of the company's Studio 100 tower speaker cabinet.
A finished batch of Studio 100s, all ready for sanding, varnishing, and inspection.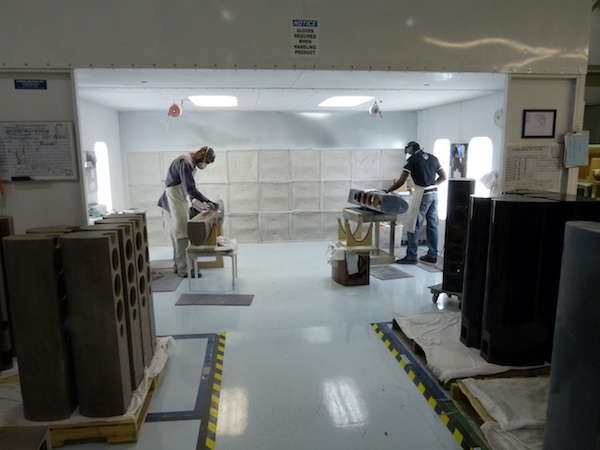 Paradigm's 30th Anniversary Tribute Series speaker cabinets undergoing hand-finishing. Multiple layers of varnish get applied, sanded down, then reapplied to build up the glossy Dark Garnet finish that's a distingushing feature of the Tributes.
Speaker cabinets in the stain-application chamber being slung around on hooks.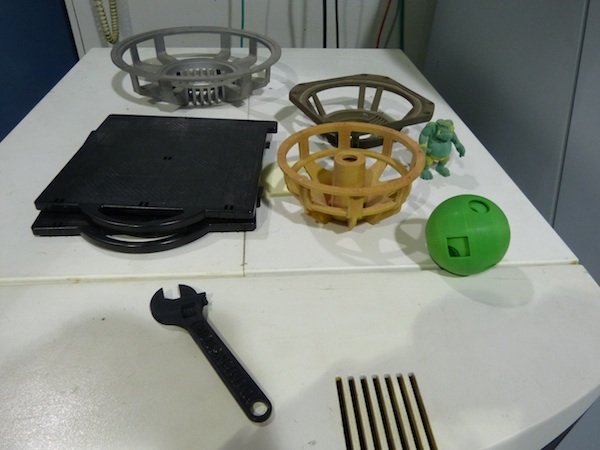 Paradigm's engineers use CAD software and 3D printers to make prototype drivers and other stuff (some of it whimsical, like the green orb puzzle at right). This process allows them to fully test a computer-modelled driver design before going into production with it.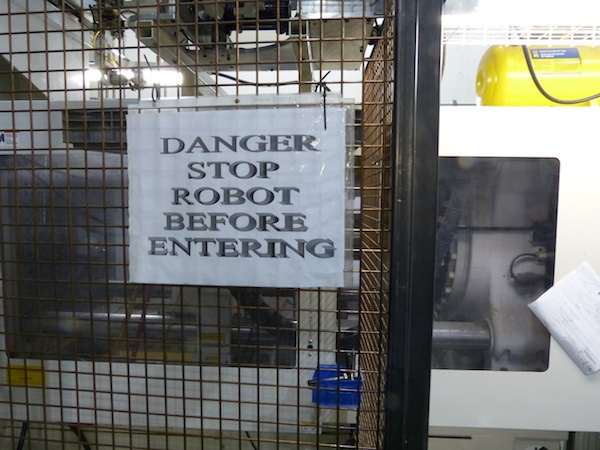 Paradigm's manufacturing capabilities extend to injection-molded plastics for driver baskets, speaker cones, and other related items, all churned out via robot-assisted machinery. Be careful to stop the robot before entering his cage—you never know what he'll do once you're inside.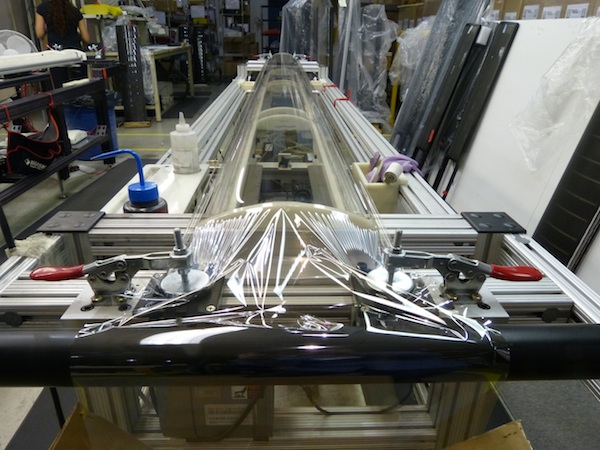 Along with making Paradigm product, the factory also manufacturers ESL speakers for MartinLogan—another brand under the Paradigm corporate umbrella. The process of stretching a mylar-sheet diaphraghm over the transducer's curved metal panel is kind of like handling Saran wrap...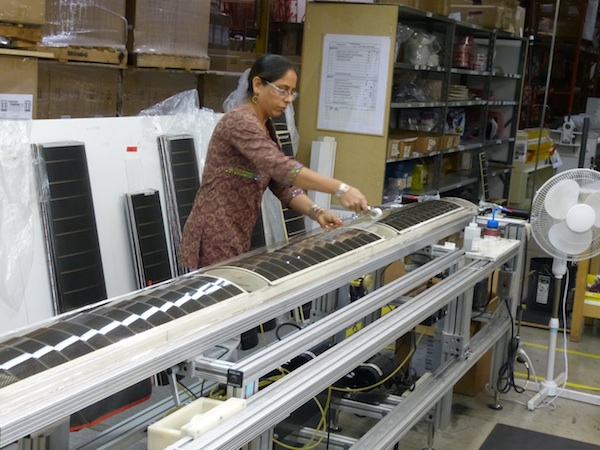 ...except it requires the effort of highly-trained workers who specialize in the process. (And no, they didn't let me try it.)
A rotating platform in the company's 35,000 cubic-foot anechoic chamber gives Paradigm's engineers 360-degree measurement capability. Like other well-known north-of-the-border speaker makers, the company has connections with Canada's National Research Council and adheres to the principles of flat midrange frequency response, smooth and similar on-/off-axis sound radiation, and low distortion that the NRC's scientifically controlled double-blind listening tests have proven to be a winning formula for speaker design.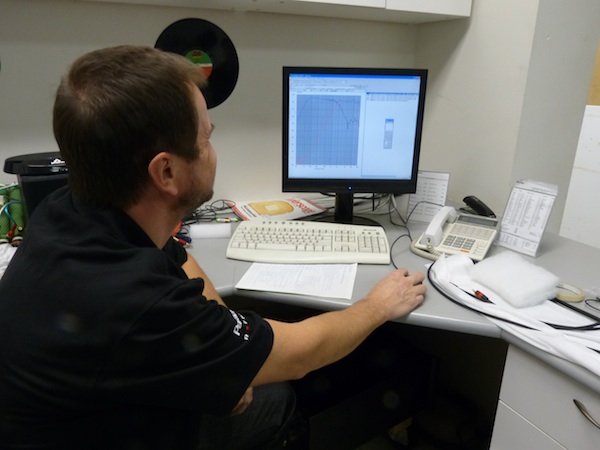 Paradigm's Acoustical Engineering Manager Oleg Bogdanov demonstrating the company's speaker-measurement process. Custom software created by the Paradigm Advanced Research Center (PARC) in Ottawa is used to evaluate parameters like frequency response, impedance, phase, total and individual harmonic distortion, and more, with accurate results down to 6 Hz.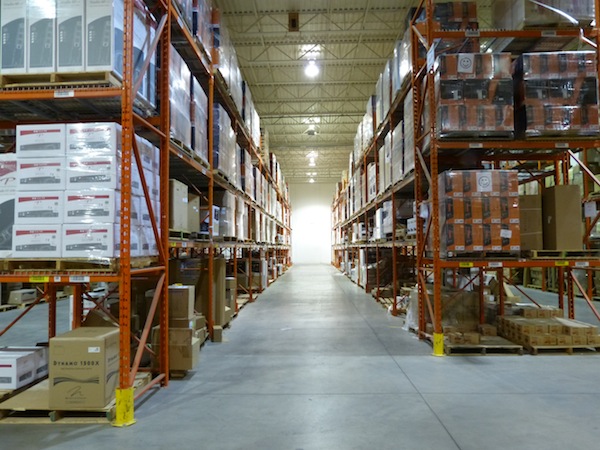 Paradigm's warehouse area is sort of like an IKEA for audio products. As with most other factory processes, shipping is automated, with bar-code scanners used to ensure that containers sent out to dealers contain the correct product mix.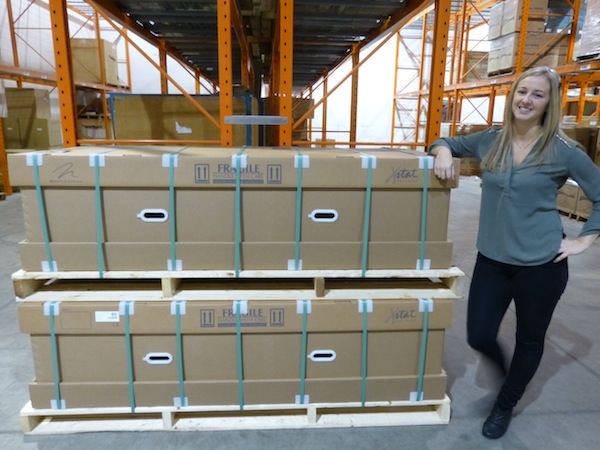 Erin with a set of $20,000/pair MartinLogan CLX towers boxed up for shipment to some lucky listener. The container that these ship out in is nicknamed "the coffin" for obvious reasons.