Panasonic Viera TC-L42E30 LED LCD HDTV
Price
: $1,100
At A Glance
: Bright, pleasing picture • Crisp detail • Poor contrast • Highly reflective screen
We're reasonably certain that most folks looking for a budget HDTV probably aren't poring through the pages of enthusiast publications like Home Theater for advice. If they're researching at all, they're studying the easy-to-digest bubble ratings in Consumer Reports or Which Video, or Googling generic consumer-help Websites.
It's also true that most buyers would consider a 42-inch, $1,100 HDTV high end. The real world is still wrestling with the concept of paying even half that amount for a new television. But even for those of you who realize that serious HDTVs aren't cheap, a refresher on what $1,100 will buy in an HDTV today, compared to the cutting-edge, $2,000-to-$4,000 sets we normally cover, is definitely in order.
Panasonic has been generous lately in flooding us with review samples of its newest plasma HDTVs (more on that in an upcoming issue). But the company was especially enthusiastic that we look at one of its new LCD models as well. Till recently, Panasonic has only offered LCDs in the smaller sizes that it didn't represent with plasma. Its addition this year of 42-inch models with LED edge lighting (in both 2D and 3D versions) suggests a desire to play in both technological camps, as do some key competitors. The 42-inch screen size remains a limited offering in Panasonic's plasma line this year, and the largest of its LCDs—for now.
The TC-L42E30 Panasonic sent us is strictly a 2D HDTV, a rarity among our HDTV samples these days. Given the company's firm encouragement and the fact that seeing UPS deliver a 42-inch Panny LCD to our lab falls just short of watching a man with two heads show up at your office, our curiosity got the better of us. But would our evaluation be a triumphal rather than a becareful-what-you-wish-for moment for Panasonic? That's what we're here to find out.
The Cook's Tour
At a maximum thickness of 3 inches (3 inches at the bottom, 1.7 inches over most of its area) and with a relatively wide frame, the TC-L42E30 is typical of midpriced sets; ultra thin is still not a budget feature. But compared with those 18-inch-deep, 250pound CRT behemoths of not so long ago, it's a twig. As noted, the set employs LED edge lighting, which is common to many of today's HDTVs. CCFL (fluorescent) lighting is now increasingly relegated to the cheapest models.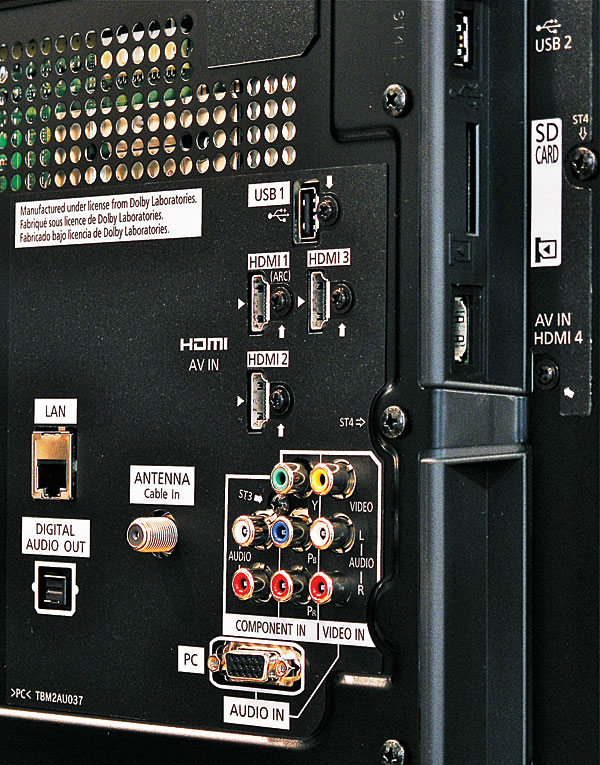 The set's LCD panel, as in all Panasonic LCD designs, uses a configuration known as In-Plane Switching, or IPS. The company's Website refers to its implementation of this technology as an "IPS Alpha LED panel," but there's no such thing as an LED panel in the consumer market. It's an LCD panel. The LEDs simply provide the backlighting (more precisely, in this case, edge lighting) that all LCD sets require. Using LEDs for the lighting chores offers both real and theoretical advantages, but the LCD panel does the heavy lifting.
IPS designs are said to offer at least two significant advantages over other types of LCD panels: less motion lag and better off-axis viewing. But IPS has been hampered in the past by a reputation for inferior contrast. It may be for this reason that other manufacturers use different types of LCD technology. For example, Sony and Samsung use S-PVA—Super Patterned Vertical Alignment—in their sets.
The Panasonic's screen is highly reflective. If that's a major concern, you might want to look for a set that offers a more matte finish. But it will be a tough search; such designs are becoming increasingly rare as manufacturers have moved almost universally to gloss screen surfaces.
With four HDMI connections, PC and component video inputs, two USB ports, and a slot for enjoying photos, videos, or music stored on an SD card, the TCL42E30 is ready for any current or anticipated 2D source.
A LAN terminal for a wired connection to your home network also offers access to information stored on external devices, such as your home computer, provided those devices are DLNA certified. (Wireless is also possible using an optional Wi-Fi adapter, not reviewed.) This LAN port also lets you access the set's Internet features, which consist primarily of paid and/or registration-required sites such as Facebook, Napster, Pandora Internet Radio, Amazon Instant Video, CinemaNow, and Netflix. The HDTV's Web-streaming platform is limited compared with the additional sites available on more upscale models, and it lacks such popular destinations as Yahoo widgets, games, news, sports sites, and YouTube.
Beyond the menu's five Picture modes (I used Cinema exclusively) and the usual standard video adjustments, there are a number of specialty controls—none of which I selected apart from checking them out. A.I. picture (on/off) alters both the black level and gamma. C.A.T.S. adjusts screen brightness to suit the room lighting, and Video NR (as you've probably guessed) is for noise reduction.