Panasonic PT-AE2000U LCD Projector
A chip off the old block?
Panasonic has been making pro video projectors for years, but its first home theater projector to catch my eye was the PT-AE700U. Both that model and its follow-up, the PT-AE900U, were competent 720p LCD designs in deceptively small, businesslike black boxes that offered good value for the money.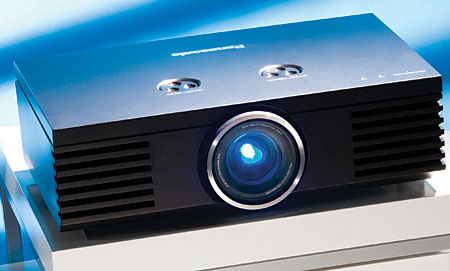 But last year, Panasonic moved more than a few notches up the scale in terms of looks, performance, and price with the $6,000 PT-AE1000U, its first 3LCD, 1080p three-chip design. But the market is changing rapidly these days, and the new PT-AE2000U, substantially less expensive at $3,499, offers similarly excellent performance. Upmarket quality at a (nearly) downmarket price.
Two Chips, One Block
In many ways, the PT-AE2000U is a clone of the PT-AE1000U. Focus and Zoom are motorized on both, but their vertical and horizontal lens-shift controls are manual. Each features a dynamic iris, which does not pump the brightness in any clearly visible way. Panasonic claims light output (lumens) about 36 percent higher for the new design. I did not, however, find the new projector's light output to be significantly different than the older one in my tests—or at least not with an optimum setup.
The 16-element, aspherical lenses also carry the same spec on both designs. They will throw a 100-inch-diagonal (87 inches wide), 16:9 image at a lens-to-screen distance between 9 feet, 10 inches and 19 feet, 4 inches. Both projectors are identical in size and weight. The PT-AE2000U has three HDMI inputs versus two on the PT-AE1000U.
I did not have the older, more expensive model on hand for a direct face-off. But if you want more information on it, you can read my review at www.UltimateAVmag.com. It's still listed as available on Panasonic's Website, but my notes, recollections, and that review itself give me no reason to recommend it over the newer model.
The PT-AE2000U has seven picture modes. You can adjust each of them individually—and separately for each input. You can also save up to 16 sets of picture adjustments in memories, but those memories apply globally across all inputs.
In addition to the usual video controls, an Advanced menu includes adjustments for gamma, primary color levels (red, green, and blue for both the top and bottom of the brightness range). There's also Panasonic's Cinema Color Management system, two types of noise reduction (conventional and MPEG), Cinema Reality for film-based interlaced sources, and Detail Clarity (said to add "sharpness to reproduce fine nuances lost in image compression").
There's also an xvYCC control, but it's only available for the Color1 mode with HDMI sources encoded in the xvYCC color space. (For now, these are virtually nonexistent apart from the output of a few HD camcorders.)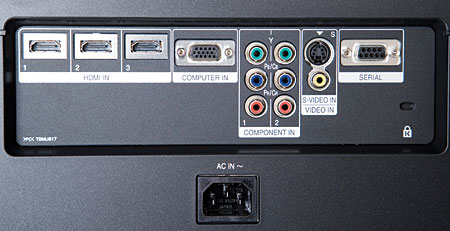 Panasonic's Waveform Monitor is a unique feature for a consumer video display. It can present various aspects of the projector's performance on the screen, theoretically allowing you to optimize its performance. It worked, and the results I obtained with it were reasonably close to those I obtained via the test patterns on my setup discs. But you'll need such test patterns to use the Waveform Monitor properly anyway. The description of this feature in the (otherwise) generally excellent owner's manual is just detailed enough to confuse the novice and not really detailed enough for the more experienced videophile.
The Cinema Color Management system isn't new; it was available in the company's earlier projectors. It lets you adjust color, tint, and (color) brightness at up to eight points in the image, then save those settings in one of three available profile memories. But using this feature by eye is an invitation to unrealistic colors.
LATEST VIDEO