Panasonic prices its first 3D HDTV: $5,900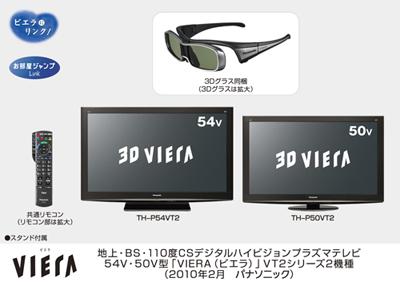 If you want to be an early adopter of 3D HDTV technology, get ready to shell out a pretty hefty chunk of change. Panasonic has announced pricing and shipping information for its upcoming TH-P54VT2 3D-capable plasma TV in Japan.
The good news is that the screen hits Japanese stores in just 2 months; it's scheduled to ship April 23. The bad news is that it's priced at about $5,900 in yen, according to CrunchGear. That's a pretty steep price for any HDTV. The slightly smaller TH-P50VT2 will be a little more affordable, retailing for the equivalent of $4,800. Compared to similar, non-3D screens' prices, it looks like the cost of adding 3D to your HDTV comes out to around $800.
— Will Greenwald
[Source: Crunchgear via Gizmodo]
LATEST VIDEO
WHERE TECHNOLOGY BECOMES ENTERTAINMENT