The Pacific (Blu-ray)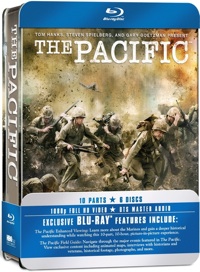 Executive producers Tom Hanks, Steven Spielberg, and Gary Goetzman, who brought us
Band of Brothers
, deliver another WWII masterpiece about the battles in the Pacific. The 10-part miniseries follows the true-life stories of Robert Leckie (James Badge Dale), John Basilone (Joe Mazello), and Eugene Sledge (Jon Seda) as they fight their way across the Pacific Theater from 1941 to 1945. It all starts with the horrific conflict of Guadalcanal, continues to Cape Gloucester and Peleliu, then to the famous combat at Iwo Jima, the terror of Okinawa, and finally their return home after V-J Day and how the mental scars of battle aren't easily forgotten.
Given its massive budget (estimated to be $195 million), I expected the battle scenes to rival those in Saving Private Ryan—which they do in their scope and visceral impact—but it's the psychological struggles of our three heroes that kept me riveted. Not only do they have to fight a relentless enemy in the Japanese, but they must cope with the elements—suffocating heat, malaria, tropical rainstorms—and somehow keep a grasp on their own humanity. If they're fortunate enough to survive and return home, how will they acclimate to the civilized world after spending four years in hell?
I was able to catch an episode of the miniseries on HBO, and this 1080p presentation blows the compressed cable signal out of the water. The encode features rich hues of the crystal-blue Pacific Ocean, luscious green foliage, and blacks as deep as a moonless sky in the dead of night. Furthermore, the detail and clarity are astounding.
Not to be overshadowed is the bombastic DTS-HD MA 5.1 soundtrack, which is every bit as impressive as a feature film. The creative sound design has discrete effects flying at you from every direction, especially during the battle sequences as our Marines storm beaches throughout the Pacific in their quest for victory.
Supplements include "Historical Backgrounds" that set the stage for each episode, three featurettes on the making of The Pacific, in-depth profiles of our heroes, and the historical perspective of the Pacific theater. Exclusive to Blu-ray is a clunky interactive "Field Guide" and an informative "Enhanced Viewing" PIP mode filled with a plethora of historical information (a must-watch for history buffs).
The miniseries is based on books from Robert Leckie and Eugene B. Sledge, but Hanks and company did countless interviews with experts on the Pacific theater, creating one of the most heartfelt and horrifying looks at the struggles of our soldiers during WWII as they fought the Japanese. Highly recommended.
Release Date: November 2, 2010
Studio: HBO
Movie: 9/10
Picture: 10/10
Sound: 10/10

Review System
Source
Oppo BDP-83 Blu-ray player

Display
JVC DLA-RS1 projector
Stewart FireHawk screen (76.5" wide, 16:9)
Electronics
Onkyo Pro PR-SC885 pre/pro
Anthem PVA-7 power amplifier
Panamax M5400PM power conditioner
Speakers
M&K S-150s (L, C, R)
M&K SS-150s (LS, RS, SBL, SBR)
SVS PC-Ultra subwoofer
Cables
Monoprice HDMI cables (source to pre/pro)
Best Deal analog-audio cables
PureLink HDC Fiber Optic HDMI Cable System (15 meters) from pre/pro to projector

Acoustical treatments from GIK Acoustics
LATEST VIDEO