OSD Black Brings High-Quality Wireless Streaming to Existing AV Systems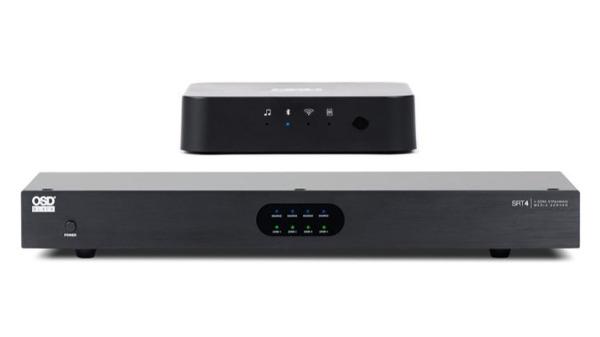 OSD Black, the Brea, California-based audio company, has introduced two streaming modules that bring high-quality wireless connectivity with app control to existing AV systems.
The single-zone ST1 ($199) and four-zone ST4 ($649), the first products in OSD's new SRT series, are Wi-Fi-based preamps designed to connect to a whole house music system or two-channel stereo setup. Both include a Cirrus Logic CS8416 24-bit digital-to-analog-converter (DAC) for "DVD-level" sound quality from a music library or popular music and internet radio streaming services such as Spotify and TuneIn.
The ST1 is a compact standalone device that also supports aptX-enabled Bluetooth streaming. It's equipped with a 3.5mm line-level analog input and output, SD card slot, optical digital output, and LAN and RS-232 ports.
The rack-mountable SRT4 features a Universal Bus with an optical digital input and two RCA stereo inputs plus four zones, each with a USB port, optical digital output, and stereo RCA outputs. The three bus inputs can be selected independently in any zone. Ethernet and RS485 connections are also provided, the latter for interfacing with an external control system. The SRT1 can be paired with the SRT4 to expand streaming options.
A WPS button is provided on both preamps for wireless connection, while the LAN connector enables a hard-wire connection to the Wi-Fi router with automatic configuration.
With both models, sources are controlled through the free OSD Play App but the ST-1 also includes a basic remote control with buttons for volume, play/pause, and track up/down. Both can also be used with Alexa to play other music sources or internet radio.
"Wi-Fi streaming is great, but audiophiles know that streaming comes at the cost of sound quality," said Bryan Strachota, national brand manager for OSD's parent company Audio Gear Group. "Our SRT Series bypasses the tiny digital-to-analog converters in smartphones and tablets and uses its own, more robust converter, so you'll hear the sonic nuances so sorely missed with standard streaming."
OSB Black products are available only through custom audio/video integrators.
For more information, visit osdblack.com.