The Original Cult Classic: Harold and Maude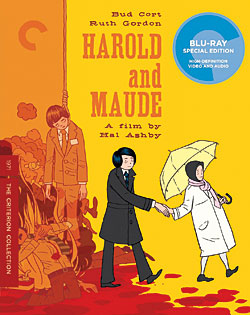 BTW, when I say Maude is older, I mean it: She's 80 and Harold is 20 (and could pass for younger). And the movie is frank about the fact that their relationship is sexual. I know what you're thinking, and you're wrong. Harold and Maude, the characters and the movie, are charming, quirky, and even inspiring. This is an anthem against conformity and a freewheeling kick in the ass of a movie that's lost none if its peculiar magic over the decades. Its bittersweet ending (hey, it was made in the 1970s) still gets you in the cardiac muscle, the Cat Stevens soundtrack is perfect, and Gordon and Cort are astonishing in making the impossible work. Director Hal Ashby made two other truly great movies of the era: 1973's The Last Detail with Jack Nicholson and Peter Sellers' final masterpiece Being There, but the high-wire act here is an absolute miracle.
Typical of Criterion, Harold and Maude, shot by the great John Alonzo, has never looked so brilliant and film-like on video. It has rich, dark tones when appropriate and striking details and textures. The colors and fleshtones are outstanding, as Harold's deathly pallor and fake-suicide blood spatters attest. Superb. I preferred the remastered stereo for Stevens' music, which is the highlight. The supplements are new, including a commentary with Ashby's biographer and the movie's producer, Charles Mulvehill. The real treat, however, is an 11-minute interview with the reclusive Stevens, now known as Yusuf Islam, filmed in 2011. A great interview with a very thoughtful, insightful, and interesting cat.
Blu-Ray
Studio: Criterion, 1971
Aspect Ratio: 1.85:1
Audio Format: DTS-HD Master Audio Stereo, DTS-HD Master Audio Restored 1.0
Length: 91 mins.
MPAA Rating: PG
Director: Hal Ashby
Starring: Bud Cort, Ruth Gordon, Vivian Pickles
1971's Harold and Maude, a cult classic before there was such a thing, undoubtedly remains the weirdest rom-com of all times (classifying this movie as such has me laughing out loud as I type!). Harold (Bud Cort) is an odd young man who lives with his wealthy, high-society widow of a mother and gets his kicks (and much-needed attention) from elaborately acting out his own death. Over and over. While Harold's mom's ideas for straightening him out are to put him in the military or marry him off, another of Harold's hobbies, attending strangers' funerals, leads him to Maude (Ruth Gordon), a daring older woman and the freest spirit you've ever seen. She lives in a renovated boxcar, fights the system in her own inimitable ways, ruffles a lot of feathers, and steals a hell of a lot of cars. She's a gas and is absolutely as obsessed with life as weird Harold is with death. They fall in love.