Optoma HD7100 Projector and HD7300 Projector/Scaler Bundle: Short Take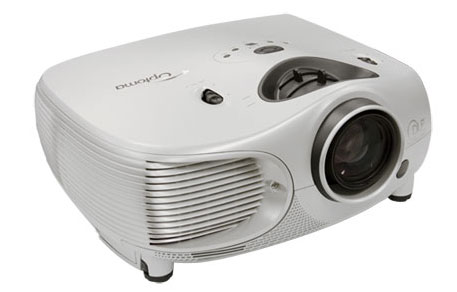 $2999 HD7100/$4999 for HD7300
Single-chip DarkChip3 DLP
Resolution: 1280x720
Inputs: DVI with HDCP, component, composite and S-Video
Feature Highlights: Latest generation DarkChip3 DMD from TI, horizontal and vertical lens shift, short throw lens capable of 100" diag. image from less than 10 feet, optional ceiling mount
Although its specifications promise a brighter picture with higher internal contrast, my review sample of the new Optoma HD7100 did not deliver a noticeably better picture than its predecessor, the H79. But the good news is it's less than half the price.
To achieve an MSRP of $2999 the HD7100 sacrifices some build quality, with a less soundproof case. it also lacks motorized zoom and focus controls.
The HD7100's operating noise level is also higher than the H79 (and, in specification at least, higher than the smaller Optoma HD72). I also saw more prominent rainbow effects than I'm accustomed to in the H79.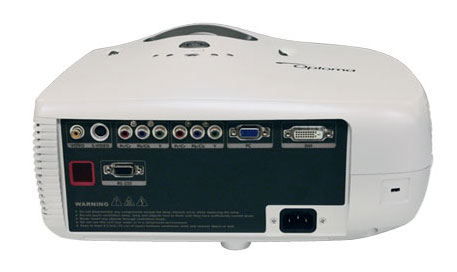 But the HD7100 sports both horizontal and vertical physical lens shift controls, as well as a more sophisticated and easy to use color calibration system. The latter provides x,y adjustments to the gray scale as viewed on the CIE color chart (overall only), plus separate R,G, and B white balance controls in the user menu (for both the top and bottom of the brightness range. There are also seven different gamma settings, with a default of 2.2.
There is also a White Enhancement control, plus an ECO (economy) mode setting for the projection lamp.
The HD7100's short-throw zoom lens can make a much larger image at any given distance that the H79 could. In fact, Optoma's website has an excellent calculator that lets you determine the screen size in either width, height, of diagonal for a given throw distance, or the throw distance for a given screen size. It's programmed for every Optoma projector.
While the HD7100 does have its own input switching and video processing, it is also available as a bundled package with the Optoma HD3000 outboard video processor (switcher/deinterlacer/scaler) at a price of $4999. The combination is designated the HD7300. When I used both the HD3000 and projector together, the synergism increased the projector's performance in several important ways apart from the increased flexibility an outboard processor offers. The HD3000 scaler allows an end user to more precisely tweak the gamma, contrast, brightness, gray scale, color palette, and sharpness. In addition to three user adjustable memory banks, ISF certified calibrators can create, save, and lock daytime and nighttime display profiles. And of all the HD scalers I've used, the Optoma HD3000 has the most user-friendly menus and remote.
All things considered, the HD7100 alone provides fine performance for the money. The HD7300 is even better; the projector and video processor combined delivers a striking picture along with excellent ergonomic flexibility at a ridiculously attractive price.