Optoma H79 DLP Projector
Technology, like time, never stands still. Take DLP projectors, for example. Since their inception, Texas Instrument's DLP display chips have continued to evolve at a dizzying pace. For both reviewers and home theater enthusiasts, opinions based on one generation of DLP projectors are quickly overturned by the next generation.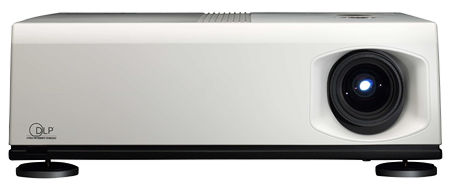 Early DLP projectors failed to impress me. Their lack of decent blacks, idiosyncratic color palettes, fan and color wheel noise, and rainbow effects produced a fatiguing and generally unsatisfying viewing experience. Later versions showed vast improvements, especially in color fidelity and black levels. But for me, their rainbow effects, noise, and occasionally iridescent colors still induced viewer fatigue and headaches after a full evening's worth of entertainment.
Texas Instrument's latest DLP enhancement, called DarkChip3, is applied to the 720p chip at the heart of Optoma's new flagship H79 projector. How much has DLP technology advanced in a year? And, more importantly, how well does the H79 deliver on the promise of true cinematic veracity from a single-chip DLP projector? Let's lower the lights and see.
Under the Hood
According to Optoma's sales brochures, each key optical component of the H79 has been hand-selected to optimize its performance. This begins with Texas Instrument's 720p DMD (Digital Micromirror Device) with DarkChip3 enhancements (which include a new 8-segment, 5x-speed color wheel), and continues with the light path, light rod, and UV filter.
The color wheel, dubbed a Dark Video Enhancement (DVE) wheel, uses two additional dark-green segments in conjunction with six RGB segments to achieve what Optoma describes as "virtually dither-free deep levels of black." Optoma also claims the new color wheel delivers a smoother color palette along with "richer brightness." Optoma's printed specifications state that the H79 delivers a 4500:1 contrast ratio, native 720p resolution, 1000 lumens of light output, and zero dead pixels.
Unlike some DLP projectors, which show the obvious signs of being portable presentation units drafted for home theater use (built-in speakers are a dead giveaway), the H79 was designed from the start to be part of a permanent home theater installation. Even the case demonstrates a single-minded dedication to home theater. Optoma's "shield case design" prevents stray light emissions from polluting a darkened room, but it also serves as an excellent sonic mute that reduces extraneous noise down to 23dB. If you've ever been bothered by the high-pitched whine of a DLP projector's color wheel, the H79's relative quiet will be a revelation.
The lens makes a big difference in a projector's picture quality. The H79 employs an all-glass, multi-layered, multicoated lens that was specially designed and manufactured to Optoma's standards by a Japanese lens maker (Optima refuses to say exactly who). The lenses are tested not only for sharpness and contrast but for color uniformity, barrel and pincushion distortion, and chromatic aberration.
The H79 uses a 100%-offset vertical lens shift assembly that enables easy installation, even if your ceiling is a bit too low or high for your screen location. This feature provides space within the projector housing so the lens itself can move up and down. Digital horizontal and vertical keystone adjustments ensure that the H79 can be set up for optimal screen geometry. Power-zoom and power-focus functions that can operate from the remote control provide users with even more flexibility to properly set up the H79 in a less-than ideal home theater space.
As you would expect from a thoroughly modern display device, the H79 accepts not only component inputs (it has both BNC RGBHV and RCA RGB/component) but also DVI-I with HDCP. With its built-in video processor, the H79 can accept either progressive or interlaced sources. According to Optoma's designers, unless you have a very basic entry-level DVD player, 480p will produce better results than 480i. High quality sources, such as 720p DVI, can take advantage of the H79's "native" format mode, which bypasses its internal overscan-correction circuitry. Other display modes include 16:9 (for HD and widescreen DVDs), window (4:3 sources are stretched to fill the 16:9 display space), and letterbox (to display full-frame 4:3 images within the 16:9 display area).
Installation Tales
Setting up the H79 took me less than an hour from unpacking to final adjustments. Its lens-shift adjustments worked flawlessly. I was especially pleased by the keystone controls. In the past, digital-keystone adjustments on other projectors introduced as many problems as they solved by creating ragged edges and abrupt lateral transitions. But as long as you keep the H79's keystone adjustments within reasonable limits, they will correct screen-geometry problems without creating new ones.
The H79's rear panel provides two component/RGB inputs and one DVI-I input. This plethora of usable inputs allowed me to do direct A/B comparisons between the DVI and component connections on the Lexicon RT-20 universal DVD player (currently under review) and the Samsung SIR-T165 DirecTV receiver. In both cases, the H79 made me a true believer in the efficacy of digital DVI connections over analog component inputs. Not only are the DVI connections more ergonomically elegant (one medium-sized cable instead of a large bundle), but the DVI picture was noticeably superior. With both the Lexicon and the Samsung, the DVI picture was sharper with less video noise and more accurate and vibrant colors.