Onkyo Unveils $250 Integrated Stereo Amp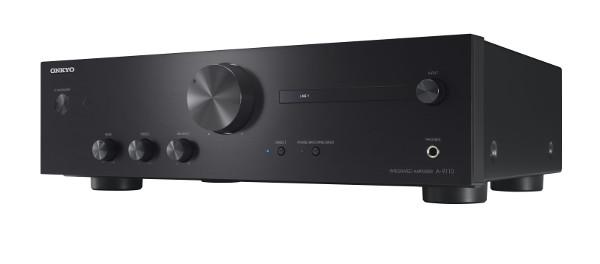 Onkyo has brought high-end touches to a new entry-level integrated stereo amplifier that follows the A-9010 amplifier it introduced last year.
Rated to deliver 2 x 50 watts into 4 ohms with 0.9% THD, the A-9110 ($350 list but selling for $250 on onkyo.com) is built using hand-selected custom-made and high-quality parts, shortened signal paths, and "specialized tuning to produce audio that is both warm and clear."
Several proprietary technologies are at play, including Onkyo's Wide Range Amplification Technology (WRAT), a high-current design incorporating a high-output EI transformer, low-ESR filter capacitors, and discrete power transistors.
Phase Matching Bass Boost technology is said to align the phase of low- and mid-band frequencies above 300 Hz to produce "richer bass and clearer vocals," while Optimum Gain Volume Circuitry keeps the audio signal away from the amplifier's noise floor to ensure clear sound at low volumes.
The A-9110 has a Direct Mode for purists who want to shorten the audio signal path by bypassing tone-control circuits, and Onkyo said large insulators and a "significant upgrade in chassis rigidity" help dampen vibration and minimize electromechanical resonance.
Connectivity is covered with four RCA line-level inputs, optical and coaxial digital inputs, a phono input, line-level and subwoofer outputs, and non-magnetic speaker binding posts with clear knobs.
The A-9110's clean front panel boasts a new, slim display that shows active input, while RI (Remote Interactive) inputs around back unify system control with compatible Onkyo CD transports, digital tuners, and network streamers.
For more information, visit onkyousa.com.