Onkyo TX-SR875 Surround Sound Receiver
In many respects, AV receivers haven't changed much in recent years. There have been no major breakthroughs in amplifier design. 7.1-channels aren't that new. Multichannel analog inputs have been a fixture for some time. Dolby Digital and DTS have been with us since the Jurassic Age—or at least since
Jurassic Park
. And FM and AM sections are about as exciting as
Halloween 14
.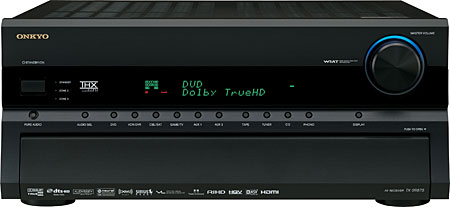 But there are big changes in the air, beginning with the introduction of HDMI. A modern receiver without HDMI switching is now a dinosaur. And most, but not all, HDMI-equipped receivers can accept and process the multichannel digital audio that rides along with the video on an HDMI connection.
Now there's a new kid is in town—HDMI 1.3. While it offers a slew of audio and video features, what is attracting the most attention these days involves audio. HDMI 1.3 can pass along the bitstream form of two new, high resolution audio formats now found on many HD DVD and Blu-ray Discs: Dolby TrueHD and DTS-HD Master Audio.
Earlier receivers with HDMI audio would only accept these formats as multichannel PCM, leaving it to the source—an HD DVD or Blu-ray player—to decode and convert them to PCM before passing them on to the receiver. But if the player can pass these formats in bitstream form, the receiver can decode them instead. To do this, however, a minimum requirement is HDMI 1.3 at both ends: the source (player) and AV receiver or pre-pro.
Whether or not direct bitstream transmission will offer any real sonic benefit compared to the player converting these formats to multichannel PCM—or even if it will function as planned with most HD DVD and Blu-ray Discs—is still an open question. But that train has left the Market Street station. Few self-respecting new AV receivers with any high-end pretensions will go out the door without the capability to decode these new formats once they receive the proper, native bitstreams.
This capability is, in fact, a signature feature of the THX Ultra2-certified Onkyo TX-SR875 ($1,600)—the subject of this review.
Description
Decoding for all the new audio formats isn't the only feature offered on the new receivers, and this Onkyo is also loaded with more. But it offers the basics, as well.
On the audio side there are enough analog and digital audio inputs for almost any system, including a set of 7.1-channel analog inputs for multichannel analog sources such as DVD-Audio and SACD players. There are also analog and digital audio outputs for recording, and analog preamp outputs on all channels for driving external amplifiers, if desired. A multichannel analog input set provides a level-controlled but otherwise direct route to the receiver's outputs.
The amp also offers two remote zones of operation, each capable of two-channel operation. Zone 2 or 3 may be driven by separate amplifiers connected to L/R line-level outputs on the receiver. Zone 2 may also be driven directly from two of the receiver's onboard amps.
There are nine sets of speaker terminals. Seven of them are for the 7.1-channels in the main system. The other two may be used for Zone 2. If you're using zone 2 and have a 7.1-channel setup in your main system, the latter is restricted to 5.1-channels if Zone2 is operating.
If you don't have a 7.1-channel setup, the extra two amplifier channels may also be used either to bi-amp the front left and right speakers or bridged to provide more power to the same speakers. If you choose either of these alternatives, however, you cannot use these two extra amp channels for occasional Zone 2 duties. Be careful, though. Bridging amps increases power output, sometimes dramatically, but it also makes the resulting combined amps very sensitive to low impedances. Onkyo warns against using speaker loads lower than 8 ohms in bridged mode.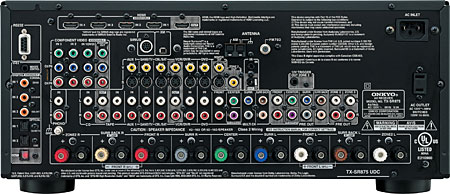 Onkyo does not recommend nominal speaker impedances of less than 4 ohms under any circumstances. In fact if the nominal impedance is between 4 and 6 ohms, it recommends that the speaker switch in the setup menu be changed from 6 ohms to 4 ohms. The Onkyo does run fairly hot, but I never experienced any problems using its 6-ohm setting with my Revel Concerta speakers.
In addition to the usual multichannel Dolby Digital and DTS modes, the Onkyo provides decoding for those high resolution, lossless audio modes mentioned earlier if it receives them in raw bitstream mode. But none of the HD DVD or Blu-ray players available to me are apparently capable of sending Dolby TrueHD or DTS-HD Master Audio bitstreams to this AVR. We are still investigating why this is so at press time, but there is no indication that the reason for this failure originates in the receiver. Stay tuned.
But in the meantime, the Onkyo will accept multichannel PCM via HDMI. The Dolby TrueHD soundtracks I auditioned for this review were decoded and converted to multichannel PCM by the players. Uncompressed multichannel PCM tracks came over HDMI to the receiver in full resolution. And DTS-HD Master Audio could be auditioned only from the basic DTS core track that's part of every DTS-HD Master Audio soundtrack. There are no players at present that can decode DTS-HD MA.
The modes offered here for simulating surround sound from two-channel sources include Dolby Pro Logic IIx (movie, music, and game), DTS NEO:6 (Cinema and Music), Neural THX Surround, and a number of Onkyo's own DSP surround modes.
The Onkyo also offers three different modes for straight two-channel playback. Pure Audio turns off the receiver's front panel display and all of its video circuits except for the HDMI outputs. It also defeats all specialized digital audio processing, including bass management. The subwoofer is defeated in this mode (even if it is selected in the Setup menus) and the left and right front channels are driven full range.
The Direct mode appears to be identical to Pure Audio except that it leaves the front panel display on. The subwoofer is inactive and the L/R fronts are driven full range.
The point of Pure Audio and, to a lesser extent, Direct, is to minimize interference from any extraneous, unneeded circuits that might affect the sound.