Onkyo TX-SR706 A/V receiver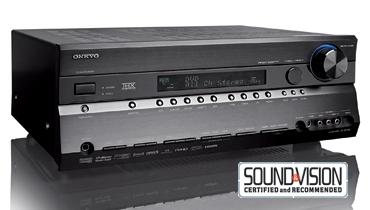 Onkyo, you're boring me. Seems like every other month, you or your sister brand Integra release another A/V receiver with more HDMI inputs, features, and power for the money than previous models. Give us a break and instead introduce a receiver that's less powerful, less capable, and more expensive, okay?
Hyperbole aside, there is an element of "been there, done that" to the whole new-model A/V receiver thang - unless you happen to be shopping for one. In which case, every day is Christmas. Onkyo's latest, the TX-SR706, is an upper-midpriced ($899) model that's amply furnished with power and also offers four-input HDMI 1.3 switching and HD video upconversion.
SETUP
The newest Onkyo includes the basic implementation of Audyssey's auto-calibration and room-equalization feature, so I plugged in the supplied microphone and hit the Go button. After moving the mike and repeating the process for five positions, I saved and reviewed the results. Speaker distances and crossover frequencies were spot-on, though the Audyssey-bot set my bookshelf-size front speakers to "full-range." (Every auto-setup program I've used makes the same choice for these 40-Hz-capable models.)
The Audyssey system also dials up room-correction EQ, which is derived from the mike positions you select during setup. The TX-SR706 doesn't display the results onscreen, but the sonic improvements were much as I expected given my previous experiences with Audyssey-equipped receivers: a bit deeper and less warm in the bottom end, with a subtle improvement in midrange clarity and articulation.
Onkyo's new menu system is still mostly text-based, but it now has color and much nicer graphics, particularly in the setup pages. It comes up almost instantly, but the screen blanked for several seconds upon startup. Onkyo's onscreen menus remain logical and easy to follow, so two thumbs up.
MUSIC & MOVIE PERFORMANCE
The SR706 is THX Select2 Plus certified, yet its weight and price are fairly modest. (I'm reminded of a classic Marshall Efron comedy bit on canned olives: The smallest grade is "jumbo.") Just the same, the Onkyo proved to have plenty of power for serious listening. The DVD-Audio disc of the Big Phat Band's XXL delivered dynamic, plexus-thumping accents and crisp, brassy horn-section articulations on "A Game of Inches," even at realistic, front-table levels. In short, I had no complaints about the SR706's audio performance when listening to music.
The Onkyo's Faroudja DCDi video processing and HDMI upscaling will convert incoming video to 480p, 720p, or 1080i/p. Tests made with my Oppo DV-980H DVD player sending standard-def 480i signals to the Onkyo showed clean, artifact-free 1080p video coming from the SR706's HDMI output.
Ratatouille may not quite qualify as art cinema, but it's fun just the same, and the reference-grade Blu-ray Disc version delivers a lot of video and audio bang for your buck. It looked great through the SR706 (which of course performs no video processing on incoming 1080p signals from Blu-ray), and the receiver had no difficulty delivering the busy soundtrack at real-cinema levels in my setup.