Onkyo TX-SR606 A/V Receiver
If you want bang for your buck, look no further.
The great thing about technol-ogy is that everything eventually becomes affordable. The latest generation of A/V receivers certainly demonstrates this, and the Onkyo TX-SR606 exemplifies the extraordinary features and performance capabilities of AVRs under $600.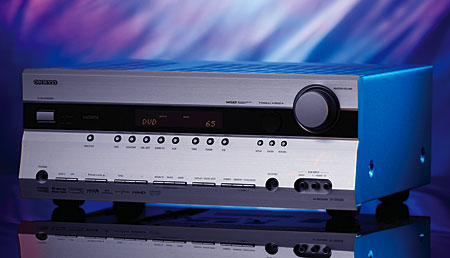 The Onkyo pretty much has it all, with four HDMI (version 1.3a) inputs, 1080i video upconversion, and Faroudja deinterlacing. It also includes Audyssey's 2EQ automatic room-correction system with Dynamic EQ loudness compensation and Onkyo's proprietary Music Optimizer, which is intended to increase the overall dynamics of compressed audio files.
Tremendous Feature Set
The TX-SR606 integrates the latest version of the HDMI standard (1.3a), which offers increased bandwidth for higher image resolution, higher frame rates, and 36-bit Deep Color (none of which is yet available from consumer media sources—Ed). The Onkyo upconverts all analog video signals (composite, S-video, and component) to 1080i. Onkyo's video upconversion technology works with Faroudja's DCDi (Directional Correlational Deinterlacing) Edge circuit to eliminate many of the common video artifacts that degrade picture quality with interlaced sources. You can then send signals over a single HDMI cable for simplicity in hookup.
Some might scoff at an amplifier section that is rated at 90 watts per channel (times seven channels), but the TX-SR606 is powerful enough to fill a small to medium-sized room with sound. It includes 32-bit DSP processing and 192-kilohertz/ 24-bit digital-to-analog converters on all channels.
The TX-SR606 is among the few low-priced AVRs to support the advanced surround formats like Dolby TrueHD and DTS-HD Master Audio. These deliver lossless soundtracks that are bit-for-bit identical to the master. It is also compatible with the usual surround formats, such as Dolby Digital EX, DTS ES, DTS 96/24, Dolby Pro Logic II, and DTS Neo:6. Onkyo provides eight of its own DSP modes, including Unplugged for acoustic instruments, vocals, and jazz and Studio-Mix for rock and pop. The TX-SR606 also features Theater-Dimensional (T-D), a virtual 5.1 surround algorithm for use with a two-channel speaker system.

To manage all of these surround and DSP selections, Onkyo has created Movie, Music, and Game buttons. When you press the appropriate button, you only have to cycle through the listening modes that are most suitable to that application. You can also create listening presets, so the AVR will select the listening mode based on the format of the input signal.
If you do not use the TX-SR606 in a 7.1-channel configuration, you can run wire to a pair of speakers in another area of the house and put those additional two channels to good use with Onkyo's Powered Zone2 capabilities. There's also a Zone 2 pre-out for connecting a dedicated zone amplifier. Or you can take advantage of the two unused channels to biamp the main left and right speakers.
Onkyo offers the optional DS-A2x iPod dock. Connect your iPod, and you can use the AVR's remote to control it. Onkyo's Music Optimizer is designed to improve the quality of compressed MP3 and AAC encoded audio files. There's also a connection for a Sirius Satellite Radio tuner.
Onkyo has tried to simplify the conundrum of operation and integration with other devices with the Remote Interactive Over HDMI (RIHD) protocol. RIHD allows the AVR to seamlessly integrate with other leading brand-name devices, including all Toshiba CE-Link equipment, selected Panasonic products with EZ Link, and certain models from Sharp and Samsung.
Onkyo seems to include these functions instead of certain custom-install features more common to pricier AVRs. It doesn't have a 12-volt trigger, IR jacks, or RS-232 connectivity for support with third-party hard-wired controllers. These omissions make sense, as Onkyo probably does not expect this model to be the centerpiece of a massive custom installation.
Setup
The TX-SR606's connections are straightforward, and the rear panel's layout is intuitive and easy to get around. The four HDMI inputs made setup a breeze, since I have four main sources with HDMI output (Sony PS3 Blu-ray player, HD DVD player, DIRECTV, and Apple TV). Because of this, I didn't have to run any additional digital or analog A/V cables. I simply ran a single interconnect from the LFE output to my subwoofer.