Onkyo TX-NR609 A/V Receiver Page 3
It would be a crime to review a 3D-capable AVR and not sample some Blu-ray 3D content. The best 3D presentation I've seen so far is Disney's Tangled, a great family film about a spirited teen with magical golden hair who's been locked in a tower for years and is looking for a night out on the town. The picture features outstanding depth, exquisite detail, and no ghost-inducing content to speak of (at least on my display). The soundtrack includes plenty of music, and the Onkyo delivered the goods with adequate sound quality and a robust midrange at normal listening levels.
Is There an App for That?
One of my biggest complaints with networked AVRs is that their rudimentary text-based front-panel displays usually make it virtually mandatory to have a video monitor on in order to access the onscreen interface for streaming music. For the most part, it's no different with the TX-NR609. But if you have an iPhone, iPod touch, or iPad, you can sign on to your iTunes account and download the Onkyo Remote app, which lets you control the AVR from your iDevice. Using the built-in network protocols, the app lets you control the volume, choose an input, and most important, gives you access to each of the network streaming features the AVR supports (including vTuner Internet Radio, Pandora, Rhapsody, SiriusXM Internet Radio, Slacker Personal Radio, Mediafly, Napster, and DLNA). With the DLNA support, the AVR found my home server, and I could stream music without having to burn precious hours off my projector bulb. Sweet.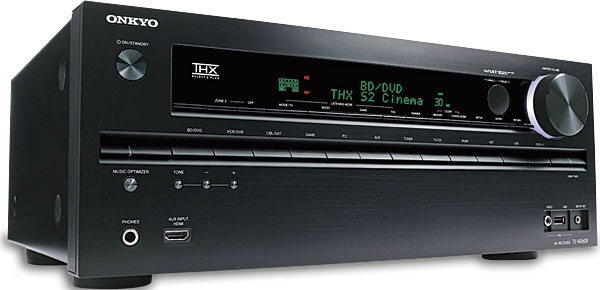 If you don't have a home network to stream your tunes, you can still connect your iDevice to the AVR via the front-panel USB input and play your music collection, but you'll be forced to use the factory-supplied remote to navigate through the various menus. You don't need to have your display on for this, but it's much easier than using the one-line text display on the AVR's front panel.
As you might expect in an AVR at this price, critical music playback is its greatest weakness. It's here that the TXNR609's lack of sheer heft and finesse become more obvious. The soundstage wasn't as wide or deep as on my reference system, which includes an Integra DHC-80.2 surround processor and Anthem PVA 7 amplifier—nor should it, considering that the processor/amp combo is over six times the cost.
The difference became very clear on the DVD-Audio disc Dance With My Father by Luther Vandross. The title track's 5.1 recording features a tight bass track complemented by a keyboard. The bass was nice and tight, but I could clearly hear that the keyboard in the critical midrange wasn't as crisp and clean as I'm used to hearing from my usual equipment. In the Onkyo's defense, though, my reference system uses seven M&K S-150 series studio monitors that present a nominal 4-ohm load to each channel—lower than the recommended 6 to 8 ohms and taxing for this budget AVR. This effect is minimized when you're playing music in stereo, but the power supply section is far less taxed when it's only driving two channels. I would expect it to be happier with the more mainstream budget speakers it's likely to be mated with. If your habits fall more toward casual listening to a variety of stereo sources versus critical listening of high-resolution multichannel DVD-Audio and SACDs, then you probably won't pick up any of its shortcomings—as long as you keep the volume at reasonable levels.
Wrapping It Up
The Onkyo TX-NR609 A/V receiver comes equipped with a boatload of features at an amazing price. If you're on a tight budget but are looking to upgrade to a modern AVR that handles all the latest audio codecs from the Blu-ray format, passes 3D video, features plenty of HDMI inputs, provides a nice smattering of network goodies, and delivers first-class video processing, be sure to put this at the top of your list. While it won't drive the most power-hungry speakers on the planet to earth-shattering volume, it performed admirably enough to earn my recommendation.