Onkyo TX-NR545 Atmos-Ready AV Receiver Review

PRICE
$599
AT A GLANCE
Plus
Dolby Atmos
Wi-Fi, AirPlay, Bluetooth
HDR support
Minus
No Ultra HD scaling
THE VERDICT
The Onkyo TX-NR545 is a wireless-triple-threat receiver with an intrinsically good-sounding amp.
Most A/V receivers have seven audio channels for reasons that date back to 1999 and are all but forgotten. The original rationale for adding two channels to surround sound's basic 5.1 footprint was to accommodate back-surround speakers for THX Surround EX (later renamed Dolby Digital EX) and DTS-ES. While I mean no disrespect to the many readers who enjoy the back surrounds in their 7.1 systems, I've been against back surrounds from the beginning. My argument in one sentence is: Three channels in front, four in back—what's wrong with this picture? I've always considered 5.1 the bedrock standard of surround sound, and I still do, even today.
Once 7.1 pushed out 5.1 in all but the lowest-priced models, manufacturers came up with new and creative uses for the sixth and seventh channels. Whether they did this to appease skeptics like me is debatable, but soon the spare pair was powering a second zone, biamplifying the front left and right speakers, or providing derivative (not discrete) height and width channels. Suddenly, the extra pair of channels went from frivolous frippery to value-packed extension of receiver functionality.
Now those two amp channels are finding a new use in the form of Dolby Atmos. Unlike the processing of derived height channels for Dolby Pro Logic IIz and Audyssey DSX, Atmos directly encodes height information. The Onkyo TX-NR545 is an Atmos 5.1.2 receiver, adding to the 5.1 footprint two ceiling-effects channels typically placed overhead or just in front of the listening position; alternately, you can use Atmos-enabled height speakers, usually firing off the tops of the front speakers. This is the bare minimum for an Atmos system. To support Atmos in both front and rear—the 5.1.4 minimum recommended by Dolby—would require nine amp channels, but this receiver is making do with what it's got. Is a little Atmos better than none?
Onkyo's Atmos Strategy
The TX-NR545 ($599) is one of three new Onkyo receivers at the affordable (under $600) end of the spectrum. However, it isn't Onkyo's lowest-priced Atmos receiver. That honor belongs to the TX-SR444 ($499). Why not pay a hundred bucks less? Well, the TX-NR545 is a wireless-triple-threat receiver with Wi-Fi, AirPlay, and Bluetooth built in, whereas the step-down model has only Bluetooth along with a little less amplifier power. At the bottom is the TX-SR343 ($399), a 5.1-channel model that omits Atmos but manages to hold onto built-in Bluetooth. Apparently, Onkyo feels that no one, not even the least of us, should go without their wireless fix. I'd call that a sensible decision; an AVR that can't conveniently play music from a phone or tablet seems useless by today's standards.
Onkyo's Atmos strategy goes beyond receivers. Let's give quick cameo mentions to the HT-S5800 home theater in a box ($799), which uses the HT-R594 receiver and the SKS-HT594 speaker package ($599). Both support Atmos 5.1.2. I'd bet the rent that it's only a matter of time until Onkyo offers an Atmos 5.1.4 HTIB for a few pennies more and adopts DTS:X, the nascent competitor of Atmos.
Onkyo is a firm believer in front-panel functionality and the saving power of buttons. A row of oversized source-select buttons runs across the front panel. Directly above it is an equally long row of nearly invisible sliver buttons that access listening modes and other functions. Complete menu navigation uses a combination of right-hand sliver buttons and a round, concave, four-way rocker switch just above them. It's easy to miss the significance of the rocker switch because it looks just like the power button at far left. But if you've misplaced the remote control, it might become your best friend.
The remote itself is simple, sensible, and not without a subtle hint of beauty, with upper keys against a matte background and lower keys against a shiny gloss background. The monochrome graphic user interface is spartan but functional enough. A control and streaming app is available for both iOS and Android devices (with an update that was unavailable at press time).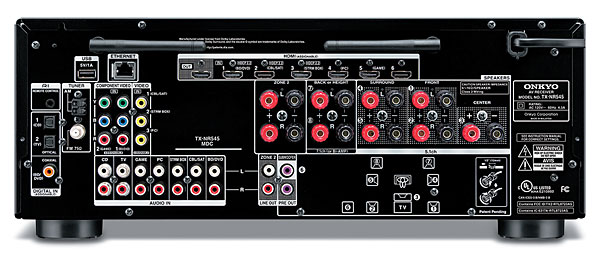 In addition to its wireless triple threat, the TX-NR545 has a few other music-savvy tricks up its sleeve. Its generous selection of Internet radio features includes not only Spotify and Pandora but also Slacker, TuneIn, Deezer, and SiriusXM Internet Radio. Of course, the USB jack is iOS-capable—though none of the HDMI jacks is MHL-capable. Like most receivers (though I don't often mention it), this one is DLNA-capable, so it can grab media from a network-connected computer and other devices. The DACs operate internally at up to 32 bits and 384 kilohertz (though not asynchronously, the preferred mode of operation for any DAC). You can play files from USB-connected drives in the usual lossy, lossless, and uncompressed formats, including such rarefied ones as DSD and Ogg Vorbis.
On the video side, this receiver offers Ultra HD passthrough (but no upscaling), including support for HDR (high dynamic range) video with a planned upgrade to HDMI 2.0a. That includes HDCP 2.2 DRM to ensure that your UHD viewing won't be thwarted by copy protection.
This is Onkyo's second generation of AVRs to use their proprietary AccuEQ auto setup and room correction, which was introduced after a long run with the Audyssey family of solutions. AccuEQ measures twice: once to set level, distance, and crossover and once more to treat standing waves, those bass-polluting monsters that build up between parallel walls. You can choose to bypass EQ for the front left and right channels, set EQ manually if you prefer, and save the results in up to three presets.