Onkyo TX-NR414 A/V Receiver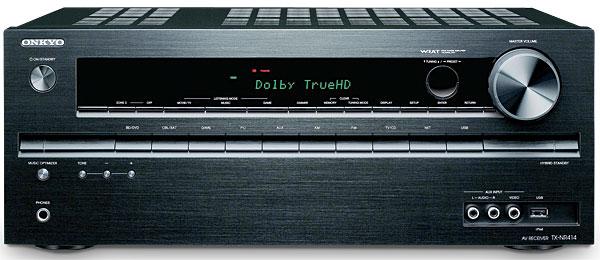 Price
: $499
At A Glance
: Internet radio with a plethora of cloud streaming services • PiP source input preview • iDevice and Android Onkyo Remote app
Last year I had the pleasure of reviewing the Onkyo TX-NR609 AVR (Home Theater, August 2011), which offered a boatload of features, including seven channels of amplification, firstrate video processing, THX-Select certification, and many of the goodies found on the flagship products for the attractive price of $599. When I was done with my audition, I gladly gave the product Top Pick status and recommended it for anyone looking for near-flagship performance on a tight budget.
This time, I'm taking a look at the $499 Onkyo TX-NR414 5.1-channel network A/V receiver, a new 400 Series model added to the company's lineup for 2012. THX-Select certification still starts with the 600 Series in the TX-NR616, which now carries a price tag of $699. At $599 list, where the old TX-NR609 used to reside, you'll find the TX-NR515, which drops power output from 100 to 80 watts per channel (in stereo) and gives up the THX moniker but retains the excellent Marvell Qdeo video processor offered in the TX-NR616. Stepping down to the TX-NR414, you mainly give up two channels of amplification and video processing but retain the TX-NR515's networking, extensive HDMI connectivity, and 80-watts-per-channel power output along with Onkyo's proprietary WRAT (Wide Range Amplifier Technology) and the clean, natural sound it delivers.
When you get into AVR shopping, comparing products at the same list price from different manufacturers can get complicated, especially so with the 2012 crop. Onkyo's suggested retail prices are up across the line this year, and some of Onkyo's chief competitors are no longer discounted the way they once were. Instead, the manufacturer suggested prices reflect the actual sale price (or something closer to it), while Onkyo's street prices continue to have a larger spread relative to MSRP. The TX-NR414, despite its $499 list, can be found online, as of this writing in early June, for $300 or less and should rightly be compared to products in that budget price range.
Not surprisingly, you give up a number of frills at this price level that we've come to expect in more expensive models. There's no Audyssey auto setup or EQ programs to assist you in setting up the AVR in your room, and no THX Loudness Plus, Audyssey Dynamic Volume, or Dynamic EQ modes for low-volume listening. There is an Onkyo Late Night mode to compress the dynamic range of soundtracks, although it only works on Dolby Digital and Dolby TrueHD tracks and not with the many flavors that DTS offers. Like most receivers in its class, the TX-NR414 doesn't have a video processor chip, which means it cannot transcode analog video from non-HDMI source components to the HDMI output. This is no problem if all your A/V sources have HDMI outputs, although it makes connection to your display more complicated if you have older legacy sources with only composite or component video outputs. In that case, you'll need to also run a composite or component video cable to the display along with HDMI. Thankfully, our video tests confirmed that the Onkyo did pass the corresponding video signals unmolested to the display without clipping or distortion, something we don't always see.
What you do get at this price is a good, basic A/V receiver with plenty of HDMI connectivity and some nice added perks. To begin, this is a network-connected receiver that offers a commendable mix of cloud-based streaming services. It is DLNA certified and Windows 7 compatible. Not only can the unit stream audio from your home computer in virtually every popular music format—including WMA lossless and FLAC—the AVR offers access to Internet radio channels from Pandora, Slacker, Sirius XM, Lastfm, and vTuner, plus cloud-based music streaming from Rhapsody, MP3tunes, Spotify, and AUPEO!. Furthermore, the Internet connectivity has the added benefit of allowing the AVR to link to Onkyo's servers for firmware updates. The network connection also facilitates the Onkyo Remote app, and then there's something on board called InstaPrevue, which I'll talk more about later.
The TX-NR414 weighs in at 19 pounds, about average for this class of receiver. The front panel includes direct switching to each input, a dimmable display, a headphone jack, analog stereo and composite inputs, as well as a USB port for direct digital connection of an iPod/iPhone, a USB mass storage device loaded with music files, or Onkyo's optional Wireless LAN adapter (UWF-1).
The rear panel has six HDMI 1.4a inputs, one HDMI output (with Audio Return Channel), two component video inputs (one output), four composite video inputs (one output), dual TosLink and coaxial digital inputs, five stereo analog inputs, an Ethernet jack, and a non-detachable power cord. With only five onboard amplifiers, there's obviously no powered Zone 2 audio option, but Zone 2 RCA outputs are included so you can add a stereo amp for speakers in a remote room or on a patio.
Setup and User Interface
Since there is no automatic audio setup program, I went old school and calibrated the audio with a RadioShack SPL meter. I've memorized my speaker distances due to frequent equipment swap-outs, so I had the audio setup completed within 5 minutes. Fortunately, Onkyo still has the easiest to learn menu systems in the business, and I had all of my sources configured in no time at all.