Onkyo Announces Budget AV Receivers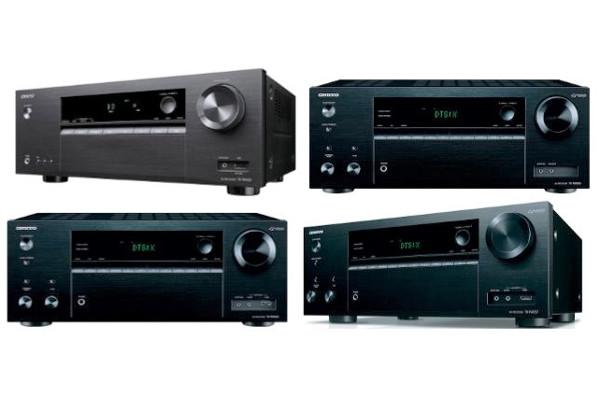 Onkyo has announced plans to ship four new AV receivers in April and May.
Ranging in price from $399 to $799, all but the least expensive model feature Dolby Atmos decoding, patented VLSC high-frequency pulse-noise removal technology, Hi-Res Audio processing via an AKM 384 kHz/32-bit D/A converter, and AccuReflex calibration technology. An addition to Onkyo's AccuEQ room-correction system, AccuReflex is said to adjust the phase of sound bounced off the ceiling by up-firing speakers to create a more accurate Dolby Atmos experience.
All models have discrete power amplifiers, are HDCP 2.2 compliant, and support 60Hz UltraHD/4K with 4:4:4 color space, 4K upscaling, AirPlay, Wi-Fi, and Bluetooth streaming. Onkyo said DTS:X decoding, Google Cast, Tidal music streaming, and the new FireConnect multiroom audio technology will be available this summer via a firmware update.
Onkyo describes "FireConnect Powered by Blackfire" as a stable wireless protocol that sends any audio source connected to the receiver to an optional Onkyo speaker or FireConnect-compatible product in another room.
Rated to deliver 7 x 110 watts into 8 ohms, 7.2-channel TX-NR757 ($799) supports high-dynamic range (HDR) passthrough, features THX Select2 Plus certification, and is equipped with eight HDMI inputs and two outputs.
The 7.2-channel TX-NR656 ($699) and TX-NR555 ($599) are rated for 7 x 100 and 7 x 80 watts into 8 ohms and are equipped with eight/two and six/one HDMI inputs/outputs, respectively.
The entry level 5.1-channel TX-SR353 ($399) is rated to deliver 5 x 80 watts into 8 ohms and offers AccuEQ room correction and four HDMI inputs and two outputs.
The TX-NR656, TX-NR555 and TX-SR353 will be available in mid-April while the TX-NR757 ships in May. For more information, visit onkyousa.com.