Nyrius Wireless System Streams HD Video 165 Feet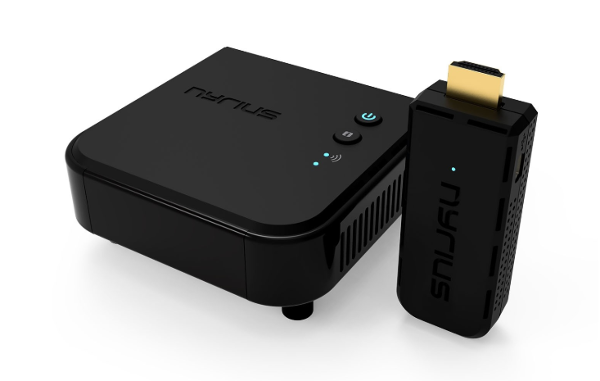 In its latest attempt to get rid of messy wires, Canadian connectivity specialist Nyrius today introduced a $300 wireless transmission system it says can stream 1080p high-definition video and audio up to 165 feet away with zero latency.
The two-piece Aries Pro+ system comprises a compact transmitter and receiver that function as an "invisible HDMI cable," streaming audio and video through walls, floors, and ceilings from a laptop/PC or other HDMI-equipped source to a TV or video projector. Signals are transmitted in the 4.9-5.9 GHz range with dynamic frequency selection.
"The ARIES Pro+ allows users cut the cord and easily browse the internet or stream media from Netflix, Hulu, YouTube, and more on the best screen they have available," Nyrius said in a press release. "It allows for powerful, no latency wireless transmission of true 1080p HD video… without interference from Wi-Fi or Bluetooth devices."
Measuring 3.4 x 1.3 x 0.6 inches, the transmitter resembles a USB thumb drive, while the receiver is a small 3.7 x 3.8 x 1.1-inch box. Both devices are equipped with a mini USB port for power and an HDMI connector. The system supports HDMI 1.3/HDCP 1.2 and uncompressed 7.1 PCM sound as well as DTS and Dolby Digital surround sound.
The system connects instantly without the need for software, complicated setup, or Wi-Fi, according to Nyrius, but requires line-of-sight streaming to achieve its maximum range. The system is touted as ideal for popular streaming platforms, gaming, wireless videography, and business presentations.
"The ARIES Pro+ lets gamers stream their favorite titles from a desktop, laptop, PS4, or Xbox One to a TV wirelessly with zero latency, ensuring that audio and video are completely in sync," according to Nyrius. "Unlike most HDMI connectors, which stream lagged versions of content in poor quality, the ARIES Pro+ does not distort, even in fast-paced games like Call of Duty."
Nyrius offers a 30-day in-home trial period with a full refund and free return shipping policy.
For more information, visit nyrius.com.