NuVo Technologies Wireless Audio System

PRICE
$1,277
AT A GLANCE
Plus
Simple setup
Intuitive, engaging, easy interface
Excellent sonics when mated with good speakers
Minus
Limited streaming music options
No desktop controller
THE VERDICT
Though its wireless system isn't as built out as the popular Sonos system, NuVo delivers a worthy competitor and a foundation for the future.
Back in Sound & Vision's July/August 2013 issue, my colleague John Sciacca favorably reviewed the NuVo Technologies Wireless Audio System, a multiroom music solution that goes after the popular Sonos system head on, delivered by a company with an even longer history in distributed audio. (Read John's review here.) About 10 years ago, when Sonos didn't exist and companies like Russound dominated the multiroom industry with traditional pushbutton wall pads that blindly operated hidden CD players, radio tuners, or other analog sources using flaky infrared signals, NuVo had another way. They jumped head first into the emerging world of hard-drive-based digital music servers—storage devices that fed digital track and artist data back to OLED keypads and allowed users in distant zones to scroll through their music and see confirmation of what was playing. What seems mundane today in our post-iTunes, touchscreen-app-driven universe was cutting edge back then, and NuVo did it at prices that were vastly more approachable than similar options of the day.
I've used NuVo's wireless system at my main home and a temporary residence for several months, and since former Home Theater readers might not have seen John's report (available at soundandvision.com), a follow-up is warranted.
Box System
Three compact components make up the NuVo system. The network gateway (GW100, $199) connects to your home network router and creates the dedicated dual-band Wi-Fi network on which your music travels. Once that's running, you install one of two available player modules and your own speaker pair in each of your zones. The P100 ($479) offers a 20-watt-per-channel Class D stereo amplifier (specified as continuous into 8 ohms with 0.5 percent distortion); the P200 jumps to 60 watts per channel and adds aptX Bluetooth connectivity for pushing music into the system wirelessly from handhelds or laptops. Both offer a 3.5mm low-level output jack (for driving, say, an existing audio system or powered speakers) and a 3.5mm input jack (for adding a local music source, which then becomes accessible to all zones in the system). Additionally, each has a USB port for connecting a flash or hard drive with music tracks. Speaker binding posts are of the high-quality gold-plated variety, and they accepted my bare 14-gauge speaker wire. Up to 16 players or zones can be supported simultaneously. Notably, the system is said to maintain its high 600-kilobits-per-second bitrate no matter how many zones are active—no compression is applied as with most other systems. The GW100 has a five-port Ethernet switch on the back; once you've wired a live network feed to one of the ports, the others can be tapped for other devices in your rack. An Ethernet port on each player is strictly for making a direct network connection instead in place of wireless. All the components are housed in high-impact plastic cases with soft round lines and touch-controls for volume and muting, and they're satisfyingly solid.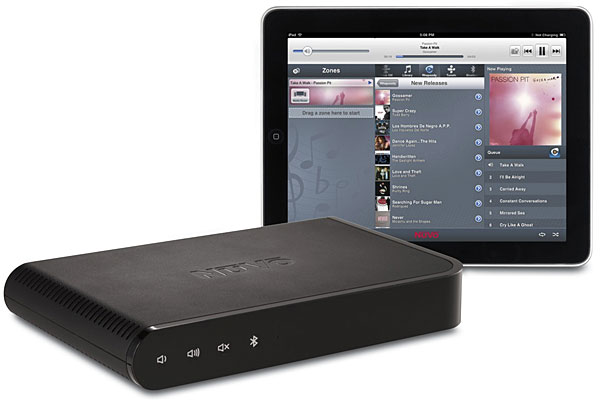 For those familiar with the Sonos system that must be viewed as NuVo's chief competition here, it's worth noting what NuVo doesn't offer, at least as of this writing. Notably absent is a dedicated player module without the built-in amp that could be used to feed an existing theater or music system at lower cost than the price of a P100. Nor does NuVo offer a standalone powered speaker/player combo that would allow someone to get into the game simply by ordering a speaker and a gateway. Sonos offers both these options, with the upside being the ability to add more rooms at relatively low additional cost. In NuVo's defense, that approach presumes you can live with whatever sound quality the supplied speakers deliver, versus customizing the sound to your liking by selecting your favorite passive speaker. Sonos does offer both options.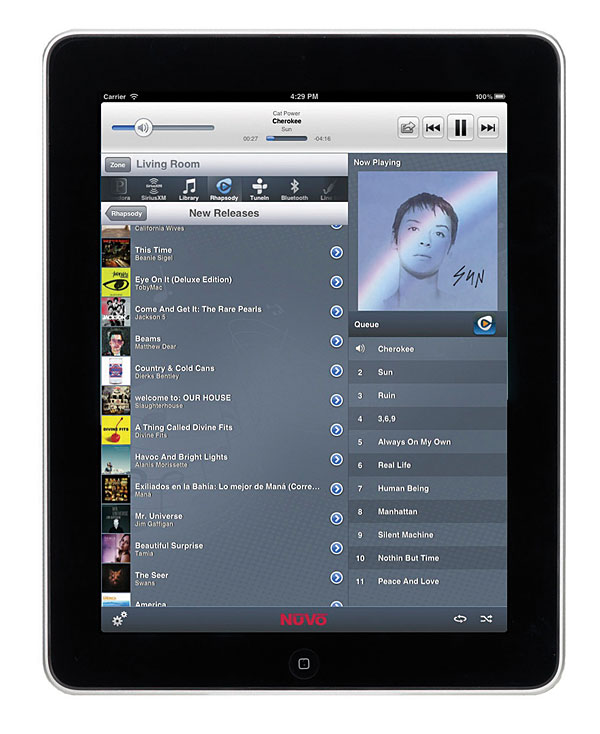 Control for the system is provided through a truly excellent and engaging app available for iPhone, iPad, and Android. NuVo must have paid close attention to what Sonos was doing and expended some effort to invent the better mousetrap. I'll say more about the app below, but I think they've largely succeeded, and the distinctive and elegant graphic interface is this system's greatest strength.