NuVision Lucidium NVU55FX5LS LCD HDTV
Price
: $5,999
At A Glance
: Good black level • Excellent detail • Vibrant color • Uneven screen illumination
LEDs on the Edge
You might not be familiar with the NuVision brand. You won't find it at Best Buy. Costco has never heard of it. And a Wal-Mart associate would likely scratch his or her head and send you to the on-site optometrist.
NuVision sells its products largely through custom installation channels, marketing them as upscale alternatives to run-of-the-mill flat panels. As its Website says, "Typically, our products are specified for high-end home theater installations where quality and after-sales service are of paramount importance. All models come with a two-year warranty and a two-day on-site, nationwide service program."
Most of NuVision's HDTVs carry the Lucidium moniker. That includes the Lucidium FX5LS series. There are three FX5LS models that are identical except for size: 40, 46, and 55 inches. It's the latter we're interested in here.
LED's Big Year
If using LEDs to replace the ubiquitous CCFL (fluorescent) backlights in LCD sets was a growth industry in 2009, it looks like it will explode in 2010. LEDs promise better color, lower power consumption, and a very long lifetime. It's no surprise that NuVision includes LED edge lighting in its upscale NVU55FX5LS set. Like all edge-lit designs, the NVU55FX5LS employs a complex diffusive structure behind the screen to (hopefully) deliver the light evenly from the edge of the screen to the area behind it.
NuVision's NVU55FX5LS doesn't use local dimming, which requires LED backlighting, not side lighting. It also doesn't use any form of global dynamic dimming of its LEDs.
But there's a lot more to the 55-inch NVU55FX5LS than LEDs. It is, of course, a full 1080p design. At 1.5 inches deep, it's very thin. It features a brushed black metal frame that's unencumbered by a splashy logo. Only a discrete "U" appears in the lower left corner. You can also get a silver frame as a $250 option.
The screen isn't completely matte-finished, but it's more resistant than normal to reflections. If you turn the room lights on, you can see your reflection in it, but it takes a good imagination to recognize the fuzzy, ghost-like image staring back at you.
In addition to the normal inputs and outputs, the NVU55FX5LS has an analog stereo output as well. The mini-jack audio input for a PC can instead serve as the audio input for a source with a DVI output (used with a DVI-to-HDMI adapter cable). The HDMI input played back video but not audio with the usual HDMI connection from the source. However, the other HDMI inputs played both audio and video.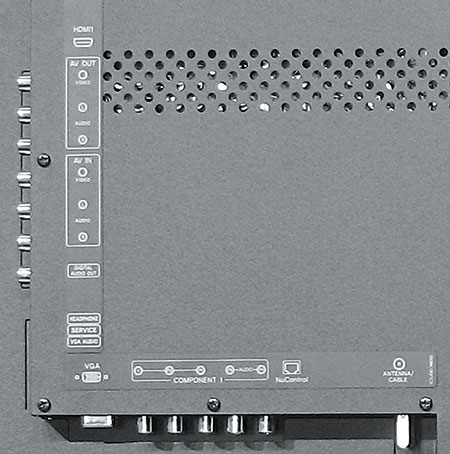 There are five selectable picture modes, but these do not appear in the Image Settings menu as they do in most HDTVs. Instead, you can cycle through them using the Picture button on the remote. For this review, I used Movie mode, with changes as needed.
Aside from the usual assortment of video controls, the Image Setting menu has a Color Temperature control. It offers Warm, Normal, Cool, and (insert image of me here with crossed fingers raised to ward off vampires) Vivid settings.
An Advanced Image Settings submenu provides a number of other controls, including Backlight, Dynamic Noise Reduction, Gamma, and Game mode (said to reduce video processing to minimize the delay between the player's commands and the on-screen results). It also includes Frame Forward Motion (FFM), which is NuVision's interpolation feature that's designed to reduce motion smear, and Film Times Five (FX5). I'll talk more about the latter two features a bit further on.