Non-Stop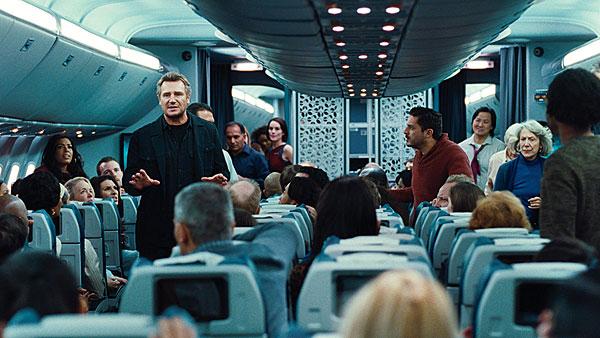 Liam Neeson's first acting role came in 1978, but his breakout performance as Oskar Schindler in Stephen Spielberg's Schindler's List in 1993 landed him an Oscar nomination and made him a star. His range as an actor has expanded over the years, and it's hard to believe he's one of Hollywood's most bankable action stars after his role in The A-Team, the Taken franchise, and now this. My expectations going into this were pretty low, but I was pleasantly surprised by both the action and the various twists and turns of the script. Director Jaume Collet-Serra weaves an interesting tale similar to a murder mystery dinner at 40,000 feet, and despite my best attempts, I was surprised at who the villain turned out to be.
Universal delivers a crisp and clean video encode faithful to the original 35mm print. The color palette is graded towards a cool blue and teal look, the black levels are inky and deep, and the detail is sharp and revealing without the use of unnecessary noise reduction techniques. The cinematography by Flavio Martinez Labiano is outstanding, and I really loved some of the shooting techniques that make you feel like you're on the actual plane.
Not to be outshined is an excellent audio track that features pinpoint directional cues, excellent imaging, and an immersive surround experience that also places you on the plane. The third act is loaded with action and features some demo-worthy moments that will put your subwoofer to the test.
Unfortunately, the bonus features are pretty slim and only include a couple of making-of featurettes that give you a Cliff's Notes rendition of the production.
I've grown tired of most action films these days with their paint-by-numbers scripts. This one didn't let me down. Be sure to give it a look.
Blu-Ray
Studio: Universal, 2014
Aspect Ratio: 2.40:1
Audio Format: DTS-HD Master Audio 5.1
Length: 106 mins.
MPAA Rating: PG-13
Director: Jaume Collet-Serra
Starring: Liam Neeson, Julianne Moore, Corey Stoll
U.S. Air Marshal Bill Marks is assigned to a transatlantic flight from New York to London, but the seemingly routine assignment is anything but. Shortly after takeoff, he starts receiving cryptic text messages on his secure government phone informing him that a passenger will die every 20 minutes unless $150 million is transferred into an offshore bank account. When people start dropping like flies, Marks frantically tries to find the killer, but he always seems to be one step behind him.