Nocturnal Animals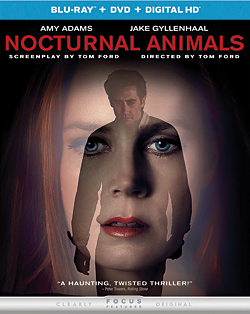 In Susan's world, colors are generally absent or appear as a wide range of subdued grays and blues occasionally set off by shockingly saturated blocks of red couches and painting backgrounds, purple and blue outfits, and dazzling whites and inky blacks. Shot on film, these strikingly stylized, meticulously composed, evenly balanced images are sharp and glossy, filled with shiny surfaces, like fashion photograph stills. Intercut and echoing are her imagining of the visuals in her ex's novel set in the bright-skied outdoors of Western Texas or dark blacktop roads lit only by headlights. Images are gritty, dusty, and grainier, set among faded, distressed buildings. Characters constantly break out of static, tight framings in chaotic, violent movement in loose, almost documentary-like camerawork. Colors are highly contrasted and saturated in the bright single-source light. In flashbacks to Susan's simpler, happier past, colors are warmer and images softer. Skintones are always natural and well variegated even in darker scenes, and faces have dimensionality.
Abel Korzeniowski's wall-to-wall orchestral score for the main story fills the room, surrounding you with instruments that are well separated into each channel. The Texas scenes immerse you in atmospherics of crickets and wind and unnerving noise of vehicles. Bass is solid, especially in one scene where a dying, booming heartbeat slows to a stop.
In three, four-minute featurettes, Ford crams as much intelligent analysis of the story and film language used to communicate meaning as you get in most full-length commentaries.
Blu-Ray
Studio: Universal, 2016
Aspect Ratio: 2.40:1
Audio: DTS-HD Master Audio 5.1
Length: 116 mins.
MPAA Rating: R
Director: Tom Ford
Starring: Amy Adams, Jake Gyllenhaal, Michael Shannon
In screenwriter-director Tom Ford's (A Single Man) adaptation of Austin Wright's multi-reality novel, we discover Susan's emotionally drained existence, disillusioned with marriage and her career in blue-chip art curating. It's an expensive life of high-end fashion and cutting-edge contemporary paintings, antiseptic interiors in fancy galleries and elegant homes. When her husband goes away on a trip that she suspects is a cover for infidelity, she loses herself in a novel written by her "weak" ex-husband, a would-be writer who had encouraged her to return to being an artist herself. The brilliant, powerful book fills her head with memories and memorable visions of empty West Texas landscapes where a family, whose car is forced off the road at night, is terrorized by a gang of intimidatingly faux-reasonable young rednecks. It all leads Susan to question her life and the past decisions that helped create her glamorous misery.