News & Gear: Summer 2023 Beckons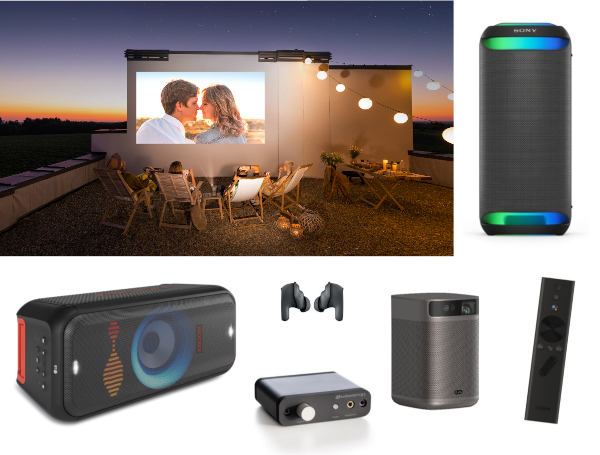 It may feel like summer is just around the corner but we still have more than a month to go, which means you have plenty of time to pick up a new set of wireless earbuds and check out the latest in outdoor party speakers, portable video systems, and more.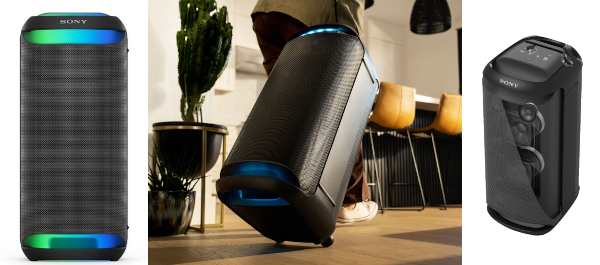 Sony Gets the Party Started with Wireless Mini-Tower
"Party speaker" may not be the first product that comes to mind when you think of Sony, but the iconic brand just announced a wireless mini-tower on wheels that's battery-powered and projects sound from the front and rear to create an omnidirectional effect.
Slated to ship on Monday (May 15), the SRS-XV800 ($649) looks to be a serious Bluetooth speaker with two 6.7-inch square woofers, three front-firing 2.4-inch tweeters, and two rear-firing 1.5-inch tweeters in a splash-resistant (IPX4) enclosure that stands just over 28 inches tall. Weighing in at almost 41 pounds, the speaker is built to be jostled around and can be positioned vertically or horizontally, though maximum water-resistance is achieved when it's standing upright.
Sony says the XV800 is engineered to deliver "powerful, clear sound," though it doesn't provide full specs, stating only that power output at 4 ohms with both channels driven is 10 watts/channel "minimum RMS in stereo mode, with no more than 1% total harmonic distortion from 250 mW to rated output." Audio connections include a USB port, minijack analog input, optical digital input, and two ¼-inch jacks (each with its own level control) labeled Mic1 and Mic2/guitar for karaoke and live-guitar action.
The rechargeable lithium-ion battery is rated to last up to 25 hours when the volume is about a third of the way up with the bass boost engaged and illumination off. Play time drops to around 15 hours when you turn on the party lights. It takes about 3 hours to fully charge the battery but you can get up to 3 hours of play time with a 10-minute quick charge.
Multicolor lights built into the top and bottom of the speaker can be used for simple illumination or synced with the music using Sony's Music Center app, which makes it possible to adjust the sound from your phone and activate one of two modes: TV Sound Booster and MegaBass. When it's time to party, Sony's Fiestable app can be used to make playlists, change lighting patterns to strike a party mood, and engage various DJ sound effects and karaoke functions including Key Control and Echo.
At the other end of Sony's portable audio spectrum is the new SRX-XB100 Bluetooth minispeaker ($59), an IP67-rated dust/waterproof design that mates a 1.8-inch full-range driver and passive radiator in a canister-like enclosure 3.75 inches tall and 3 inches across with a strap for easy toting. The speaker has a rated battery life of up to 16 hours and comes in white, gray, light blue, or orange. Click here for more information on the XV800 and here for more on the XB100.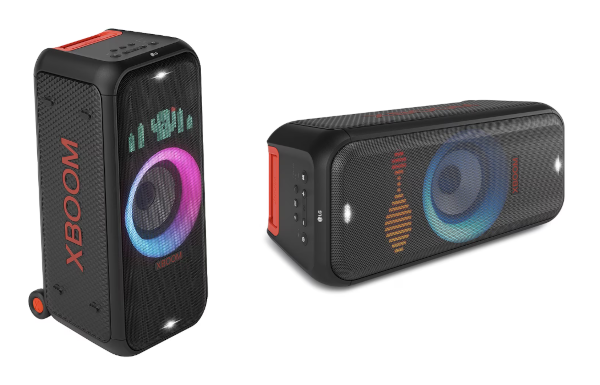 LG's Latest Xboom Speaker Is a Roving Party Maker
A few weeks before Sony announced the SRS-XV800 mini-tower, LG expanded its Xboom series of indoor/outdoor Bluetooth speakers with a new roving party maker: the XL7S.
Standing 27.5 inches tall and weighing just under 41 pounds, the $600 speaker is almost identical in stature to the Sony but uses a simple three-driver configuration that mates an 8-inch woofer with a pair of forward-facing 2.5-inch tweeters. Rated power output is 2 x 60 watts RMS plus 130 watts RMS for the woofer.
Otherwise, the XL7S is similarly appointed to the Sony. It, too, is resistant to water (with the same IPX4 rating), has built-in casters, and features a Sound Boost mode with a customizable EQ option (through the app) in addition to LG's Dynamic Bass Optimizer. The speaker is likewise equipped with a USB input and a set of ¼-inch input jacks for a microphone and guitar (also with individual level controls) as well as a handful of karaoke and DJ features that can be controlled via the LG Xboom app, though it does not have an analog minijack input or optical digital connection.
Instead of a stationary grip, the XL7S has a telescoping handle and, when it comes to lighting effects, LG goes a step further than Sony with a multicolor ring around the woofer that can be set to rotate or flash in sync with the music in addition to a pixel-LED animation mode that displays a variety of visual/text effects and patterns, including dancing Pac-Man-like characters and personalized messages. All lighting and animation effects are controlled via the app.
Battery life is rated at around 20 hours, depending on volume and lighting, and it takes 3.5 hours to fully charge the lithium-ion battery. For more information, visit lg.com.
Take the Show Outside with this $600 Mini-Projector
There's something magical about watching movies under the stars — a throwback to a bygone era when there were thousands of drive-in theaters across America. Unless you happen to live near one of the 300 or so remaining drive-ins, creating an outdoor theater in your backyard is easier than ever with a portable projector from Samsung, LG, or one of several brands you probably never heard of.
One such projector is the new MoGo 2 Pro from Xgimi, a Chinese company specializing in portable projectors. The little DLP light cannon sells for $599 and is said to cover 90% of the DCI P3 color gamut with a rated brightness of 400 ISO lumens and the ability to produce images up to 200 inches (diagonal), though the company recommends staying in the 60-120-inch range for the best viewing experience.
In addition to supporting HDR10 high dynamic range (HDR), the MoGo 2 Pro boasts a new feature the company calls ISA (Intelligent Screen Adaption) 2.0, which is designed to greatly simplify setup. The system automatically focuses and keystone-corrects the 1080p image when the projector is off center, while intelligently mapping the borders to make video projection work in almost any environment.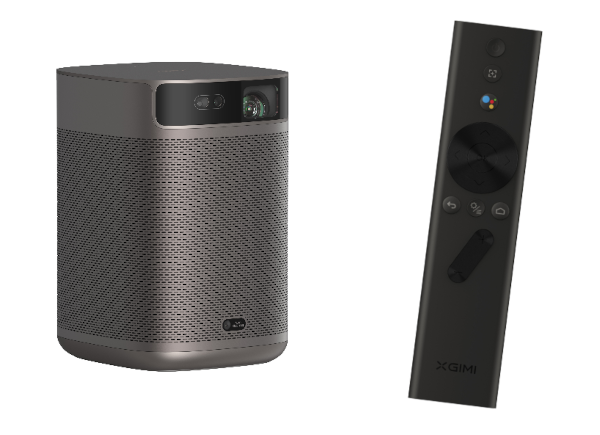 "The intelligent focusing and stabilization occurs automatically and unnoticed by the user, as there is no physical set-up or waiting time compared to the previous [MoGo Pro] version," Xgimi said when it announced the projector in January at CES 2023. The projector automatically adjusts the image size to avoid picture frames and other nearby objects and even dims the image when someone moves in front the projector.
Standing just over 6 inches tall and weighing 2.4 pounds, the Mogo 2 Pro is small (and light) enough to move around with one hand, yet still packed with features, including voice control via Google Assistant and Chromecast built-in for casting content from a smartphone. It supports Wi-Fi and Bluetooth connectivity in addition to providing USB and HDMI inputs and a minijack analog output. Lamp life is rated for up to 25,000 hours.
The MoGo2 Pro has a built-in 8-watt, dual speaker sound system but you might want to pair it with an external speaker system for a more energetic sonic experience — perhaps the Sony SRS-XV800 or LG XL7S mini-tower covered earlier? For more information, visit us.xgimi.com.