New Severtson Projection Screen Retracts Into Floor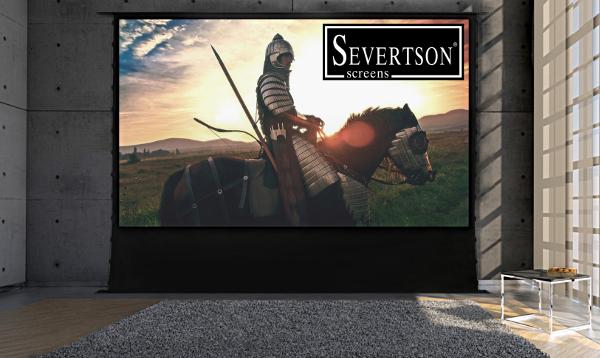 Severtson Screens has introduced a motorized, retractable projection screen designed to disappear into the floor when not in use.
The Motorized Electric Floor Projection Screen, designed for permanent in-floor installation, incorporates a durable mechanism that lifts and retracts the screen "quickly and quietly" and uses tab-tensioning to keep the screen flat for optimum viewing.
The 16:9 screen is available in seven standard sizes between 7.6 and 12.5 feet (diagonal) or in custom sizes up to 15 feet. A choice of four projection surfaces is available: Bright White Acoustically Transparent (1.14 gain), Cinema White (1.3 gain), Cinema Grey (1.0 gain), and SéVision 3D GX (1.4-3.2 gain). Severtson recommends its water-based optical coating for passive 3D projection.
Prices for standard size screens range from $1,835 to $3,400. Screens larger than 12.5 feet (diagonal) require a custom quote.
"Our custom Electric Floor Screens are a collection of premium retractable projection screens that can be installed beneath the floor for a seamless look, making them an excellent solution for any multi-use home theater…or just about any other venue," said Toby Severtson, president and CEO of the Mesa, Arizona-based company.
Covered by a two-year warranty, the motorized floor screens are custom-built to meet individual needs and manufactured to the same standards as Severtson cinema screens used in theaters around the world.
For more information and pricing, visit severtsonscreens.com.