Netflix Integrated into Comcast's X1 Platform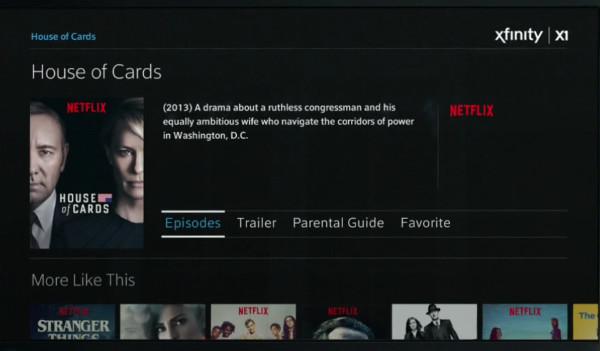 Netflix is being integrated into millions of Comcast X1 devices across the country this week, according to a joint announcement from Comcast and Netflix.
With the new integration, X1 users with Netflix subscriptions will be able to browse and access Netflix movies and TVs shows alongside the live, on demand, DVR, and web programming included with their Xfinity TV subscriptions. Browsing can be done via the X1 Voice Remote, Xfinity On Demand, or the Netflix App.
"The Netflix integration into the X1 platform means our mutual customers will no longer need to change inputs or juggle remotes," said Reed Hastings, Netflix co-founder and CEO. "Now they can seamlessly move between the Netflix app and their cable service, enjoying all the TV shows and movies they love without hassle."
By combining the TV libraries of Netflix and Xfinity On Demand, X1 customers will be able to…
• Launch the Netflix app by saying "Netflix" into the X1 Voice Remote.
• Browse Netflix content alongside On Demand movies and shows.
• Search for a specific actor by name to see everything they are in across Xfinity and Netflix.
• Start from the beginning of long-running shows like The Walking Dead or Scandal with all prior seasons from Netflix and the current season from Xfinity available in one place.
Current X1 and Netflix customers will be prompted to sign in when accessing the Netflix service on X1 for the first time. New Netflix customers will be able to sign up for a new Netflix membership directly on X1, have the service added to their Comcast bill and begin to immediately use Netflix on X1 or across devices.
Comcast said the X1 platform will be in 50 percent of its video customer homes by the end of 2016.
For more information visit xfinity.com.