The Natural (Blu-ray)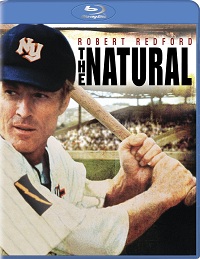 Roy Hobbs (Robert Redford) is a country hick who has one dream in life; to play professional baseball. But that's not enough, when he walks down the street he wants people to say, "There goes Roy Hobbs, the best there ever was in the game." At 19, his boyhood dream catches a glimpse of reality when he's summoned to Chicago for a tryout with the Cubs. On the journey he meets Harriet Bird (Barbara Hershey), who turns out to be a psychotic killer who shoots a silver bullet into Hobbs' abdomen. Left for dead in a Chicago hotel room, Hobbs miraculously survives and disappears for 16 years until he finally realizes his dream of playing baseball by signing a contract with the hapless New York Knights.
I'm a sucker for inspirational sports stories, and this is one of, if not the best there is. The mystery surrounding the shooting and disappearance of Hobbs keeps you on the edge of your seat and as the past is revealed your heart goes out to the hero and everyone around him.
Video Highlights

AVC/1080p encode on a BD-50 disc
Strong color palette with lush green grass and deep reds
Clean source print with minimal wear and tear
Excellent detail, especially in facial pores
Strong black level with well-resolved shadows
Audio Highlights

DTS-HD MA 5.1 soundtrack
Randy Newman's powerful score has never sounded better
Crisp dynamics
Front-heavy track but stadium scenes have adequate envelopment from the rear channels
Intelligible Dialog
This is a marvelous video presentation of an over 25 year old film with meticulous attention paid to preserving the image. The audio track certainly shows its stereo roots, but the remix is well-done and Randy Newman's score sounds phenomenal.
Bonus Materials

"When Lightning Strikes – Creating The Natural (SD)
"Clubhouse Conversations" documentary (SD)
"Extra Innings" featurettes (SD)
"A Natural Gunned Down: The Stalking of Eddie Waitkus" featurettes (SD)
"Knights in Shining Armor: The Mythology of The Natural" (SD)
"The Heart of The Natural" featurette
It's fitting The Natural is being released at the start of baseball season and its presentation on Blu-ray is outstanding. If you've yet to see the film, put it to the top of your queue – you won't regret it. Highly recommended.
Click here to email any comments or questions!
Release Date: April 6, 2010
Studio: Sony
Movie: 10/10
Picture: 9/10
Sound: 8/10

Review System
Source
Oppo BDP-83 Blu-ray player

Display
JVC DLA-RS1 projector
Stewart FireHawk screen (76.5" wide, 16:9)
Electronics
Onkyo Pro PR-SC885 pre/pro
Anthem PVA-7 power amplifier
Panamax M5400PM power conditioner
Speakers
M&K S-150s (L, C, R)
M&K SS-150s (LS, RS, SBL, SBR)
SVS PC-Ultra subwoofer
Cables
Monoprice HDMI cables (source to pre/pro)
Best Deal analog-audio cables
PureLink HDC Fiber Optic HDMI Cable System (15 meters) from pre/pro to projector

Acoustical treatments from GIK Acoustics
LATEST VIDEO