NAD T 757 A/V Receiver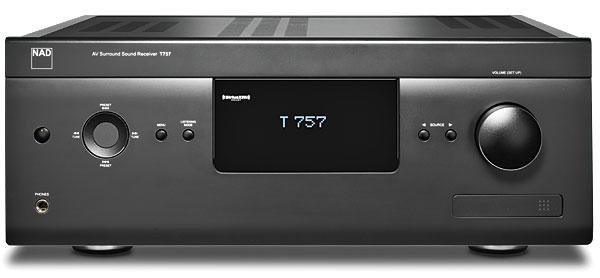 Price
: $1,600
At A Glance
: Future-proof modular construction • Great ergonomics • Trades features for performance
Oh, it's coming, all right. Are you ready for it? That's right, Smell-O-Vision! I'm not talking about old-school scratch-n-sniff cards, but the real, electrified olfactory emitters specified in the HDMI 1.5 standard. OK, I'm clearly exaggerating the contents of the next HDMI version, but even if that travesty comes to pass, NAD's Modular Design Construction topology means the T 757 can be upgraded by your dealer, instead of a forklift.
So Honest, It Hurts
Music first. NAD's been touting that hard-to-fault philosophy since its first truly successful integrated amp, the soft-clipping-equipped 3020, certainly one of the 1970s' better-sounding solid-state amps. The T 757 may lack the soft-clip switch that made the 20-watt-per-channel 3020 the clear overachiever in a sea of higher-powered Japanese competition, but it's just as much an ode to simplicity and performance as its ancestor. Most manufacturers play a numbers game when it comes to rating the wattage of their AVRs. Find the squeakiest, cleanest 1-kilohertz sine wave this side of a Taylor Swift lyric, feed it into one or maybe two channels of the amp section, and terminate it all in a non-interactive resistive load that bears little resemblance to a speaker in real life. But with five or seven channels working hard to keep up with an action movie, those wattage ratings frequently plummet. So NAD honestly says the T 757 will develop 110 watts into 8 ohms with two channels driven, but even more honestly, 60 watts into all seven of its channels at once. In fact, if you regularly read our measurements sections, you'll agree with me that this is fairly typical performance for many AVRs rated around that popular 100-watt-per-channel mark.
With four HDMI inputs, the T 757 is as technologically up to date in most areas as any AVR available today. Its HDMI 1.4 implementation means the T 757 can do 3D for the kiddies (which may include you as well). While the T 757 is a little light on the badge-bling—no THX or DTS Neural Surround logos here—it's solid where it counts, as with internal decoding of Dolby TrueHD and DTS-HD Master Audio soundtracks. This minimalist approach carries through to the video as well. While the NAD will cross-convert analog composite, S-video, and component signals to digital HDMI to simplify hookup to your display, it doesn't perform any video processing or upscaling to 1080p, even for 720p or 1080i HDTV signals.
When you shake the packing box, an Audyssey microphone falls out, but unlike most AVRs in its price range, the T 757 lacks an automatic equalization function, Audyssey MultEQ or otherwise. The built-in Audyssey automation routine is for setup only. It will establish basic parameters like speaker distance, size, and relative levels, but there's no full-range or bass equalization. Depending on the AVR, the room, and the ancillary equipment, built-in room EQ may not always provide a noticeable improvement. On the other hand, it can make a world of difference, and full-room EQ is a tool we've come to expect in AVRs priced over $1,000. MultEQ does appear in NAD's next model up.
Setup is super easy. You won't find a bank full of jacks on the back, just what a modern, non-legacy home theater would need. For instance, there are only three two-channel analog audio inputs (and another pair in front) instead of the 10 pair you sometimes find on an AVR (so you might have to pare down on the cassette-tape pirating). And while you may never need three component video inputs in this digital world, NAD manages to squeeze them in without crowding the rear panel. As seems to be the case with every AVR I've reviewed, the vertical stack of speaker posts can accommodate bananas or bare wire, but not spades. If you use spade-to-banana converters for your cables, as I have to for my surround channels, you may find room to negotiate back there. It's tight but, sadly, not atypical.
The setup menu gives you a choice of either a source-by-source setup or a table view that gives you a nice recap of the various input-to-source assignments. While the table view gives you the big picture, you get more options in the source view. However, you can give your sources more meaningful names and change the analog audio, digital audio, and video input assignments in either mode. There's also a third dimension to the NAD's setup, something called presets. These let you assign any source to one of five presets or redefine the configuration of your entire system and save a source under another preset if you're so inclined. Equipment passes through my hands quickly, so I didn't avail myself of this feature. But I can see how this could be very useful in day-to-day operation.
I love the fact that most manufacturers make their AVR user manuals available online. NAD does, and includes the manual on CD as well, but no printed manual. I printed mine only so I could write all over it for the review, but you certainly don't need to. You'll need to refer to the manual for certain things, like learning how the radio tuner works or how to use presets, but the simple menu structure NAD uses in its setup screens makes it almost impossible not to guess your way to success.
In some ways, NAD's dedication to audio-uber-alles ends up being a little frustrating. You can't deny that the T 757 is missing a lot of features we've come to take for granted in AVRs. For instance, once you get used to Internet radio streaming, going back is tough. The lack of a USB connection for your iPod is also jarring, although NAD offers its own $160 iPod dock and a dedicated input for it on the rear. The T 757 is XM ready, which is a plus, although I don't have an XM tuner and I find DirecTV's satellite radio stations just as capable of letting me nap. I did play with the T 757's FM section, hooked to my 14-foot Yagi antenna. It was fairly sensitive, bringing in plenty of stations from Massachusetts and Long Island when the Yagi was properly angled. More important, the sound quality of a good FM section like this one is infinitely better in my opinion than anything you get from an over-crowded satellite transponder. Audio-uber-alles, indeed!
This AVR's clean design is really refreshing. As uncluttered as the front panel is, you can do everything you want right here without the remote if need be. Unlike many receiver wands, the remote control itself is well laid out and comfortable. It isn't backlit, but on the other hand, I was using it for weeks in the dark before I noticed. Now that's good design. The only other thing to be aware of is that it's not a universal model, so the only Blu-ray player it can control is one from NAD.
The onscreen display during normal operations (not during setup) is a subtle black and white that indicates when sources, surround modes, and volume change. My only wish is that NAD included a max volume setting to protect your speakers, especially if you have kids (or worse, teenagers). It's just too easy to accidentally ramp up to tweeter-damaging levels with the remote's built-in volume acceleration.
Music at a Crossroads
While streaming Netflix justifiably gets short shrift from true videophiles, I spent a very enjoyable afternoon casually watching, and more important, listening to Clapton: Crossroads Guitar Festival 2010 over the T 757. Listening at moderate levels, from the cutting SRV-esque bite of John Mayer's severely beat and unaffordable pre-CBS Fender Stratocaster, to the middle pickup moan of Winwood and Clapton's dueling strats in "Dear Mr. Fantasy," the NAD made my Revel speakers sound sweet and detailed, as I'd expect. Four hours of multichannel concert fare culminated with all the heavyweights of rock and blues on stage, plus B.B. King and his beautiful Gibson, Lucille. To its credit, the NAD easily resolved the differences in each player's rig. Who says the thrill is gone?
It's been a decade since Bush put out an album, but the wait ended recently when The Sea of Memories came out. The good news is, unlike the disappointing new Incubus album (slam!), listening to Sea is like slipping into that warm bath of familiarity. Gavin Rossdale's velvety voice urges you on, and the thick, high-gain chords plowing out of Chris Traynor's Les Paul push you down like a powerful wave.